If you wish to get started within the blogging world, then WordPress is certainly the platform that you'll wish to choose. WordPress helps to run a blog simple and easy, without needing to learn any code.
But, selecting WordPress introduces new issues for the beginners. One among the basic questions that are asked by beginners or new users is what themes should they use?


Presently, there are lots of themes available. You can either get started with a free WordPress theme or purchase a premium theme quickly from one among the pioneering online theme marketplace. With so many WordPress themes at your own disposal, it is difficult to select a single theme. To make life simpler, we have listed the best 5 WordPress themes Available for Beginners.
1. Oshine
This is a technologically modern, incredibly dynamic, visually stunning, attractive, appealing and interactive WordPress theme, intended to be an expressive, eloquent and creative one-stop solution available for a vast variety of website apps, from corporate to business, commercial to personal, sizes small and big. It is built with powerful, unique capabilities for static websites, static webpage and single page website creation, in an efficient, swift manner which is easy and intuitive and requires no coding skills. Generate professional-looking, gorgeous static layouts using Oshine's astonishing dozen of preincluded demos; flawlessly compose open Parallax static, higher resolution vistas that can bedazzle your visitor in background, or can engage them with remotely or locally hosted static Parallax videos backgrounds. It customized drag and drop image page builder empowers anybody to create unbelievable layouts from the scratch or based on Oshine's stylish templates.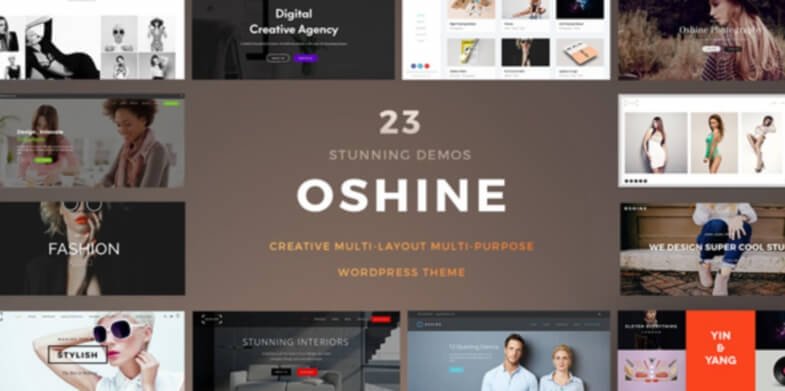 2. Soledad
Will you spend your money on a sub-standard, bland WordPress theme? All clients want the best bang for their bucks, and themes like Soledad only can easily live up to everybody's expectations. When a product holds a WP sales record, you should be performing something right. The retort of those people who have bought this theme is positive nearly always. Its high quality design has greatly impressed novices and seasoned veterans alike. This indisputable popularity is fully justified by a big selection of extraordinary features. Thos theme's layout is quite responsive towards the high resolution Retina device and most of the web browsers. Your contents can be viewed easily on tablets, smartphones, laptops, and desktop computers.  It has more than 200 slider combination and blog layout options. More than 250 home page demonstrations are available for users. These can serve as templates for your designs, or can be directly installed. 

3. Kalium
This is one among the best WordPress themes, absolutely suited for blogs and portfolios. Both potential customers and employers will be astonished when they navigate your streamlined, well-designed page. You'll be judged by quality of your pages, and Kalium guarantees that each first impression is a positive one. You can consult the theme documentation, if you want to learn more regarding this theme. It's highly informative and extensive. Additionally, there is live demo together with some screenshots. The website will be fully customizable, as each element can be changed or altered.


This encourages creativeness and assures that your blog or portfolio will have an exclusive look. Artful contents should be presented in a proper way. Thankfully, the important Revolution Slider is included for free. You've the chance to create striking slides, proving your own followers that you're worthy of their kindness. You may also add custom animation, transitions, and effects. There are many portfolio variations, letting you display every content element in different styles. This will offer a stimulating browsing experience for the readers, leading a larger views count for your post.
4. Merchandiser
This is a strikingly flexible and powerfully engaging, intuitive and tech-savvy, robust and consistently responsive WP's commercial WooCommerce site theme. It's an effective and sound tool for the webmasters with or even without prior coding or development experience to competently and easily put together sophisticated and modern commercial sites focusing on online transaction and having a full variety of products display features along with superior shopping cart capabilities in a few minutes, needing nothing more than some clicks and helping of visual and graphical styling choice to make each Merchandiser website truly exclusive, yet instantaneously functional. It has each plugin you require to put sophisticated pages together and a lot of pre-made template layouts to select from, in case you don't want to start from scratch. Individual product page, online shop pages, online catalogue with selection of pagination and visualization choices, transitions and animations, and a lot more, together with charming features such as Off-Canvas Shopping Carts and Off-Canvas Fast View for the individual products, and wonderful product Image Gallery, and you start having an idea about why Merchandiser is an efficient tool for modern online marketer or salesman.
5. Shopkeeper
If you're looking for an elegant and trendy website template for online store or online business website, then Shopkeeper is the ideal choice for you. It has a flexible and fluid layout that adjusts slickly on different kinds of screen sizes and devices. This theme is ideal for beginner and experienced website developers since it's packed with astonishing customization options and features that assist you build an attractive website for your own business. This theme provides several predesigned page layouts that assists you to craft an attractive site in a jiffy. It also lets you design header of theme to completely suit your brand. Now you can take benefit of its fullscreen slider to display your company's logo to make clients remember your own brand. You can use the wide slider in marketing your products, special package or other services. Generating responsive and beautiful slideshows is very simple with Slider Revolution.
It's also bundled with the Visual Composer to assist you add and manage numerous design elements in the website using drag and drop pages builder. It also comes with numerous custom widgets and lots of powerful shortcodes which allow developers add sophisticated theme elements within your website. It makes it simpler for you to advertise your product and reach a wide range of audience, big thanks to its strong social media integration.