WordPress is currently the most popular CMS platform available on the web. Thanks to this popularity, WordPress offers users various themes that have been specially designed for websites which have been powered by the platform. These themes are also becoming as popular as the platform itself, as more people begin to realize just how easy they are to set up and use for a wide range of applications. WordPress themes are especially useful when used in blogs, personal websites, and portfolio sites. These themes not only provide your website with a unique look, they also give you access to a myriad of plugins and features to help increase the functionality of your websites. Here are some of the best WordPress Themes, you can consider for 2017:

This is currently the most popular WordPress theme so far. This free theme can help to drastically improve your web development process. It is practical, looks great, and provides excellent functionality and great graphics for your web development. Its design is compatible with Windows Phones and Android devices, iPads, iPhones, laptops and desktops. It offers support for high-resolution retina displays, which give you sharper graphics, crisp designs and revolutionary vector icons. The best part about it is that it is a one-page design, which makes it the best to use for professional, portfolio and business websites.

This theme will give you a sparkling website that reeks of sophistication. It is a modern, flat theme whose design is based on the latest bootstrap technology. It looks great on any kind of mobile device, mainly due to its sharp design and fluid layout. It comes with several amazing features, which you can only find in premium WordPress Themes.

This is a highly flexible, adaptable, and modern WordPress theme. It is extremely responsive and is by far one of the best themes for webmasters who need a permanent solution to their online magazine needs. For this, it comes with inbuilt niche demo website templates which are designed to suit any online magazine for any audience imaginable. All the available demo websites can be customized to achieve the exact look and feel you would like for your magazine.
4. Uncode

This is a very beautiful and highly adaptable theme that is technologically pliable and very sophisticated. It is developer friendly too, as it is very easy to use and customize, allowing developers to achieve the look and feel that they desire. It is an all-inclusive theme that offers all the solutions you need for any type of website design. You will be able to create and maintain your website easily, regardless of whether you have coding skills, and the results are impressive.
5. Massive dynamic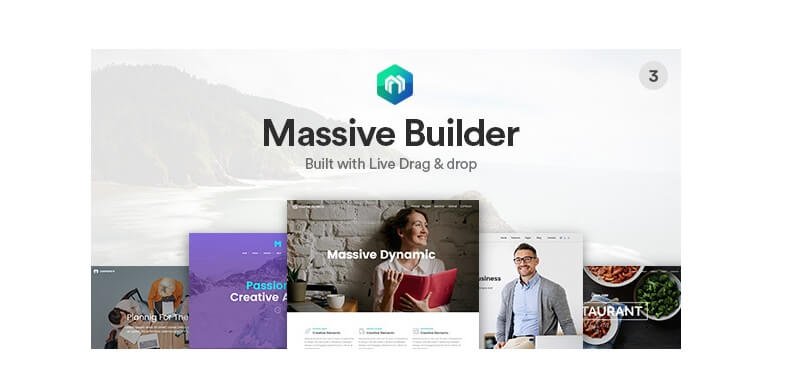 This is a very innovative and highly reliable WordPress theme that is coded and designed brilliantly. It is highly responsive and a very creative multipurpose website builder. It is a brilliant and flexible platform that can be used in the creation of beautiful and attractive modern websites in any field. It is best suited for creative and innovative web developers, regardless of their experience. Its layout tools give web developers the freedom they need to alter any website, and give it a totally new design and feel with just a single click.
6. Kallyas

This is a creative and reactive multipurpose WordPress theme. It is a very resourceful platform for web developers who want to create great looking websites overnight. This flexibility will go a long way in helping you to take charge of everything to do with your website. Just a few clicks are enough to fine tune your elements and change various settings through its Visual Builder.
7. TheGem

This is an amazingly flexible and ambitious, creative and innovative readily responsive WordPress theme. This multipurpose offering has a great toolkit that can be used to create powerful modern websites in a matter of minutes. In addition, it comes with numerous visual and graphical branding and customization capabilities. In its package are over 40 professionally and graphically designed demo website templates, and more than 150 unique page templates that can be used for specific purposes. Each of these has been designed to match different types of websites.

This theme is colorful and quite imaginative; a very innovative and tech-savvy, active and engaging responsive WordPress theme. It is best used by web developers who have a unique creative style and those who would like to create professional levels of detailed customization regardless of their coding skills. With this theme, you will be able to access a variety of features and tools which will make your web development much easier.

This theme is clean, minimal and especially suited for bloggers. It is used best in food blogs, personal blogs, fashion blogs, photography blogs, travel blogs and magazine style websites. It is built using Bootstrap frontend framework, which makes it highly responsive, mobile friendly. It comes with a large full width slider which helps you to showcase your content and style. There are other options available too through WordPress Theme Live Customizer to help you create your dream website.

This, professional, modern, and powerful WordPress theme is one of the most functional themes that you will find right now. It is sophisticated and tech-savvy, as well as being highly responsive and intuitive. It also features all the tools and plugins that you may need to aid you in your website development, especially if you are building business or commerce websites. Web developers can easily establish their online presence using affluent. It is the best theme for entrepreneurs as it is elegant, trustworthy, smooth and quite stylish.
Your choice of WordPress theme for your web page is very important, as it will be what determines the kind of website you will create, and the type of clientele you will be able to attract. It will also dictate the amount of work that you will have to put into your website in order to complete your project on time.