Forgot your Windows 10 password or want to reset it anyway? There are several ways to reset a Windows 10 password whether you remember your current password or not. Sadly, a lot of Windows users think it's necessary to lose all your data by reinstalling Windows in such cases. It is not required. There are ample tools and techniques to avoid this type of situation. Your data is precious to you, so it's much better to explore options that will let you keep your data and still reset your password on Windows 10. This article covers three ideal ways to do this.
Method 1: Create a Password Reset Disk Beforehand
A password reset disk is basically bootable media that allows you to set a new password when you forget the old one. Unfortunately, it has to be created beforehand so it can be used for the password reset without having to access your Windows OS. If you've created one already, the next section shows you how to boot from it and reset your password.
Step 1: Insert your reset disk, then boot up your PC and wait for the login screen to appear. On the login screen, click on Reset Password. This will launch the password reset wizard. Click Next to proceed.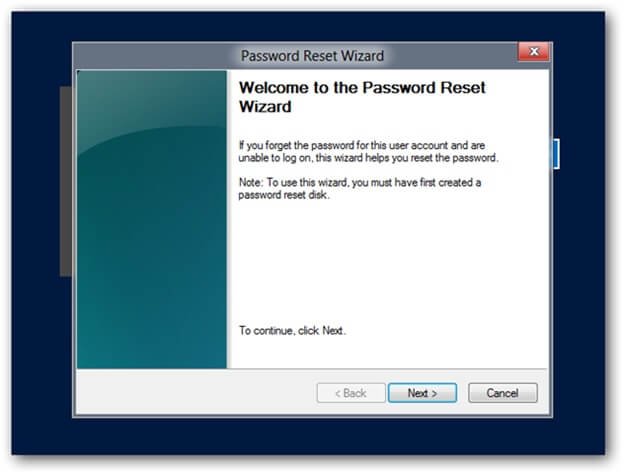 Step 2: You will see a dropdown menu, where you need to select your optical drive or wherever your reset disk is stored, and then click Next. Type in a new password, confirm it in the next field and provide a hint question in case you forget it again later.
Step 3: Click Finish and your Windows 10 login password will be reset.
Obviously, you can only use this method if you've already created a password reset disk, or else you'll be stuck when the Password Reset Wizard launches after clicking Reset Password. If you haven't created one and you don't have any technical expertise, the recommended method is to use a reliable and trusted software to deal with the problem. This is described in the next section.
Method 2: Use TunesBro WinGeeker Ultimate to Reset Windows 10 Password
TunesBro WinGeeker Ultimate is the best tool to reset any Windows password. It works on all Windows versions right back to Windows XP and Windows Vista, and it has been tested extensively on the world's best PC brands and storage media. The way it works is to allow you to create a password reset disk on a different computer so you can use it on your locked Windows 10 PC. Millions of Windows users around the world will testify to its ease-of-use and efficiency because of its 100% success rate and highly user-friendly interface that requires no technical expertise. With this utility, you can easily unlock any Windows account, including user, guest, admin, Windows Server and even Microsoft Account.
The software contains all the tools necessary to accomplish this task. It will automatically acquire the correct ISO disk image file required to reset the password on your Windows 10 computer, and it contains the ISO burning function to create the password reset disk. In addition, it contains the WinPE or Windows Preinstallation Environment required to boot your locked PC from the reset disk. You can create the bootable media on a DVD/CD or a USB flash drive based on your preference.
The steps outlined below can be recreated by you to unlock your Windows 10 computer without the need to reinstall the OS or do a factory reset, which can often lead to data being lost:
Step 1: Install TunesBro WinGeeker on secondary PC after downloading the Windows version from the official TunesBro website.
Step 2: Launch the application and insert a storage medium of your choice. It will be automatically detected by the software and prepared for the ISO burning process.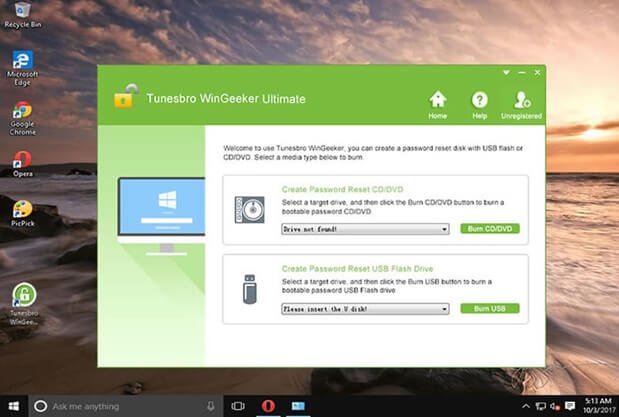 Step 3: Click on the Burn option after selecting the appropriate storage medium, and wait for the password reset disk to be created.
Step 4: Now remove the medium from the secondary PC and insert it into the locked Windows 10 PC.
Step 5: Boot your Windows 10 computer from the password reset disk.
Note: You cannot simply insert the disk and start up your PC, because that will only take you to the usual login screen, where you can't do anything unless you have your password. Instead, you need to change the boot order or boot priority when you restart your machine.
To do this, you have to insert the disk and start up the PC, but during the boot, you have to click a special key to get into the BIOS Setup Utility. It's usually F2, Del or Esc, but may be different on your PC brand. The key to be pressed will be displayed on the screen as the computer boots up, so press it when you see the notification on the screen. In the BIOS Setup Utility, use the up and down arrow keys to select your optical drive as the boot source. Save your settings and exit the BIOS Setup Utility. Your PC should now boot into the Password Reset Wizard.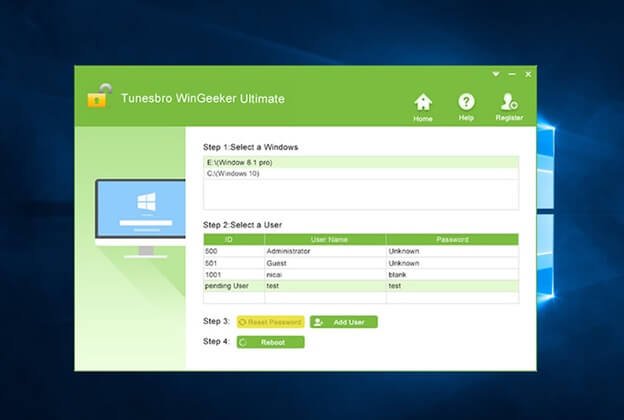 Step 6: When your computer boots from the WinGeeker reset disk, you will see several options. Choose Windows 10 as your OS and select the locked user account. Now click on Reset Password and the current password will be reset to blank. Remove the disk and restart your PC again by clicking Reboot on the software interface. You will now be able to access the locked account without a password.
This is clearly the easiest way to get into your PC without the fear of losing any data. The WinGeeker software will preserve data integrity throughout the password reset process. And it is done in a fraction of the time it would otherwise take you to use a password cracking software or any other password recovery method. Since no technical knowledge is required to use this software, even novice users won't have trouble using it for the first time. The best part is that once the reset disk has been created, you can use it any number of times.
Method 3: Ask System Administrator to Reset Windows 10 Password
In case you are on a local network, you may not be able to reset your password with a reset disk. That's because of security enforcement that may prevent access to the Windows installation. Don't worry in such situations, because there's still a way to have your password reset for you.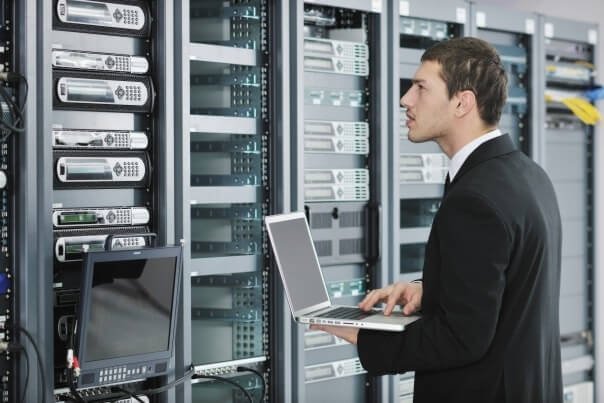 If you are part of a local network, do not attempt to do anything on your own. You will need network administrator access, so you need to contact your system administrator for this. They will usually have a standard operating procedure for such situations. It is not uncommon for employees to forget their login passwords. If you have a specific process to follow to contact your system admin, such as raising a helpdesk ticket, then this is the recommended course of action.
These three methods can get you out of a jam when you forget your Windows 10 password. If it's your home computer or another PC that's not on a network, we recommend the second method. It's a highly regarded utility and will quickly help you reset Windows 10 local password no matter how long or complex it is.