The best way to learn about what your customers want is by trail and error. You can save yourself a lot of time doing blind tests by using specially designed tools and platforms that help with conversion optimization, A/B testing, monitoring and intellectual data analysis.
All of which will help to create more business to you.
I'm a blogger, and I currently don't run a huge business which requires of me to have several nodes setup just for doing A/B tests. I'm sure I will get there one day, I'm already on the way! This list was put together after some detailed research and thinking of what you as a business owner might need in order to analyze your customers and potential customers.
Tools for Conversion Optimization
To make it clear before we get to the juicy bits of this post, these tools are mainly (some, solely) meant for increasing your conversion rates and don't necessary offer tools for doing A/B tests (though, many are partners with each other), and to make up for that I'll be creating separate blog posts in the near future to fix the gap.
You're more than welcome to subscribe to my social streams to receive the updates. I also encourage you to let me know about the potential favorites I've missed and leave them in the comment section at the bottom of this post, thank you!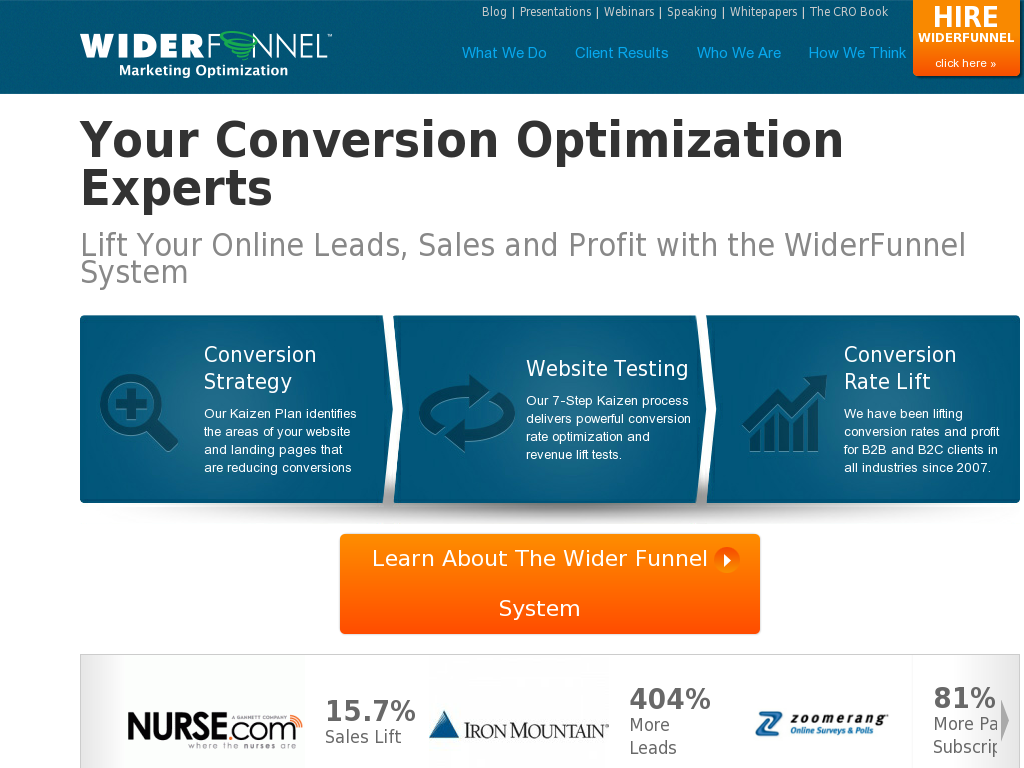 The first company on the list is WiderFunnel, a marketing optimization group run by conversion optimization experts. They're known for their dedicated towards what they do, and as a result want to work only with businesses and brands that are serious about improving their income capacity. I like the style.
WiderFunnel Can Help You With:
Conversion Optimization
Conversion Strategy
Website Testing
Web Analytics
In fact, WiderFunnel is advertising themselves as a company of marketing experts who sleep, eat and constantly produce great results for their clients. It's one of the many reasons I think this company deserves the top spot. You'll be happy to learn that they also run a great YouTube channel, with a ton of free material from public speaks and webinars – all about conversion optimization!
There are some really great case studies you can take a look at, the client list is very rich and varies from medium to large companies.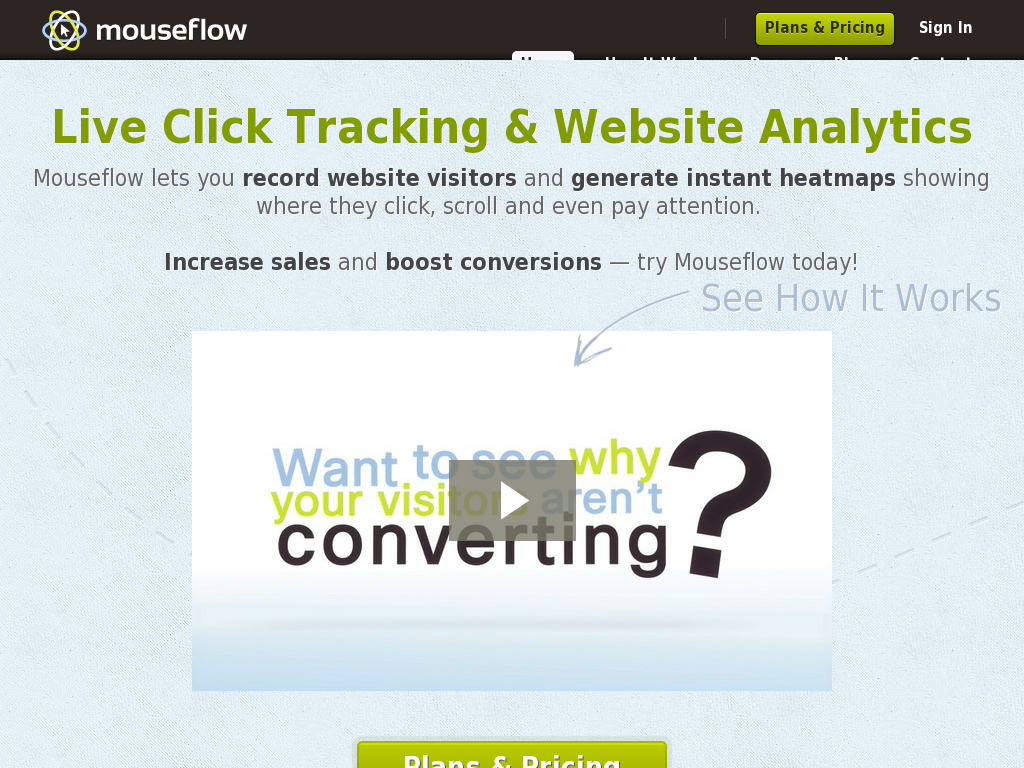 I suppose the name gives it right away, and if not – Mouseflow will help to track your visitors by their mouse movement on your website, blog or whatever else it is that you operate from. This includes the tracking of clicks completely in real-time, such a tool can give you the necessary data to make quick changes based on what people are clicking and seeing on your website at any given time.
Mouseflow Can Capture & Analyze:
Mouse Movements & Clicks
Scrolls
Keystrokes & Form Fills
Movement Heatmaps
Click Heatmaps
Scroll Heatmaps
Visit Information
Page Information
Number of Clicks & Hovers
Hover-to-Click Rate & Time
Hover Order & Time
Record Dynamic Page Elements
You can head over to the demo page and straight away check the tool in action without having to signup. I think you'll be surprised at how this tool works, in a good way. It literally records what the user is doing on your site. The only error I found was that the Twitter widget never showed up on the recorded demo file, but perhaps that's something that can be fixed as a premium user.
This is definitely a tool worth looking into, I know I might myself in the near future have a go at this and play around a little bit, you know – to track how you're browsing my blog!
SiteTuners is a professional conversion rate optimization firm that offers several options to both small and large business owners, each having their own advantages and disadvantages. Tim Ash, who is the author of 'Landing Page Optimization' (a highly acclaimed book), is also the CEO of SiteTuners. You can expect to be working closely with some of the best minds on the market.
If you're a business in need of new team members that are well coached and prepared for the latest standards in marketing, look no further than SiteTuners on-site and remote location training opportunities which will be led by experts and experts only. You can expect to have your own train trained and educated about everything landing pages. It's something you need to consider if you're in it for the long-term. And you should be.
Loop11 is a usability testing tool that will help you create tests quickly and easily in order to find out more about your visitors and customers, or anyone else for that matter. The term 'usability testing' can best be explained by giving the user a series of questions to answer in order to find out if they're pleased with a feature (or a set of) on your website, and if there is anything you could do to improve it.
Why should you use Loop11? Well, I guess because it gives you the ability to see what works and what doesn't work as far as design and feature sets go. You can easily combine Loop11 with an A/B test to improve the results even further. It really makes it easy to narrow down the users input and gives you the necessary output to maximize the potential of changes made to your website / business.
Loop11 has got quite a few customers, and you can check out their case studies and reviews here.
VWO is a powerful and yet simple tool that both beginners and experienced users will love for the simple, sleek design and functionality. It's a direct A/B testing tool that includes a ton of 'side' features for you to take advantage of. VWO gives you the ability to create mirror pages of your website and then allow you to edit the HTML code to change around the design – which can then be put to use through their A/B testing system.
Notable Visual Website Optimizer Features:
Multivariate Testing
Comprehensive Charts
Revenue Tracking
Heatmaps & Clickmaps
Add Multiple Conversion Goals
Testing for Mobile & Tablets
These are just a couple of functionality options that VWO offers, for the full list – check out the features page. You can begin by signing up for a free plan which offers a 1,000 visitors for 30 days – after that the price is increasingly higher and you might have to think twice if this will scale with your budget, before making the final decision of purchasing this powerful marketing tool for optimizing and testing.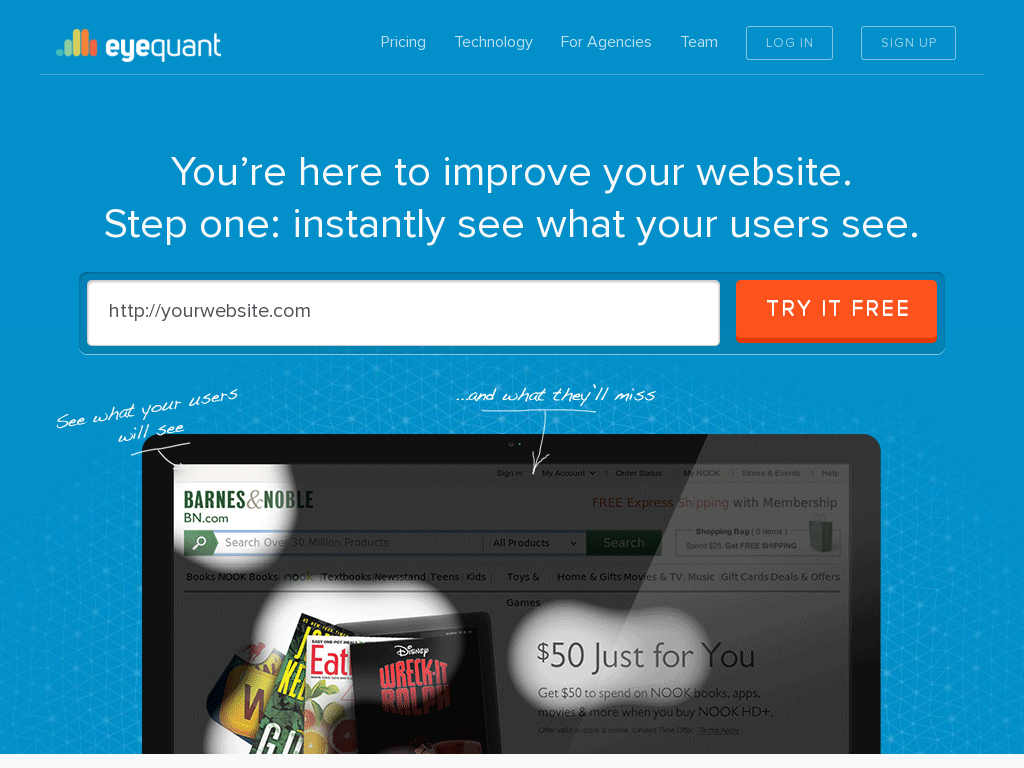 I found EyeQuant just a couple of weeks ago myself, and I totally fell in love with it. It's incredibly easy to use, and it produces amazing results – but that data of course is going to come at a price of being fairly expensive for smaller businesses. Though, the data that it provides could potentially make up for the loss.
It operates through a unique artificial intelligence platform built specifically to track and predict how the user view your website. It takes into account every single detail in order to make the best decision about your web design flaws and errors, as well as gives you advice on how your website looks before you publish the new design.
It's a project that's being picked up by the media and engineers from all around the world. I'd recommend you look into EyeQuant and have a test run yourself.
This is the last tool on our list, and it's also one of the easiest to use and provides a decent amount of tools to help you better understand where your users are clicking, and where are they pointing their mouse cursors to.
SessionCam offers quite a bit of features, but most notably:
Session Replay
Heatmaps
Funnels, Form Analytics, Field Drop-Off
API
You can begin with signing up for a free plan that will allow you to track up-to 500 visitors every month. We're talking real tracking too, like the one Mouseflow provides. Check out their plans and pricing. I was able to find a quick review online that explains SessionCam (and a few others like EyeQuant) and gives a bit more background information. You can find the write-up here.
Top 7 Optimization & Testing Tools
It's quite the list, I think. There is definitely a lot of variety and functionality to choose from, and I hope I was able to include all of the major players in the game. I know I skipped a couple, but I've tried to give them mentions in other ways. To me, it's also important to support the smaller game players and encourage them to grow and expand on their ideas.
You're more than welcome to review and discuss these tools both with me and the community!