You are seated at the office, and you receive several PDF forms that have contacts and emails of clients of your company. You are then tasked to extract these contacts and emails and save them to excel spreadsheet or CSV file since the company is yet to launch an email marketing campaign. You may decide to copy and paste the data to Excel but that is a daunting task and it may take you hours to copy the data. Here I would like to recommend 2 ways in which you can extract data from PDF forms into CSV file.
1. Adobe Acrobat
You must be associated with the professional PDF tool—Adobe Acrobat. Indeed, it's a professional tool which let you extract data from PDF forms. Let's see how to use it.
Open Adobe Acrobat on your Mac. Just search for the Applications folder and double-click on it to open.
• After that, click on the "Forms" icon followed by "Manage Form Data". After that click on "Merge Data Files Into Spreadsheet."
• A dialogue box will pop up that allows you to "Add Files". You can then click on the file that you want and upload the PDF forms to Export Data from them.
• Now, go to "Select File Containing Form Data" popup window. Next, choose a file format option in "File Of Type" from the options that appear.
• From there, you can find the form files that you want to merge into the spreadsheet. Mark on them and then click on "Select" icon.
• After that, you can click on "Export" button and then choose a destination to save the file.
• The data will be exported, and you can view the spreadsheet in the defined location.
Although Adobe Acrobat may offer a solution to extracting data from PDF forms, it is not that effective when you want to perform batch data extraction since you will keep adding files to the program. Moreover, with Adobe acrobat you cannot define how the fields will appear on the spreadsheet besides being a long and tedious process.
With that being said, then you need to look for a professional and time saving way to extract data from PDF forms. Well, there is no PDF software that can beat Wondershare PDFelement 6 when it comes to data extraction from PDF forms.
This software is designed to help you perform batch extraction and save the data in an Excel or CSV format. It can also allow you to create fillable forms, scan image based PDF forms, edit PDF forms, convert PDFs, create PDFs and also protect PDFs with passwords. This software is fully equipped with all functionalities of PDF coupled with simple user interface that makes you edit, import data or extract data like Pro. Let me take you through its steps using the Mac version.
How to Extract Data from PDF forms?
Now you have a batch of files from which you need to extract the data. Check out the following screenshot: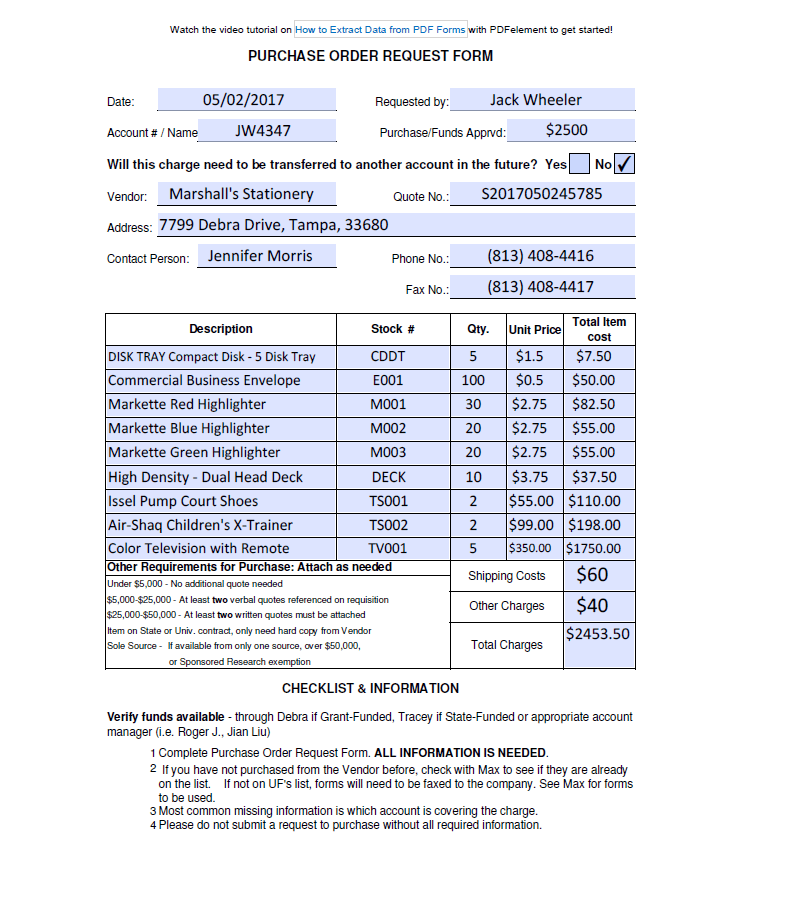 Step 1: – First you need to download the software and install it on your Mac. From there, you can open it. To locate it, go to "Applications" on your Mac and search for "PDFelement" software.
Step 2: – When you have opened PDFelement 6 on your Mac, the homepage will be displayed. On the mid right-hand side you will see "Batch Process"; click on that option. A new window will pop with list of features or actions that you can do them in a batch. Since your aim is to do a batch extraction of files, click on "Data Extraction" option. You will then be able to upload all the PDF forms from your Mac.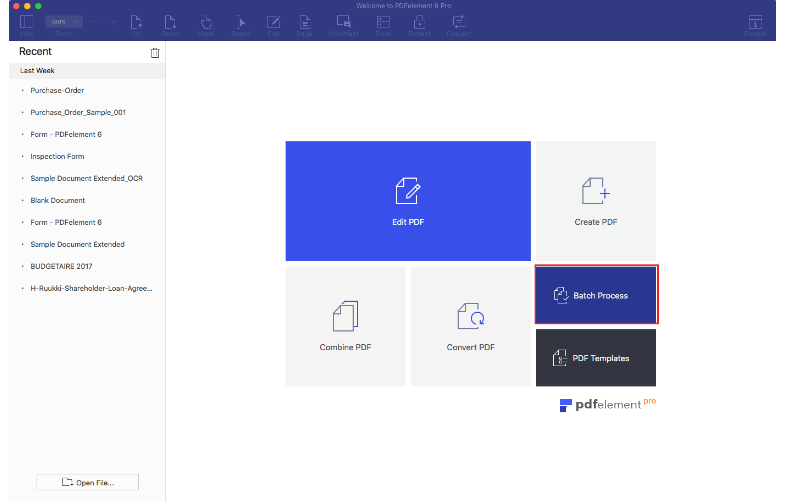 Step 3: – Within a few seconds all the selected PDF forms will now be uploaded to the program. They will be displayed on a list. After that you need to mark on "Extract Data on PDF form Fields" button at the top right. What follows is for you to click on "Start" button at the bottom of the window. PDFelement 6 will then begin to extract the data from fields. Just wait, then complete the process by clicking on "Finish" icon. To be able to save the extracted data on excel format mark save on "CSV File" option.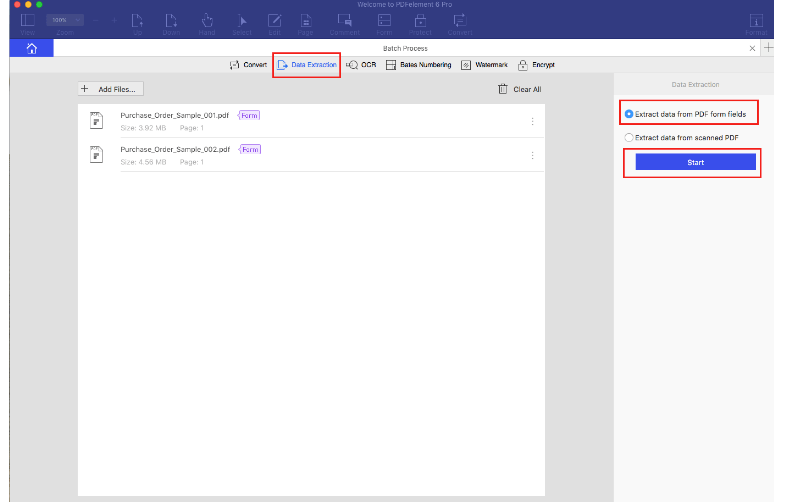 There you have it. You have now extracted all the data from the multiple PDF forms to Excel format. You can now open the Excel file and check on the extracted files. You can opt to edit them.


Tips: –
If you want to extract files easily with PDFelement 6, you have to arrange all your PDF forms in a folder. When you place them in one folder, it will be easier to add files to the program. Imagine a situation where some PDF forms are on desktop, others download folders, or documents folder. You will even fail to upload all the files. Another, thing to do is to upload the files that have the same structure so that the data can be extracted in an organized manner.
When you want to extract data from scanned files, you need to upload them and click on "Extract Data from Scanned PDF" option.
Conclusion: –
In some cases, one may opt the convert the PDF file to Excel form using PDF converters such as Adobe Acrobat or online PDF converters such as Zamzar. Even if you convert the PDF form to Excel format, you will not have extracted the data in an organized manner thus you will to merge the fields manually. Oops! That is still too much work right?
Other than online converters you can also use a desktop software like PDFelement 6 for Mac. It has the capability to extract the contacts and emails from PDF forms in an organized manner. Extracting data from PDF forms should never be a concern in this generation since you there are multiple solutions to fix that. Remember, when you want to quickly batch extract data from PDF form extractors always arrange your PDF forms in one folder.