In the last decade, the use of smartphones has significantly increased. With this, keeping a password or a lock screen on your smartphone has become very common to keep prying eyes away from the data or any private information stored in the mobile phones.
But for some people, setting this password can become a nightmare when they forget their password to unlock their devices. If you are the one facing a similar situation or want effective solutions for any future mishaps, then don't worry, today's your lucky day.
Today, we'll be going to show you several ways that can help you learn to unlock Android phones without a password. We will guide you with all the processes in a step-by-step manner.
What a relief for all those who have difficulty remembering passwords or whose kids always tend to mess up with the security settings.
Case 1: When You've Entered Wrong Password Or Pattern Too Many Times
It is the simplest process from all others listed in this article. After entering too many wrong passwords, you have to wait until the timer runs out and you can enter the password or pattern again. 
If any kid or anyone is trying to unlock your android phone for too many times, then it takes about 30 sec for your phone's security timer to reset. After this, you get another 5 tries until your phone is locked again.
But in case of any urgency, you can use the following steps:
Click on Forgot Password to open the menu.

Now fill your Google account details & click on "Sign In" Button

This will unlock your device and the password will be reset.
Case 2: Using "Dr. Fone" For Unlocking Your Android Device
By using Dr. Fone, you can unlock your android device in 2 ways i.e. standard mode & advanced mode. It makes the whole unlocking process very easy and can be used for removing all types of lock screens I.e. fingerprint, password, pattern or PIN. 
For this process, you just need a computer & Dr. Fone app (that you can download from the developers' website).
As stated earlier, there are 2 ways with which you can open your phone. Let's first explore the standard mode.
1. Launch Dr. Fone & select the option "Unlock" on your computer screen.
2. Now connect your Android device to the PC using USB Cable & select "Unlock Android Screen" on the program.
3. Since there are 2 ways to unlock, for the standard procedure, you can click on the 1st option.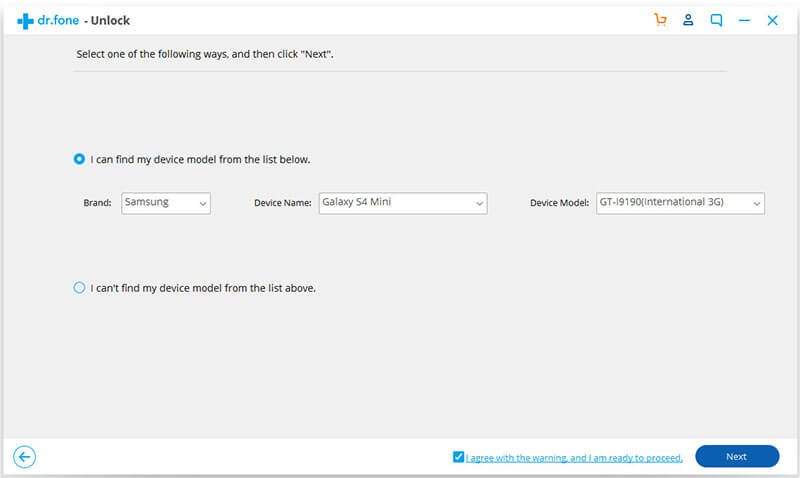 4. Now you can first select the brand of your device, then the device name and model.
5. After confirming you have to follow all the steps instructed by the program to get to the Download Mode.
6. Once you are into the download mode, your device will initiate the downloading of the recovery package.
7. Further, when the download is completed, you can click on "Remove Now". Now you are required to enter the confirmation code shown on your screen to remove your lock screen.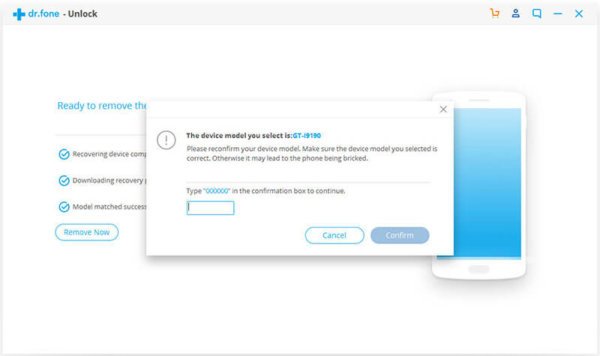 8. After this you can access your device without any password & this method will not affect any of your data.
To watch this whole process, you can check out this video.
Now, let's discuss the advanced mode. This method is also suited for all those who cannot find their device in the standard mode. You should also know that this method may erase your data from the device.
For this method, you are required to follow the below steps.
1. Follow the 1st 2 steps from the standard mode.
2. Now instead of selecting 1st option, select option 2 that states you can't find your device model from the list.
3. After clicking, the Android Unlock Tool will prepare to remove the lock screen.
4. Once it is prepared, you can click on the button showing "Unlock Now".
5. Now you can boot your device into the Recovery Mode with the given instructions on your laptop.
6. Once Recovery Mode is activated, again follow the on-screen instructions to wipe all device settings.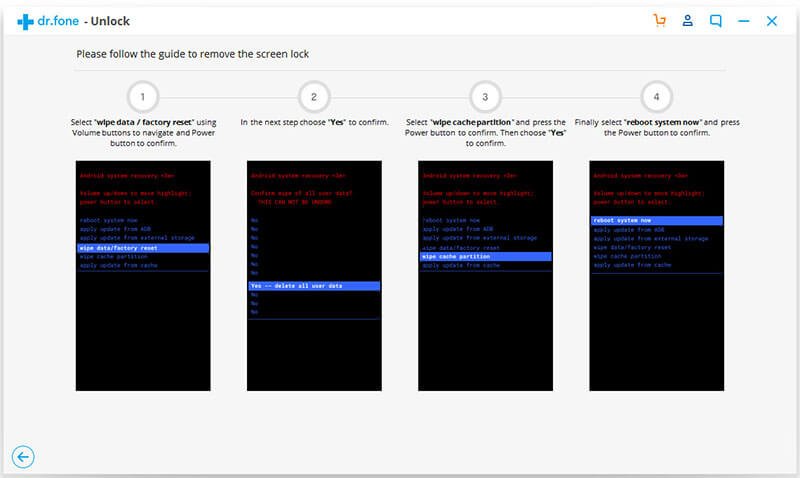 7. After a while, the lock screen from your device will be removed.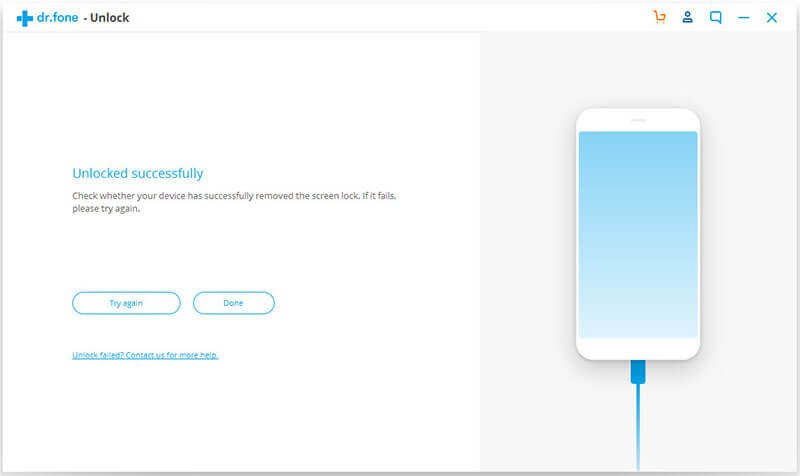 To read more about these methods focusing on how to unlock the Android phone, you can visit this page.
To know more about Dr. Fone Phone Unlock Features along with other exciting features like Android Device Recovery, Android Device Repair, Switching Android Device, Erasing Data, Rooting your Android device, & others, then you can visit Dr. Fone website.
Case 3: Booting Your Phone Into Safe Mode 
Note: This method is applicable to all the Android devices having a third-party app for a lock screen instead of a stock lock screen.
In this method, you will temporarily disable the 3rd party app that will give you a way to reset your phone's password.
For a majority of the devices, it can be done by pressing the power button to bring up the power menu and then long-pressing the "Power Off" option. After this, you'll be asked to Reboot to Safe Mode then you have to press OK.
Note: If this method doesn't work, then you can read this article "How to Boot Your Android Cell Phone Into Safe Mode?"
Once your phone is rebooted then you can clear the date from your lock screen app and even uninstall it. Lastly, you can reboot your phone back to get out of safe mode. By doing so, your phone will get unlocked.
Case 4: Unlocking Your Android Device By Using Android Device Manager (ADM)
This method works only in certain conditions. These are as follows:
Android Device Manager must be enabled in your device.

The GPS option must be switched on for tracking your phone by using Android Device Manager.

Android Device Manager is only compatible with devices having Android 4.4 or above.
Now, you can follow the following steps to unlock your Android phone.
Visit the

Android Device Manager

website from any computer or laptop or another mobile phone.

Sign up with your Google account (use the same account that you have used in your locked phone).

Now from the Android Device Manager interface, select your device (that you want to unlock).

Select the option "Lock".

Now you have to enter a temporary password & again click the option "Lock".

Till now, if you have performed all the steps correctly, then you will see a confirmation along with the options for- Ring, Lock & Erase.

Now the above step will lead you to a password field on your mobile phone's screen. Add any temporary password in order to unlock your phone.

Now you can visit the setting and phone's lock screen option for disabling the temporary password.
Now, you can relax as your phone is successfully unlocked.
Case 5: Doing Factory Rest
In case, you have not enabled "Find my device option" in your Android phone, then you can unlock your device by old-fashioned way i.e. Factory reset.
You should know that the exact steps for factory reset may vary a little depending upon the devices but the result will be the same. Using this method will erase all your data from the device. 
Before using this method, it is always a best practice to take a backup of all the content. This can be done as follows:
Connect your mobile with any PC 

Access the main folder of your phone with the PC

Copy & save all the data or the essential data that you want to keep.
Now, to begin with, this method, you can start with the following steps:
Enter the boot menu by turning on your device. If you don't know-how, then you can search it easily on Google as per your device.

Use your volume keys to scroll up & down; and for confirming your selection, you can press the Power button of your mobile.

Now you can navigate to the option that reads "Wipe Data or Factory Reset" & confirm it.

After your confirmation, the process of Factory Reset will be initiated in your device and it might take several minutes. 
Once this process will be completed, your device will restart without any passcode but even all the data will be erased.
Wrap Up!
This was all regarding the different methods on "How to unlock Android phone if you forgot the password". Some of the methods listed above are the old ones but are still effective, while some may be used if you don't need your data & some methods like Dr. Fone can be used not just for unlocking your Android phone but also for various other purposes like Data Transfer, backup, recovery and so much more! So, don't stress more & if you are facing trouble while unlocking your device then do give these methods a try!