Cryptocurrency these days have become a global phenomena, that have been grabbing headlines, but not because for any good reason. WannaMine – a new malware infects computers around the globe, hijacking to mine cryptocurrency known as Monero.
WannaMine is a fileless malware which is utilized for mining Cryptocurrency. The malicious program was first recognized in October 2017. Such functionality makes malware detection, prevention and removal much complicated. Moreover, WannaMine malware utilizes "living off the land" techniques, which means that cyber criminals are utilizing and misusing particular projects or devices that are already installed on the PC.
What WannaMine do?
WannaMine works as a worm in computers. Consequently, once it influences a machine, it keeps spreading to the entire system. The fundamental reason for the WannaMine malware is to mine Monero cryptocurrency. The malware infects a victims PC, and after that uses it to run complex decoding schedules that make new Monero. The money is then added to a digital wallet belonging to hackers, and they can spend wherever they choose to. This may sound moderately harmless, yet the mining procedure takes priority over legitimate activities and results in slowing down your PC significantly.
Problems within
• There are many significant issues with WannaMine. To start with, the way in which it tries to make extreme utilization of the processor and RAM puts the PC under much strain. At the end the PC will fail, with the requirement of repairing or either completely replacing it.
• The second significant issue is to do with the way by which WannaMine gets spread. There is nothing surprising about the malware – clients are deceived into downloading the malware by means of email attachment or infected sites. Once it is installed, WannaMine utilizes some non catchy tricks to spread over the network system.
By utilizing Windows built-in tools, Windows Management Instrumentation – WannaMine tries to catch login information that enable it to connect with different PCs remotely. As it utilizes Windows tools, WannaMine is being depicted as "fileless", making it staggeringly difficult to identify and detect. In fact, many anti virus application can't detect WannaMine, or ensure protection against it.
Protection against WannaMine
The best way to recognize a WannaMine infection is to carefully observe the applications and services running on a PC. And additionally having an anti virus on every PCs it is vital that they are updated daily and fixed to close the loopholes utilized by malware. Staying updated and introducing security devices will help block cryptocurrency malware before it takes control over your PC. If your PC is tainted, it might soon spread to different PCs and gadgets on your network.
Removing WannaMine from the system
WannaMine is a fileless malware. Subsequently, it's difficult to remove manually. The moment any malacious components are executed within the system, malware hide its traces. In this way, essential security programs can't shield a PC from the attack; however it can't delete the virus as well. Once WannaMine is removed, you should deal with PC's or system's security. Move up to the most recent Windows OS, install updates, and follow general security tips when browsing the web.
1. One can completely remove Wannamine using safe mode with networking
In order to successful run the program and cut down WannaMine malware, you need to reboot your system as shown in the image below on Safe Mode with Networking.
Read More: – Everything You Need To Know About Mining Bitcoin
Step 1: Reboot your computer to Safe Mode with Networking
For Windows 7 / Vista / XP
1. Click Start – Shutdown – Restart the PC – OK.
2. When your computer becomes active, start pressing F8 multiple times until you see the Advanced Boot Options window.
3. Select option Safe Mode with Networking from the list.

For Windows 10 / Windows 8
1. Press the Power button on the Windows login screen. Now press and hold Shift, which is on your keyboard, and click Restart..
2. Now select Troubleshoot – Advanced options – Startup Settings and finally press Restart.
3. Once your computer becomes active, select Enable Safe Mode with Networking in Startup Settings window.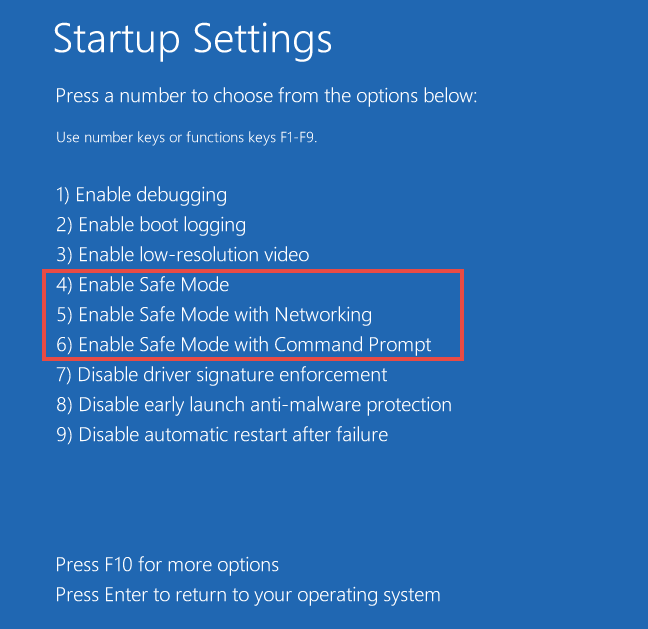 Step 2: Remove WannaMine
Log in on to your affected account and initiate towards the browser. Download an anti-virus application. Update it before a full system scan and remove unwanted files that belong to your ransomware and complete WannaMine removal.
• Login— affected account—Open browser—download the anti virus applications— full system scan a—remove unwanted files that belongs to ransomware—complete WannaMine removal.