Website is a great online marketing tool which can be used for promoting a business online. Making a professional corporate or business website nowadays has never been simpler, thanks to WordPress. Creating a website for your business today isn't as distressing and expensive as it was years ago. WordPress provides business themes that can go well with a business.
These striking WordPress themes are custom-made to offer all the features which you need in running and promoting your online business. If you wish to create an engaging and striking site for you business, then check out the business themes below: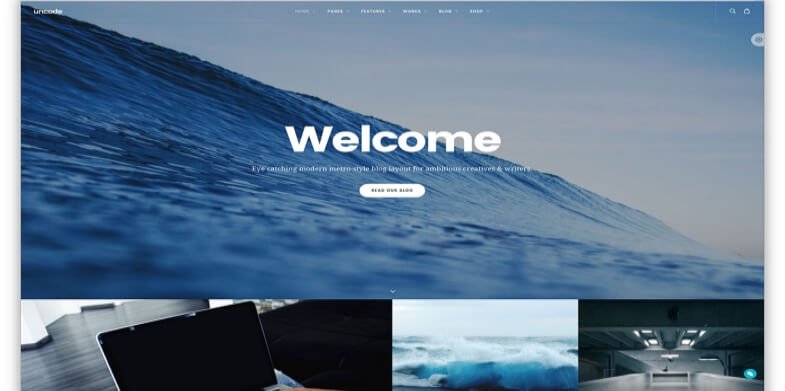 Divi
This is a spectacularly resourceful and incredibly vast, unparalleled in security and safety and notably feature-rich, while fast-loading and lightweight, surprisingly simple to use and aesthetically versatile and flexible, deeply customizable and fully responsive and mobile friendly WordPress multipurpose, multi-concept website theme. Dozens of professionally designed, readily available page layouts and templates and independently certified security feature makes Divi a great choice for business websites that need flexibility, power and the capability to hit the grounds running from first day, all which Divi brings efficiently to the table. Sleek and serious Portfolio pages for displaying your works, extensive SEO capabilities, etc under the hood makes Divi the most dependable theme for creating great business websites today.
Circle Flip
It's a striking WordPress theme which can improve your web pages. Any user can install a full, unrestricted demo easily. This lets you test the theme, before deciding to purchase it. The installation procedure has been simplified, big thanks to implementation of one click installer. Circle Flip can handle the hardest parts, while you take the important creative decisions. The theme site displays different examples of how earlier clients have utilized Circle Flip to maximize their possibilities of success. It has a modern layout and user-friendly interface. Any client can style his experience, and make a website which stays correct to his vision. It allows novice to compete with the established veterans, and improve their site past any expectation. Circle Flip offers a remarkable design for hosting websites. It is simplified, streamlined, and optimized.

Uncode
If your aim is to create a successful business site, look no further. Uncode can easily adapt to any niche, and offer the users with an intuitive and accessible interface. It capitalizes on your web page's performance, establishing to your clients that you values attention to detail and quality. When aesthetic customization is considered, its Visual Composer has you covered. This tool streamlines and simplifies the process, while offering you with different personalization options. With Uncode, you can use your web page to distribute your product. It has even implemented WooCommerce, one among the most prolific plugin on WordPress. It eases the creation of expert online stores, offering users with a chance to boost their revenue stream. 
Massive Dynamic
This is an unbelievably comprehensive and amazingly versatile, powerfully flexible and highly ambitious, wonderfully simple to use, user-friendly, intuitive and responsive WordPress business multipurpose website builder. It has been created with the utmost attention to detail and care by a committed team of professional developers and designers, working jointly to guarantee the well-polished and smoothest, profoundly functional elements, interfaces, and technologies make it in Massive Dynamic. It has been cautiously packaged with more than 70 completely exclusive shortcodes and many different footers, headers, templates and navigational bars, arranged enticingly across several convenient demo pages and websites which can be easily imported with just a single click. Massive Dynamic is perfect for corporations and businesses across a huge variety of fields and industries. Its attractive, modern ambiance and engaging, beautiful end-user experience makes Massive Dynamic a strong choice for webmasters rookies and seasoned alike.

Specular
Specular is a notable WordPress theme. One among its most remarkable features is that Specular lets you sample content by trying demos. Additionally, you may network with demo and then personalize it, without even spending a single penny. Currently, there are more than 28 of such templates available. In case, you ever come across something which seems strange, be sure to check with the theme's documentation. It's informative, well-written, and available for free. If problems occur, Support Forum is always ready to get your questions. Irrespective of what problem you're experiencing, don't hesitate to visit the forum. Support representatives are ready to help out all clients. If you don't have enough time to read Documentation, then there are video presentations and tutorials on this theme's website.
Zerif PRO
If looking for a professional, modern and clean WordPress business theme, Zerif PRO is the right choice. It comes with splendid parallax scrolling for different sections of your site and smooth CSS3 animation that makes your contents to emerge with style. This theme is completely SEO friendly and should help with the traffic from search engine. This theme comes with numerous page layouts, custom widgets, and everything else in order to create websites for any type of businesses.

X – The Theme
X is an extremely efficient and well-designed product. X – The Theme is a record breaker and a pioneer, as it's the most famous WordPress product which offers multiple concepts and designs. Included in just one bundle, the users can enjoy four unique designs known as stacks. X offers large pack of features, increasing its value and versatility greatly. It doesn't matter as to which browser your users desire, as this theme can work on all. Some wide documentation is included, providing a lot of information to anybody who is ready to read it. With X, you are getting a big bang for your buck.
Studio 8
There are moments when every entrepreneur identifies that this business world doesn't forgive mediocrity. Your site will be the calling card for you and you can't afford to offer any sub-standard design. It's a theme which allows everybody to construct an inspiring business page, irrespective of their skills level. For the non-technical users, installation and configuration can be handled by developers. It comes packed with lots of helpful features, and a great design which never fails to amaze.