When it comes to recognition and engagement, there are few things that are as effective as using a pattern. This is because people are able to make connections and better understand the way that something works when it is in the form of a pattern. For those who are looking to create products that will ensure engagement and familiarity, then mobile UI patterns libraries are essential. There are so many UI pattern libraries in use today, more so for desktop applications. Mobile UI pattern libraries are now growing in popularity. Here are some of those patterns that mobile developers should be familiar with:
Here are some of those pattern libraries you should be familiar with: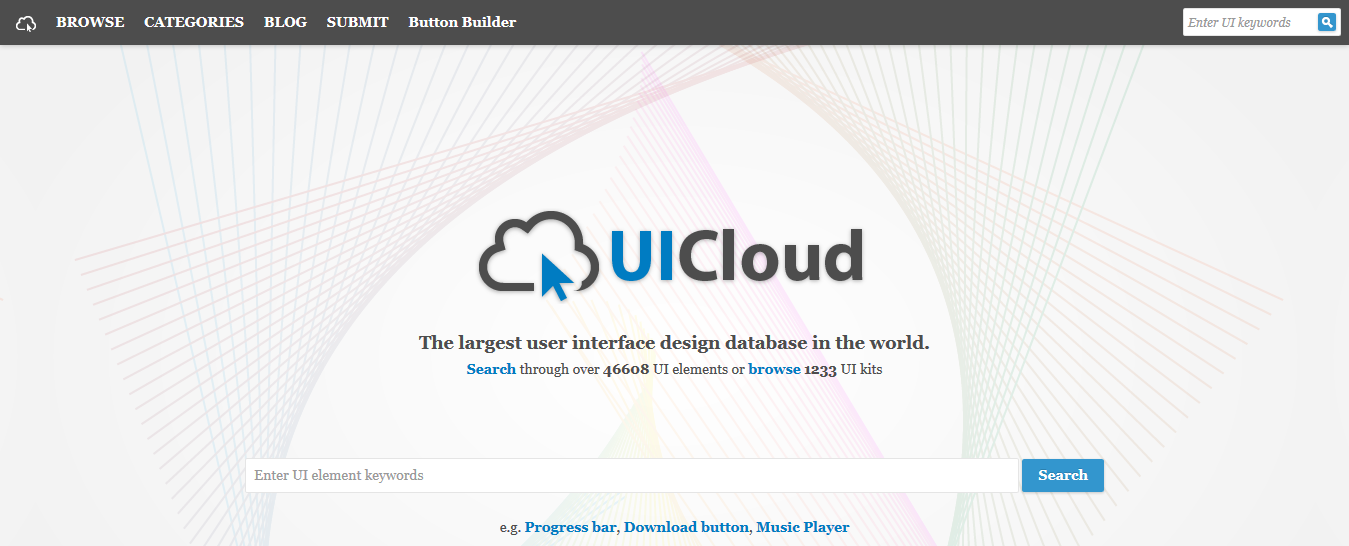 This is a website that you should visit if you want to be spoilt for choice. There are a large number of mobile UI patterns here, and they have been created to be compatible with a host of platforms. When searching, you will find it easier to get exactly what you need, as all you need to do is put in your specific search criteria. The patterns in this library are bound to inspire you.

Pttrns is a collection of elements and designs which are bound to inspire anyone looking for a great pattern. You will find that this website is easy to navigate since all the pattern libraries have been so well organized. This is a library that always has something new, as it is updated on a daily basis. When you want to have success on your project, take the time to find out what pttrns has to offer.

Should you need a variety of options from your pattern library, you will enjoy looking through iOS inspiration. These have been created specifically for iOS devices. There is plenty that you can accomplish with these libraries, starting with creating a stunning logo design. You can also create buttons on your mobile with this website. For all new products, you can create a landing page that welcomes anyone who visits your website.

For small design elements, you can not do any better than little big details. On this website, you will find small design elements. For more information, and also to make it more user friendly, the layout of this website is close to that of a blog. This is the website that you should visit when you are looking to add the final touches to a stunning project so that it stands out from all other offerings that are online.

For people who use Wikipedia as their go to source of information, they will love this website for all that it has to offer. It is a resource from Wiki and is excellent for general reference, particularly to mobile UI pattern libraries. In addition to being a reference guide, the patterns that are listed are detailed. You can even pick up a think or two about advertising on this website.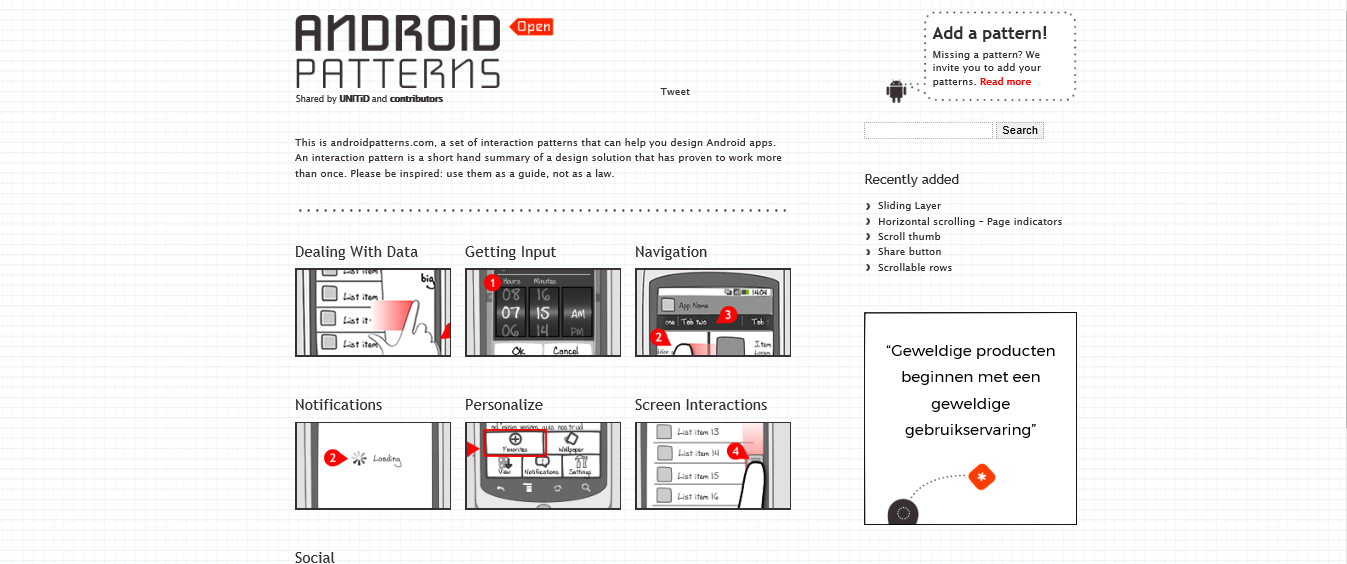 Android Patterns is basically a one-stop shop for design patterns, with all the patterns that android developers and designers would need for their projects. It is a website that features all the great patterns that you can easily use on any of your projects. From the website, you get to choose from a wide variety patterns that blend well, those that have short custom summaries as well as those with very beautiful wireframe illustrations.

This website has a minimal look and feel, and also features excellent pattern libraries. From this website, you will find that you can develop applications and add the necessary elements for iPhones, iPads and Androids. It is easy to navigate on this website, and you will find that you can create badges, maps, popovers, calendars, badges and more. All these have been handpicked in order to present a set of the best of these elements that any designer would find useful. The library also showcases the most popular trends in UI at its top navigation bar. With this kind of library, you can imagine a great UX and bring it out in a great user design interface.
f
This is a library that is exclusively meant for Apple designers. There are hundreds of patterns that you can choose from, which will make it easier for you to customize any application that you are working on. This means that you may be using a template but by the time that you are done, your application will be so unique and no one will be able to easily replicate it. This is just what you need when you require a website that stands out from all the others on any mobile platform.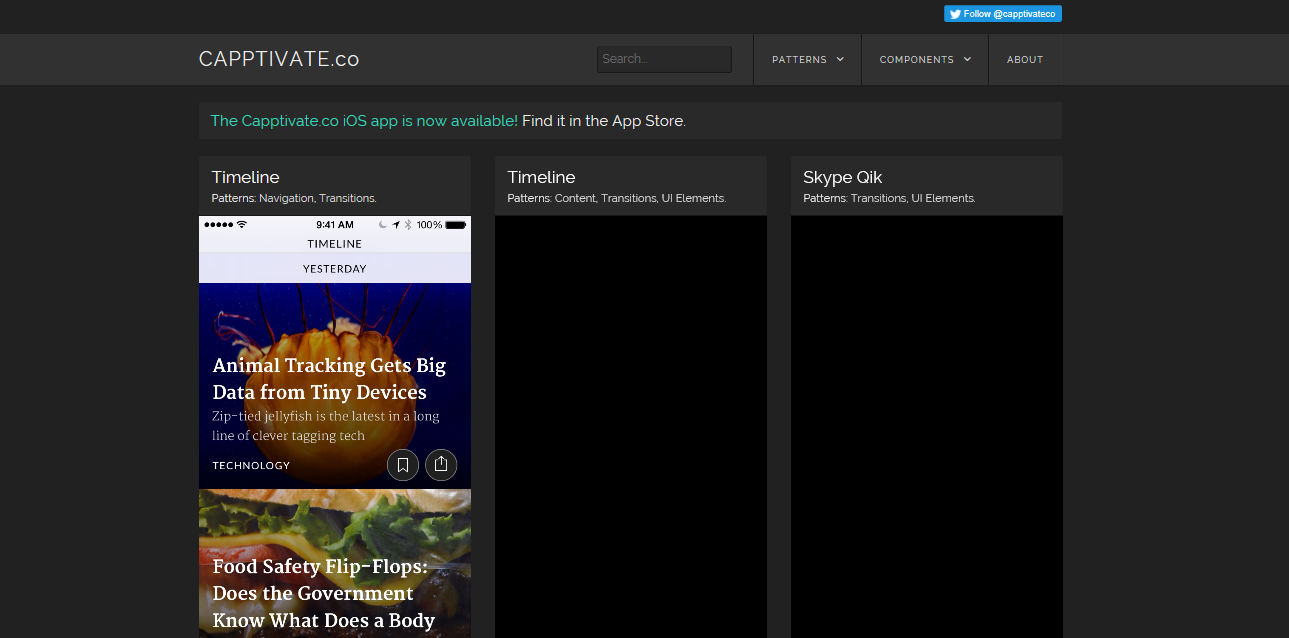 Searching for animated mobile patterns will be easy and effective when you do so using this mobile UI pattern library. It is bound to inspire you as well as fascinate you in regards to what you can accomplish with design. You will find hundreds of results from simple searches, making the process of working exceptionally easy. With the mobile UI patterns, you will be able to ensure that your users have an excellent feel of the product that you are creating for their benefit.

This is one of the broadest UI design patterns library on the web today. Having been online for more than a decade, it has managed to build up so many great patterns. These patterns are grouped into various categories such as user interface design patterns and persuasive design patterns to make it easy for designers who are looking for inspiration. There are also quite a number of related subcategories in each category. It is a great library to look into if you want to create great designs through inspiration and valuable advice.
It is good for a designer to learn to use various patterns in their designs, not relying on just the same designs they have been using in the past. This allows users' time to understand different patterns and their value so that they can come to appreciate them in the future. For anyone that is just starting up, it will benefit you to experiment a little before you finally decide on what to settle for. What is important to note is that these trends come and go, therefore you need to be on the lookout at all times.