Animation effects can be used in order to add some welcome personality to your WordPress website. They can also be used to attract attention to important information on your website and to enhance UX to increase conversions. These effects will add value to your designs as well, and could increase your traffic by a higher percentage, which is why it is important to know about these WordPress plugins, so that you can use them to add these effects to your website:

This is a very useful WordPress plugin that will allow you to produce very stunning text effects using SVG shortcodes. You can use it in order to reinforce a brand identity, to visually enhance your calls-to-action or just so as to be more artistic for a better looking design. All this can be done using SVG text that can be edited any time you want to make changes, without the need for any image-editing software. It is a very easy to use plugin, with which you can even mix colors, match fonts, colors, fill patterns and filters. This will create a unique text effect that will capture the attention of your users to your content.


This is the plugin to use if you want to get animation on to your website, because it has great features that can help you easily achieve the effects and look you want for your website design. It will help you easily add CSS3 animations to your WordPress website. This plugin has Animo.js and Animate.css libraries in one package, which contains over 50 animations to choose from. You can add the animations you prefer on user events like hover, scroll and click. The best part is that it is absolutely free.

With this plugin, you get to choose from a range of animations while content from your website is loading in. Once the loading is completed, the animation will disappear automatically. You can easily customize the colors via the plugin settings, or you can use your own custom CSS to achieve more effects as per your preference.

This is a great plugin that is available for free to use. It comes with multiple animation and css3 transition effects that will give you the kind of look you prefer on your website design. Once you use it, your WordPress page will always load with effective animation styles. The plugin features a set page in animation effects, a set page Out animation effect, a set page in duration speeds as well as a set page Out animation duration. It has different animation effects available too, including fade, fade down, fade up, fade right, fade left, rotate, zoom flip X and flip Y.

This can be used in order to add animated progress bars to your WordPress pages and posts. The bars will be added using a short code. You can then customize with options for colors, texts, percentages as well as width. The advantage is that the plugin is compatible with all the browsers. Its best features are; it is fully responsive, it is highly customizable, it is retina ready and it is easy to use since you only need to use one short code.

This is the plugin to use if you want to automatically add CSS3 transitions to your website or blog and the WordPress admin. Links will get animated transitions between their normal and hover states. This plugin is absolutely free to use, and it is supported by the most recent version of every major browser including Chrome, Internet Explorer 10, FireFox, Opera, and Safari among others. This is the best choice for web designers who want a quick and affordable solution.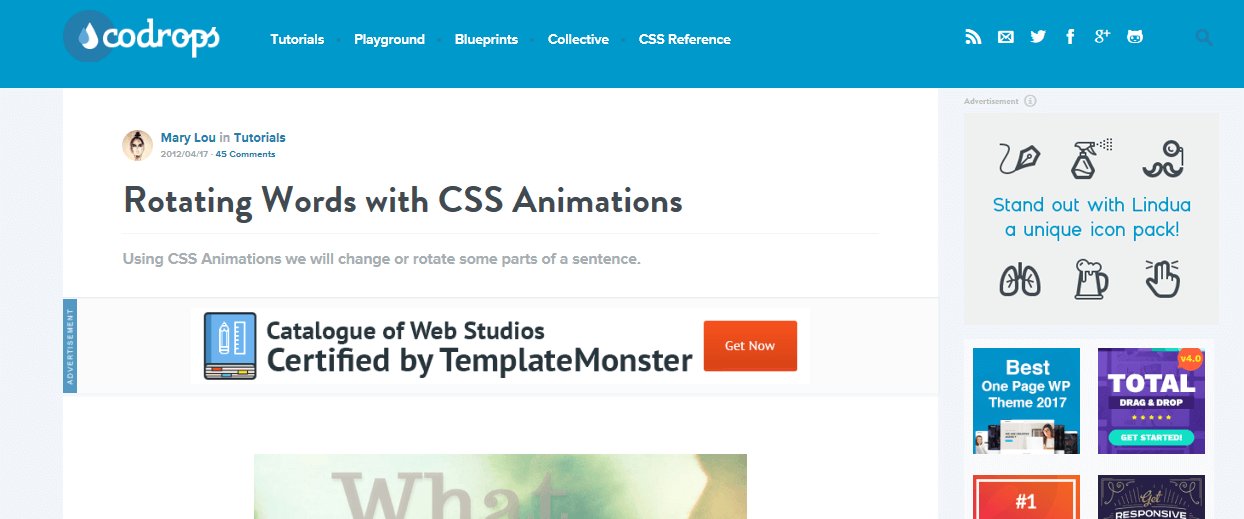 This is a very important plugin with a simple function, which is rotating a word or words in a sentence using animations. With it, you will be able to add multiple words in a sentence that will randomly change with css3 animation effects. If for instance you want to change one word in a sentence, you will have five animation styles to choose from, and you can set the font color and size to your preference.

This is a free to use plugin that will allow you to add animation to any text using short codes in pages, posts or website widgets. With it, you can also use PHP code in order to add text animations directly in theme files. This plugin uses the capabilities of Textillate.js script. It is easy to use since you will not need to spend much time including scripts and style files. What you do is to just create a short code with the animation you intend to use, and then paste it into your post. This Easy Textillate plugin uses animate.css, textillate.js and lettering.js libraries.

This plugin uses CSS ID elements to add smooth-scrolling effects to in-page navigation. You will be able to set the scroll duration and easing as it has over 30 easing types to choose from. It offers support for both vertical and horizontal scrolling and counterbalances can be configured for individual links.

This is a simple modern and very stylish plugin to use in order to add some life to your image captions. What you do with it is to select an image from the WordPress media library, then set up the hover effects that you want to use on it. Once it is done, embed it into a post or page of your preference and it will be just like you want it. The results are eye catching image effects that can improve your business image so much. A short code generator will also be included.
These are the kinds of plugins you need in order to make your website or blog special. You should, however, choose one that will allow you to get the right mix of special effects in order to bring out the elements of fun and utility to your WordPress blog.