Designers typically have an image of the kind of design they want even before they start creating it. Sometimes they are not able to achieve exactly what they are looking for since many of the themes they work with are not customizable. That is why customizable themes are very important. They make working on your unique designs very easy because, with tons of custom options, you can easily come up with designs that look exactly how you want them. If you happen to be designing for your clients, customizable designs also make your work much easier since you can always give them what they are looking for.
Here are some eye-catching themes that you can customize to your full satisfaction: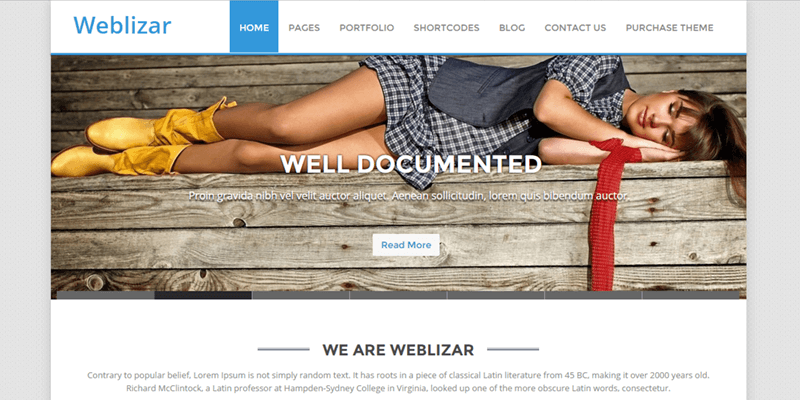 This is a great theme to use since it is responsive and displays very well through all devices. In addition, it is compatible with all the main browsers people are using today. To begin with, you will choose from four different web page layouts on Weblizar, custom menus, social media links in the footer, different page templates, a wide layout option, and dark and light color skins among others. Making a site your own with this theme can be done with ease.

This is a great looking modern theme that is attractive and creative. It is light and fast loading, user-friendly, and highly responsive websites. You can customize the colors with ease and make use of high-resolution images to create a stunning website. Furthermore, you will find a large number of layouts, more than 58 templates, shortcodes, and more.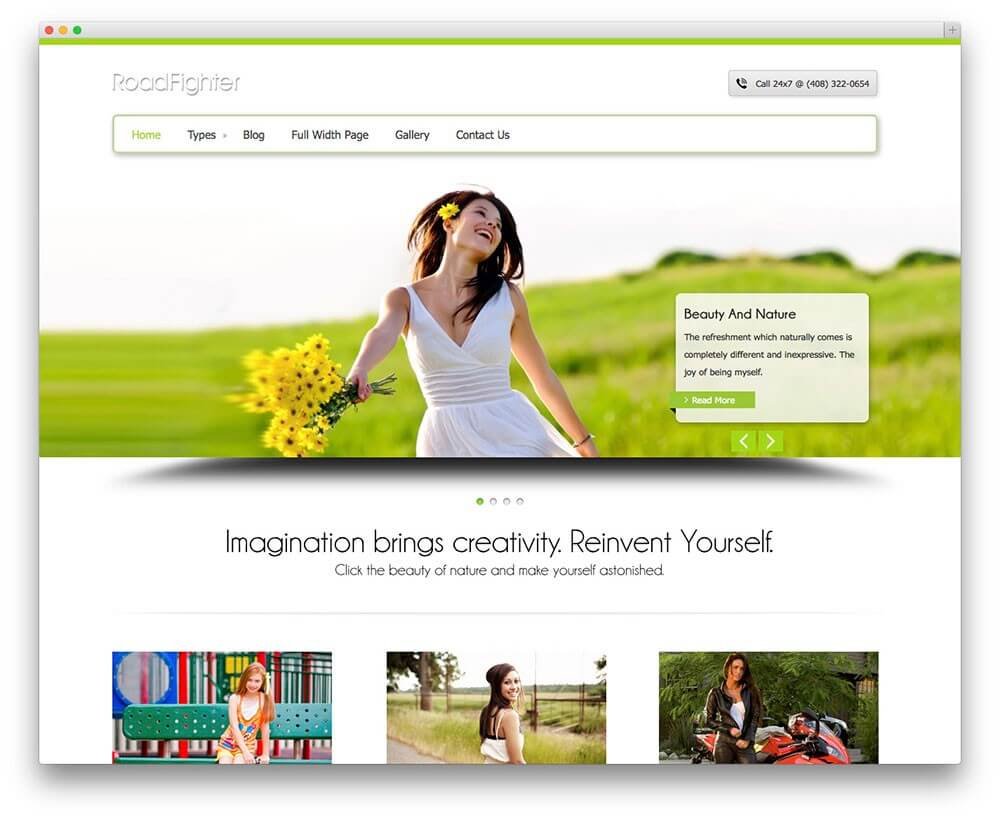 This is a theme that has a front page that is fully customizable. To begin with, you can change the menu and the layout in order to utilize them fully. Some of the other custom options include the menu, custom backgrounds, the five areas with widgets, header images for the pages and posts, and also featured images. You can also manipulate the social media icons as you choose. When you are designing a web page for a business or professional, this is the ideal theme to use particularly for showing clear images and presenting written content with ease.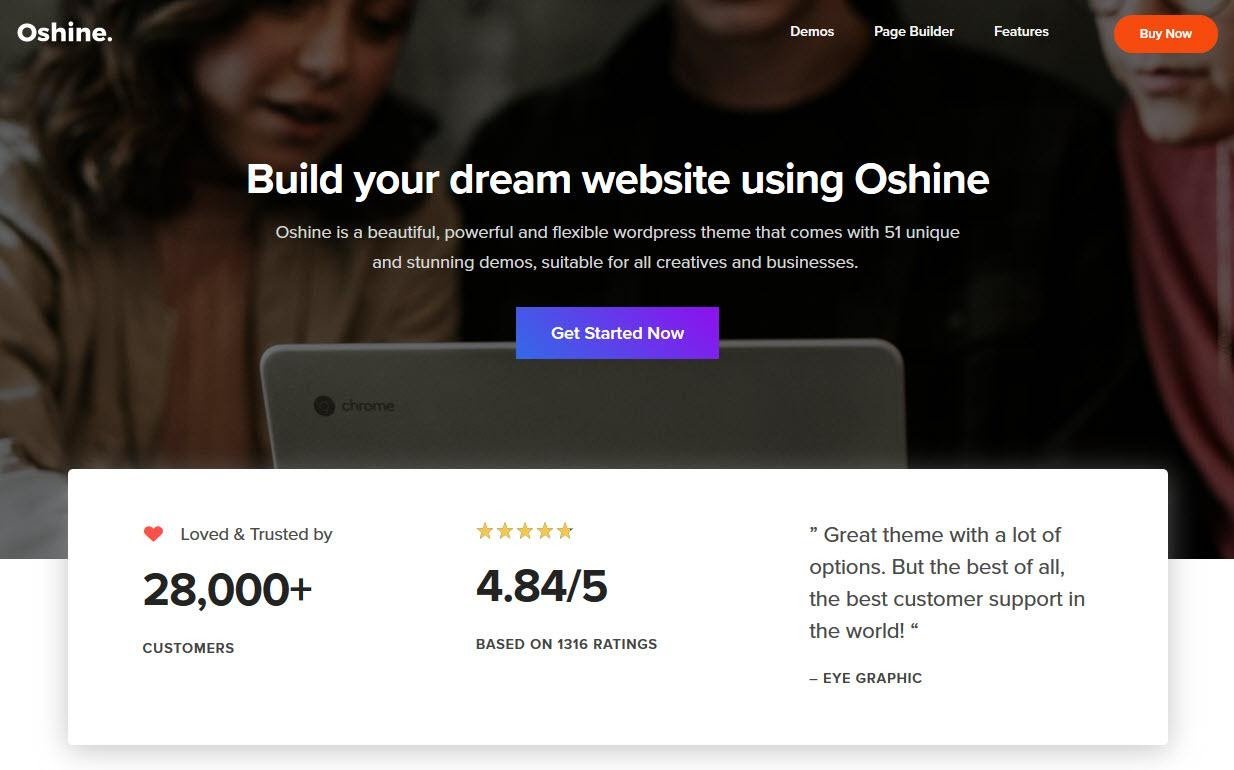 Oshine is one such theme that is of high quality & is highly customizable too. It also has one of the best customer support. Moreover, Oshine gives you numerous perks including 50+ styling modules, lazy loading for images, infinite grids & slides layouts, one-click import, great performance, 600+ Google fonts, column parallax, unlimited sidebars, SEO friendly clean code & much more.
If you are not satisfied with these, then you should know that it is integrated with a revolutionary fully visual page builder which makes creating web pages a breeze for both amateurs & pros. Oshine is highly recommended for building stunning portfolios, blogs & e-commerce websites.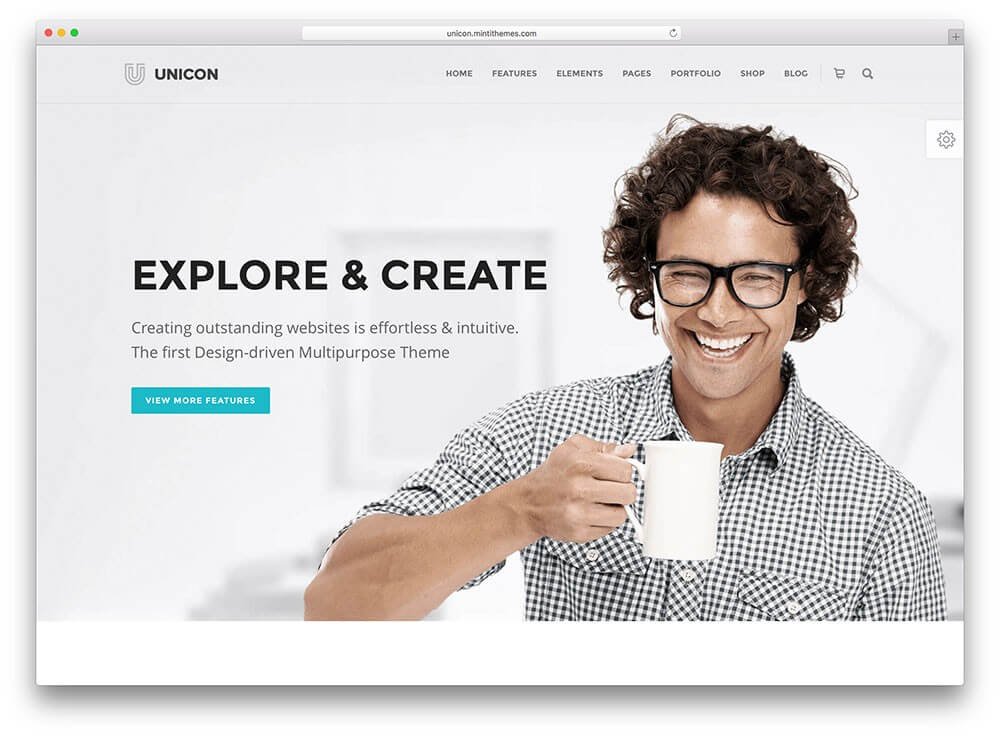 This is a highly customizable theme that will consistently help you to create quality websites. It comes with tons of features and tools to choose from including 10 innovative page builder elements, advanced image options, 2 font icon sets, more than three hundred icons, animated elements, mouse swipe sliders, and more. If you are working on a business site, a blog page, a creative agency, or an e-commerce page, this is the right theme to pick since it is so flexible.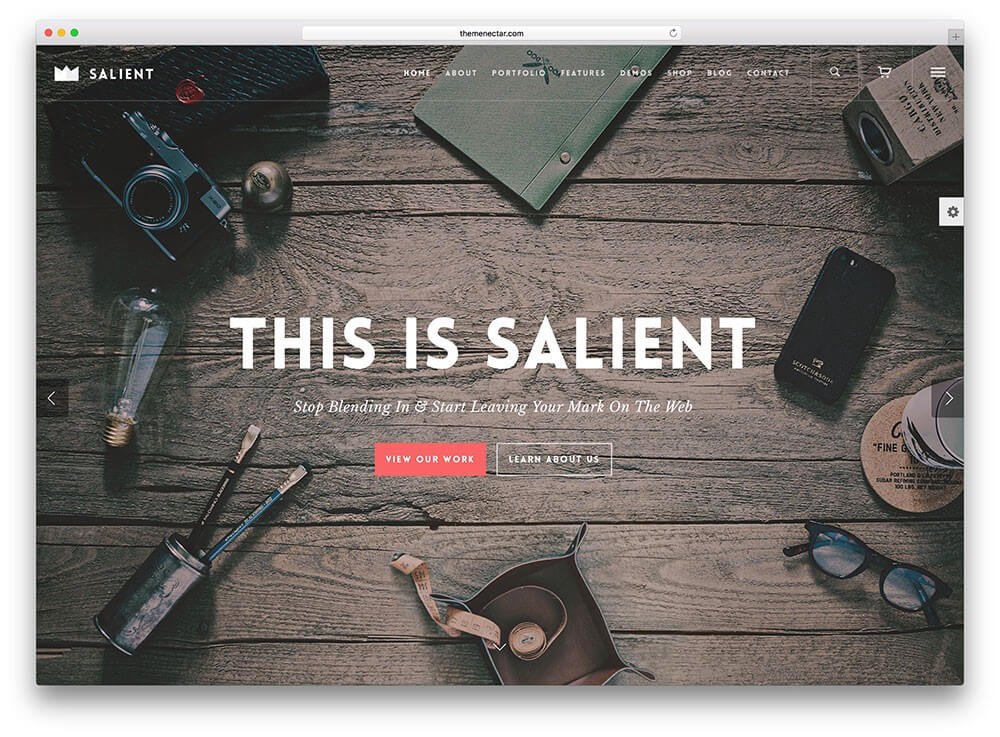 It is hard to overlook this amazing theme because it comes with so many valuable options that can assure you a user-friendly, efficient, and customizable experience. The theme comes with a heavily modified version of Visual Composer, which is a great tool that will allow you to create astounding pages without the need for coding. You will also get to use the amazing drag and drop technology so as to build your websites easily. These are just some of the reasons that this theme is amongst the most popular that you will find on WordPress today.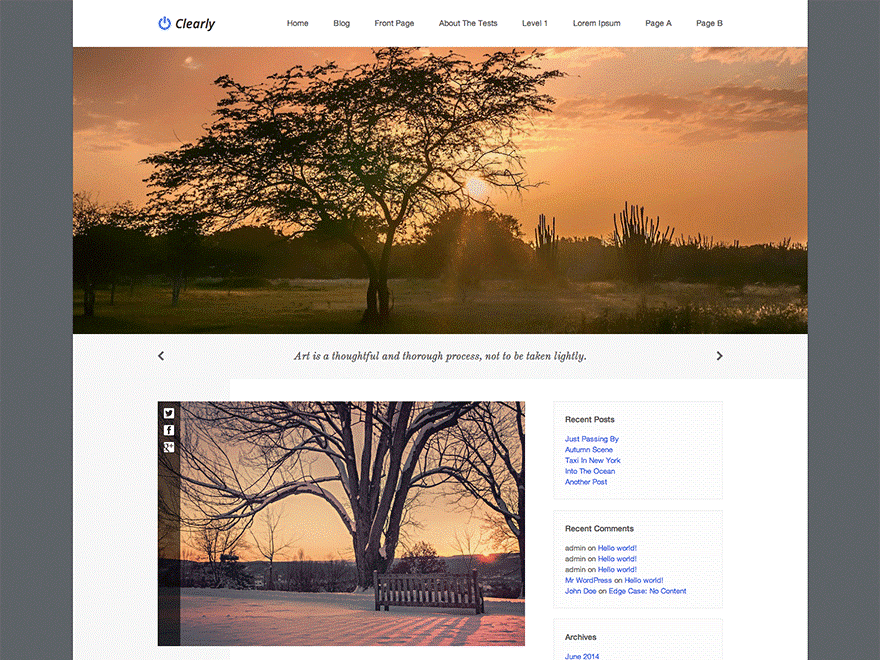 This is a theme that stands out because of its simplicity, making it possible for anyone to customize it with ease. The theme comes with a simple options panel, which is a page builder that you can customize the way you want your design to be. You can now create a simple landing page or a major professional website by making use of the integrated page builder. Start off by customizing the background and then move on to the images, content, width and other essential features.

When you want to impress audiences with great quality websites, this is just what you need. Above all, its settings can be changed into anything that you prefer to create something that you have already imagined. There are more than 156 demos, all of which have been fully equipped. There are tons of features that will help you create websites that have many capabilities. When you are looking to think outside the box, this is the ideal theme to try.

This is one of the best themes to use for its flexibility. It will improve your website and make it easy for you to attain success. You can create your own layout using the Divi Builder, which makes it possible to create a layout with ease without having to make use of any core. There are also a total of pre-made layouts for you to choose from if you prefer.

Port is a very impressive theme to choose if you are working on a website that needs to have E-commerce capabilities as well. It is diverse, open-ended and very original. There are twenty-five versions of homepages that you can choose from, including options that are light and dark. What you will get are pages that are user friendly, clean, and very fast to load. The skin options that you choose for color are currently unlimited.
Bonus One!

This is a highly adaptable theme that will enhance your corporate and personal websites in order to make them the kind of websites that your users love to visit. Its layout is highly responsive, and its admin panel is very powerful. It is the kind of theme that will work on all modern browsers. Choose from 30 amazing designs for homepages that are rich in detail and hundreds of premium plugins.
When you want an award-winning website that is productive and functional, the best way to meet your goal is to create something totally unique. This way, you will remain memorable to those who are looking for your site and interacting with it. Choosing a customizable theme means that you always have the option of improvement.