Color psychology plays a huge role in the development of user interfaces. It practically determines all the important aspects of any front-end designing project for modern websites or web applications. Google effectively captures the whole essence of the development of a beautiful and user-friendly interface through a set of design guidelines. Google introduced Material Design in 2014 to provide a consistent user experience across all Android platforms and applications. It focuses on the various important aspects of using a combination of colors for displaying various elements on a user interface. Google's popular mobile and web applications, such as Youtube, Google Drive, Gmail, Google Maps, etc. have implemented Material Design language. It is also available for other platforms, such as Windows and iOS.
Today, Material Design is considered a huge success as well as a powerful design methodology. There are a range of Material Design color palette generators available on the web which allow UI developers to create custom color palettes based on Material Design philosophy. A Material Design color palette consists of primary and accent colors which can be used for developing a new design theme or for creating custom brand colors. The guidelines shed sufficient light upon using the 500 colors as the primary colors and other colors as accent colors. It also stresses upon using 3 hues from the primary palette and one accent color from the secondary palette.
Alright, so here I have curated a list of 10 such color palette generators based on Material Design. Designers can definitely make use of these tools for generating their own Material Design theme for various web applications. So, let us check out this amazing list of 10 Material Design Color Palette Generators.

Material Design Palette Generator allows one to create or import a set of colors for generating Material Design themes. The tool allows adding custom color palettes, selecting themes and importing colors. One can easily assign theme and palette names for exporting to any front-end framework, such as JSON and Angular JS.

Material Palette is an awesome color palette generating tool for designing user interfaces inspired by Google's Material Design guidelines. The tool lets you pick a combination of primary and secondary colors and quickly generates a palette preview. The palette preview offers a nice way to check out whether the color combination looks great on the user interface and other elements.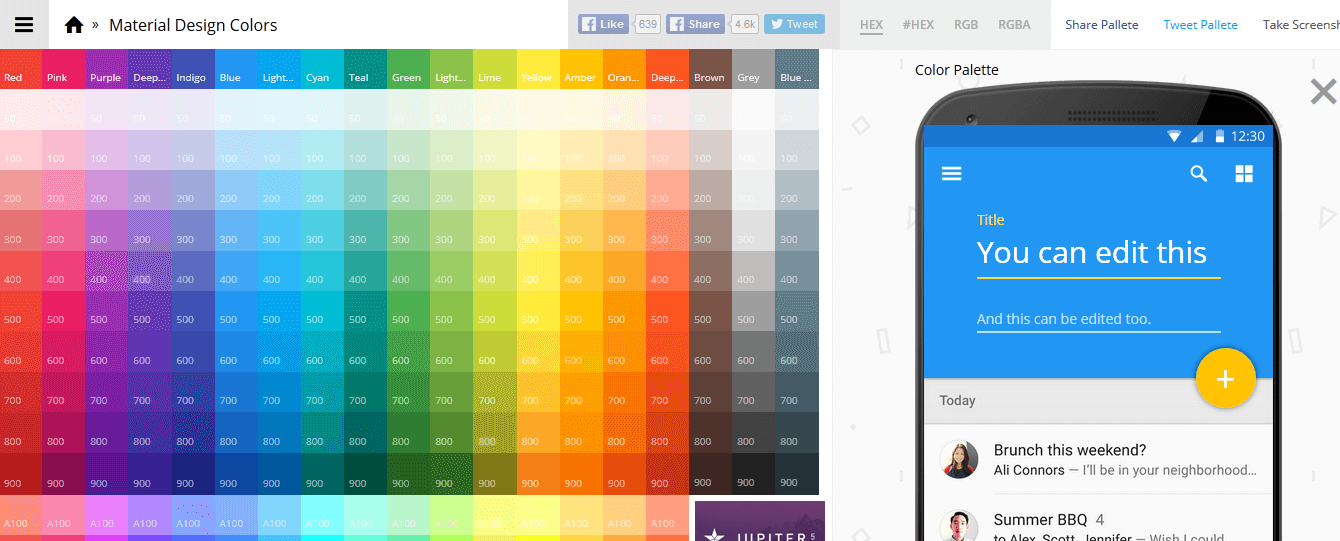 Material UI is a modern, color palette generator for designing stunning user interface elements using the right combination of colors and color shades. It offers over 20 primary and accent colors as well as 100+ light and dark shades to help designers pick the right colors for Material Design UI projects. Moreover, one can also check the live preview, take screenshots of color palettes, copy color codes and share mock designs with others.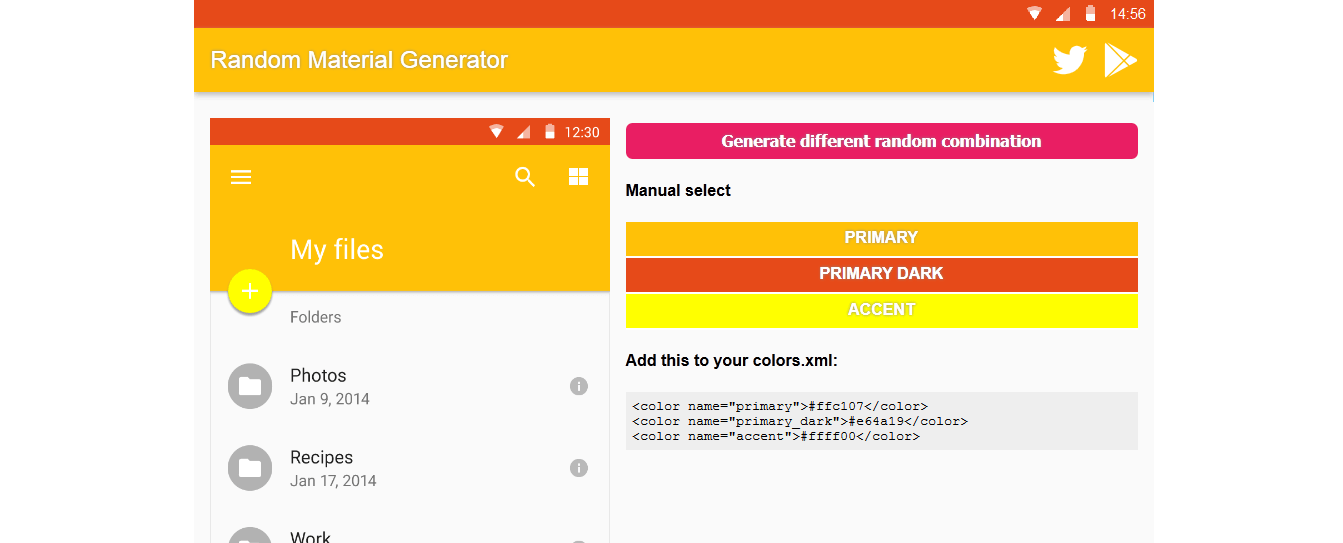 Random Material Generator is a minimalist yet powerful tool for experimenting with a range of Material Design colors. One can create a variety of random color combinations using the various primary, primary dark and accent colours and preview them instantly.
Also See: 20 Material Design Resources for Web Designers and Developers

Material Mixer provides a selection of Material Design primary and accent colors with various tints and shades. One can easily pick any Material Colors and try several color combinations using primary and secondary Material Design Colors. Material Mixer also allows choosing fallback colors for primary and accent colors, calculate tints and shades and do a lot more.

Tint UI is a robust color picker tool for several platform-specific UI designing projects, such as Material Design, Windows and iOS. The tool provides an official color palette for Material Design and allows copying colors and color codes.

Material Colors is a basic tool that displays the various Material Design colors and color swatches. It shows all of the 500 and A200 Material Design colors along with their respective color codes. You can easily copy a particular color and use it for testing in your Material Design website.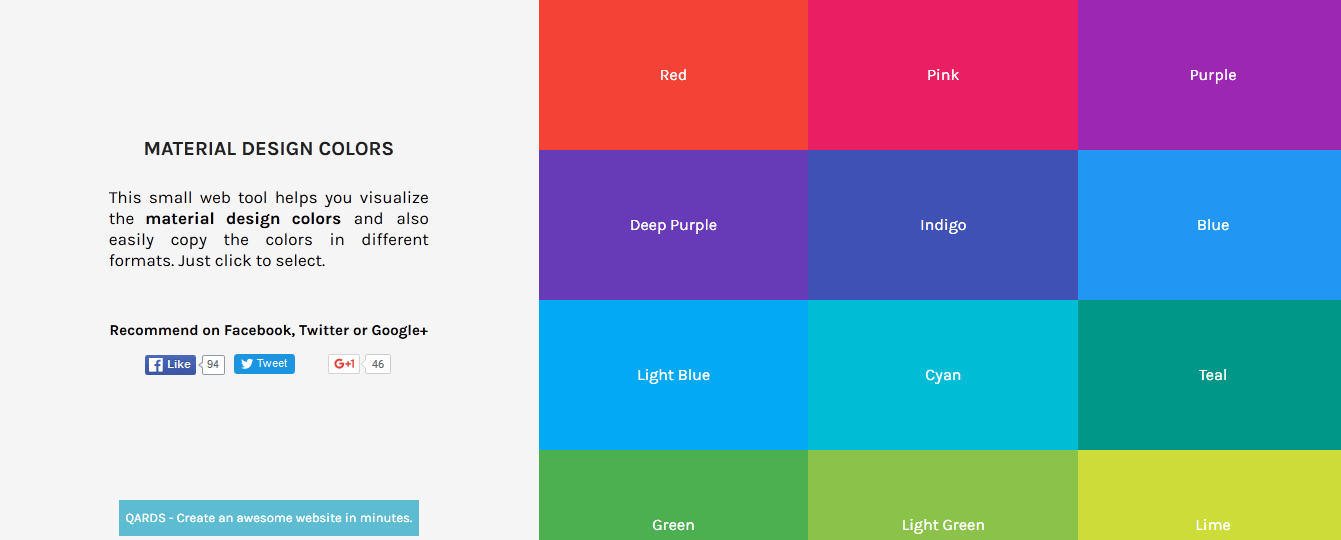 Material Design Colors is a basic, web-based tool from DesignSkilz. The tool displays the various primary and accent colors used for Material Design color palette along with their respective color codes.
Also See : 14 Websites and apps using Google's Material Design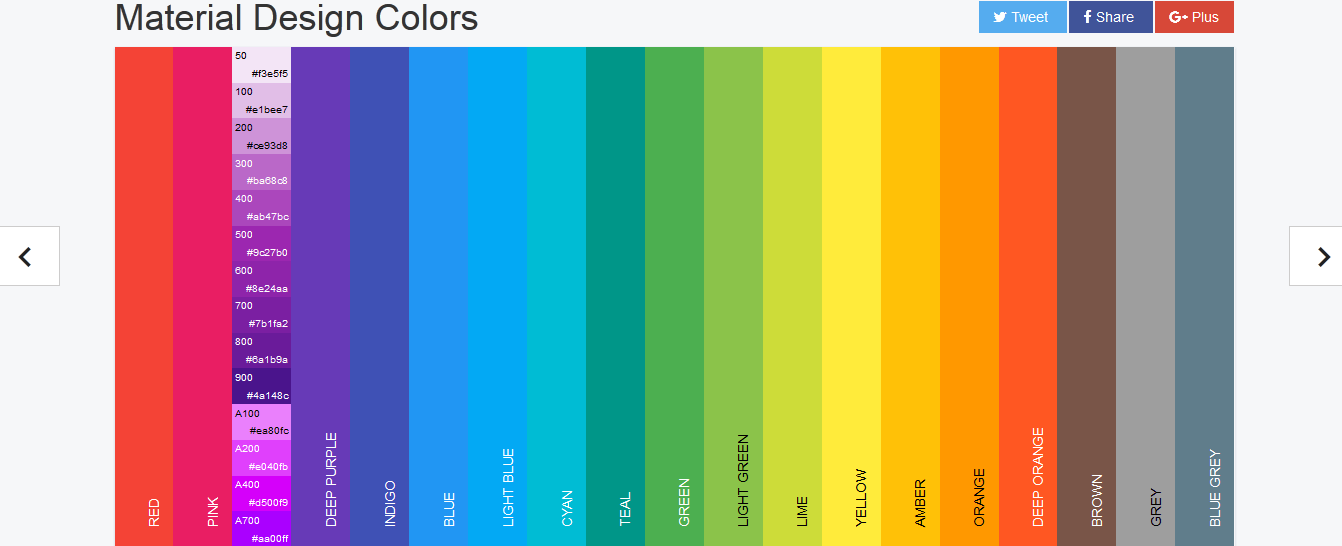 Material UP is an amazing online destination which provides a range of Material Design resources, such as Material Design applications, tools, icons and more. It offers various Material Design colors used for generating a color palette. One can easily check out the various primary and accent colors as well as their respective fallback colors.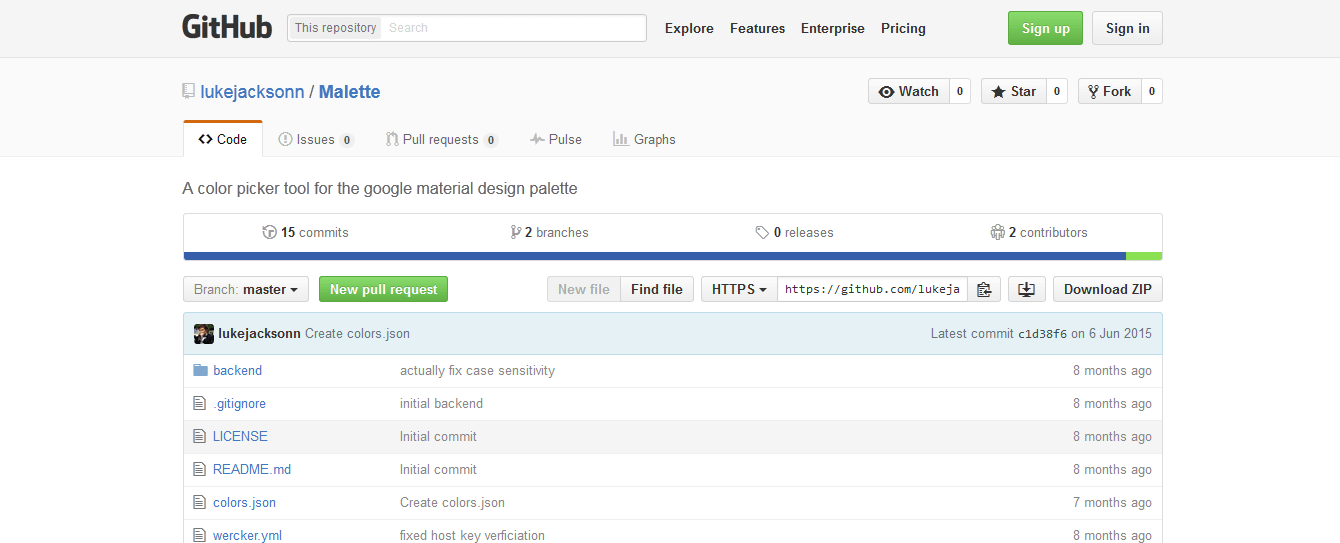 Malette is a color picker tool for generating Google's Material Design color palette. The project is hosted on GitHub where the tool is available for free download. It is a powerful tool for creating Material Design custom color palettes.
Conclusion:
Material Design principles cover various important aspects of creating an intelligent and intuitive user interface for web applications. It also discusses in detail about applying colors prudently for the various UI elements, such as toolbars, status bars, icons, text, transitions and more.
I am sure that you will find the necessary color tools from the list which can help you to create your own Material Design color palette for producing the desired results. If you want to share any feedback, then you can write your thoughts in the comments section below. Good luck.