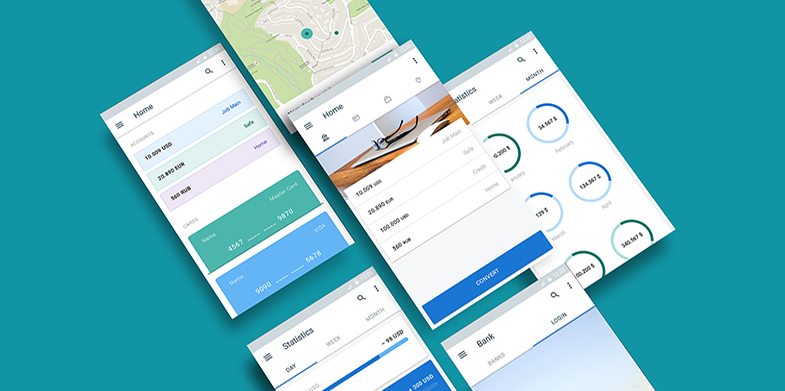 Google's Material Design guidelines have elevated the concept of user interface design to a whole new level. It has spearheaded web and mobile application development. Material Design principles allow users to have a uniform browsing experience across various Google platforms for desktops, laptops, tablets and mobile devices.  Hence, it is gaining prominence in mobile app design as well. There are a gamut of user interface design tools and tutorials on how to make an app using Material Design features. Front-end design frameworks like Materialize and such other tools are also in high demand.  In short, Material Design has enabled UI designing to acquire a special place in the entire process of UX design and development.
Material Design offers several new ways to create beautiful UI design by introducing fresh UI elements and components with animation, depth/shadow effects, transitions, icons, typography and more. Hence, it is obvious that UI developers are eager to use Material Design in their projects. Material Design features can also be implemented using CSS and Bootstrap framework. There are a range of templates, icon fonts, widgets, buttons and other elements available for various other platforms.
So, here I am listing down some UI kits, UI templates and other design components based on Material Design principles, which are free to download. You can use them in a variety of contexts and scenarios, such as for mobile applications, websites, social media applications and more. Alright, so check out this amazing list of 20 Material Design Resources for Developers.

This is a nice Material Design UI kit for web design and dashboard project. It contains form designs, templates, icon buttons, calendar, customizable vector shapes, font styles and more. It is retina-ready and works in Photoshop CS6+.
Download

This Material Design UI kit is available in Sketch files and is ideal for Android web and mobile development with Material Design.
Download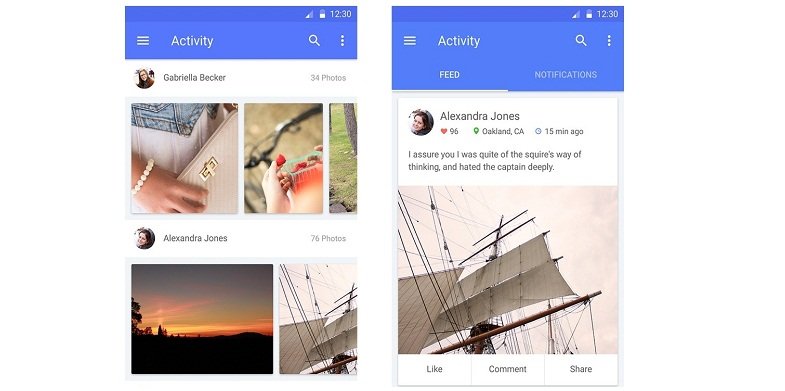 This is a cool Material Design UI kit offering a complete set of retina-ready UI components and templates across 7 application categories. You will find over 40 UI templates and elements as well as over 30 icons for profile page, menu, statistics and more.
Download
Also See: 7 Sites Where You Can Share Your Portfolio as a Designer

Ultralinx offers a free UI kit based on Material Design guidelines. The kit contains ready-to-use UI templates and components, such as weather widgets, e-commerce templates, profile pages and more.
Download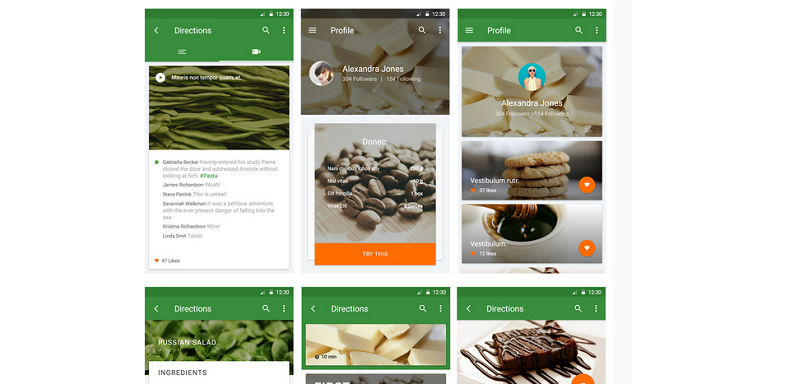 This is a ready-to-use, retina-ready Material Design UI kit for cooking apps. The kit features around 12 application sections, 50 templates, icons and over 100 other UI elements. It includes signup flows, feeds, profiles, navigation and more. This kit works with both Adobe CS6+ and Sketch.
Download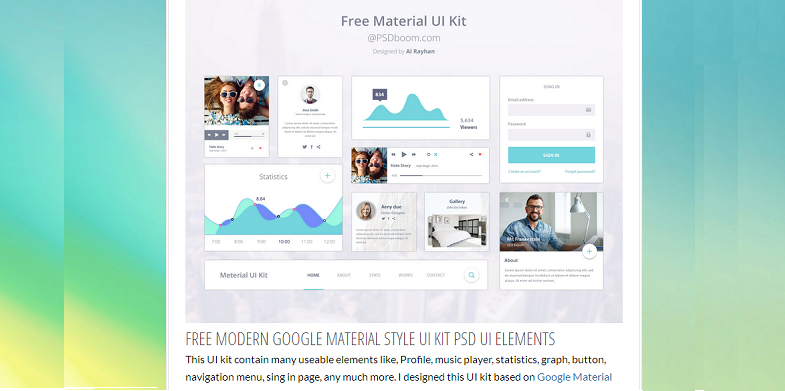 A complete Material Design UI Kit for website and mobile application development. The kit features a ton of reusable UI elements and templates, such as music player, navigation menu, graph and more.
Download
Also Check: 10 Best Websites for Graphic Designers to Explore Freebies

L Bootstrap is a UI kit featuring a set of UI elements and components of Bootstrap 3.2 in Android Lollipop style. The kit features 28 fully layered PSD files, button dropdowns, alerts, buttons, breadcrumbs and more.
Download

This is an Android Lollipop UI design kit featuring 45 UI elements for various application sections, such as keypad, primary settings, profiles and more. It is available for Sketch, Photoshop and UXPin. You have to visit the web page and enter your e-mail address, following which the free UI kit will be delivered in to your inbox.

This is a GUI kit for Android Lollipop with all the robust functionality and design features of Material Design. The kit offers features like separate call responding screen, inbox screen, notification screen, splash screen and more.
Download
Also Read: 14 Websites and apps using Google's Material Design

This UI kit features templates and elements for creating an Instagram application with Material Design guidelines. The application will have Material Design features like Navigation icons, nav drawer, camera button, profile page and more.
Download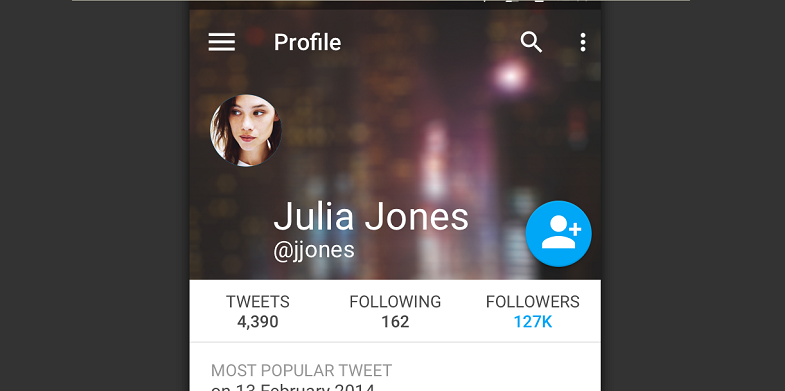 This UI kit will let you develop a user profile page with Material Design features for Twitter application on Android.
Download
12) Android Lollipop Date and Time Pickers

This kit features UI elements for Time and Date pickers based on Material Design principles. It is optimized for Google Nexus 5.
Must See: 5 Tips for Designers Who Want to Earn More Money

A UI Kit for designing interface for an audio player with Material Design features.
Download
A set of 30 Material Design backgrounds in high-resolution PNG and Illustrator files.
Download

This is a Material Design UI kit featuring over 30 UI elements and modules. It contains widgets for login page, calendar, modal window and more.  Now you can design the look and feel of a website in accordance with the latest UI design trends.
Download
Must Check: 15 Useful UI and UX Tools and Resources for Designers

A Material Design UI Kit featuring a set of widgets, such as Music Player, calendar, video player, weather widget and more.
Download

This is a Material Design set featuring more than 1000 icons in over 20 categories. The kit contains more than 7000 PNG files in seven resolutions. It contains icons in various categories, such as traffic, restaurant, weather, emoticons, shopping and art.
Download

Here is a complete set of icons for Android Lollipop covering all the major categories. You can avail a free download deal once you have registered your e-mail address with them. This one will prove to be of great interest for icon designers.
Must Read: 13 Material Design Frameworks for Modern UI Development

This is a free blogger theme based on the latest Material Design features and principles. The template named as 'The Linck' offers support for dynamic views, multiple color options and several forms designs.
Download

This is a website template based on Material Design features for designing a sports news website.
Download
Conclusion:
By now, you must have realized that there is no dearth of free Material Design resources for developing user interfaces of specific websites and mobile applications. A User Interface Kit contains a range of useful UI elements, such as templates, icons, fonts, widgets, color patterns and more. I have also listed down some UI kits for standalone applications like Music player, Blog platform and more. If you want to share some cool freebies with us, then kindly mention about it in the comments section below. But, do not forget that they should be based on Google Material Design only. We will look forward to some more free resources shared by readers on UI development with Material Design.
Good Luck.