Online presence for many businesses is essential to their overall success. This is because the number of people that have started shopping online is growing significantly than they did in the past. Your products or services are best viewed online as a lot of people conduct their first initial searches online when deciding what they want to buy. Choosing a domain is a great challenge for many people though because you want to choose a name that will perfectly fit the type of business that you are running. It is always good to choose a domain wisely so as to bring out the actual meaning of your business and make it easy to find. Here are some tools that can help you with this:

With this tool, you are allowed to search and also discover domain names with ease. The tool uses the most advanced and magic options which makes everything easy to achieve. With the magic option, you can use your keywords and combine them in order to generate some popular words. The easy option on the other hand allows you to check through for words that are already available. You can choose to use the advanced option as well, where you combine words and choose a domain from the selected extensions.

This is a very important tool for choosing a domain as it gives you a chance to survey the entire domain and to look beyond the obvious names so as to pick a domain from the newer and more interesting domains that are available. What this tool does is searches anonymously and tracks over 1700 domains at the top level and other generics, believed to be more than 1300, which can be registered at one of the registrars which have been qualified. This is made possible because it has two external APIs, one for web services and the other for client-side implementations.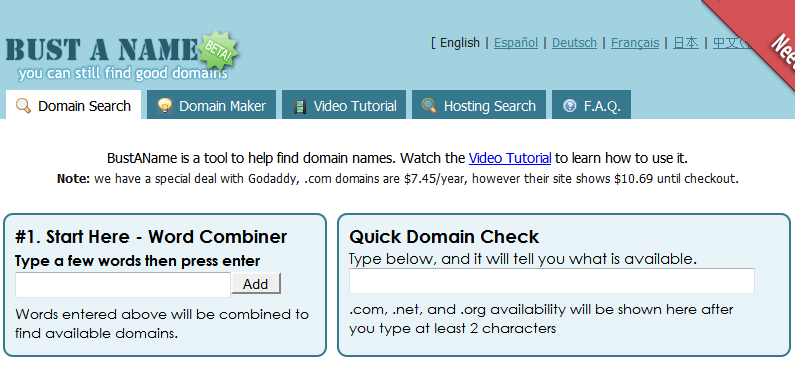 This is another one of the helpful tools that make it possible to choose a great domain name. With BustAName, you can easily find a perfect domain name for your business by using its word combiner. You will be able to find similar words and check for the domains that are already available too, to avoid repetition. As you search for domains, save them for review later on. Also, you can try to switch the word order in order to create new domain combinations, which might be even better. Lastly, you are able to create group of words as well, to create a domain name. You are allowed to use plurals, hyphens and also to drop the last vowel to get the most unique and interesting domain.

This tool offers a suite of domain search tools and in it you will get a domain name generator. You can use it to search for a perfect domain name using your most preferred keywords, suffixes and prefixes. It has more than 180 word groups from which you can pick your most preferred words from. The domain name generator allows a combination of two or even three words plus words that are brandable in five different domain categories.

This is another interesting domain name generator. It is one of the best in that it only produces the most unique and original domain name by using prefixes and suffixes. It will check if the domain name you are searching for is already available so as to avoid using a domain that has already been used by another business. Make use of its sorting and filtering features. If you find a favorite, mark it so you can keep track of it.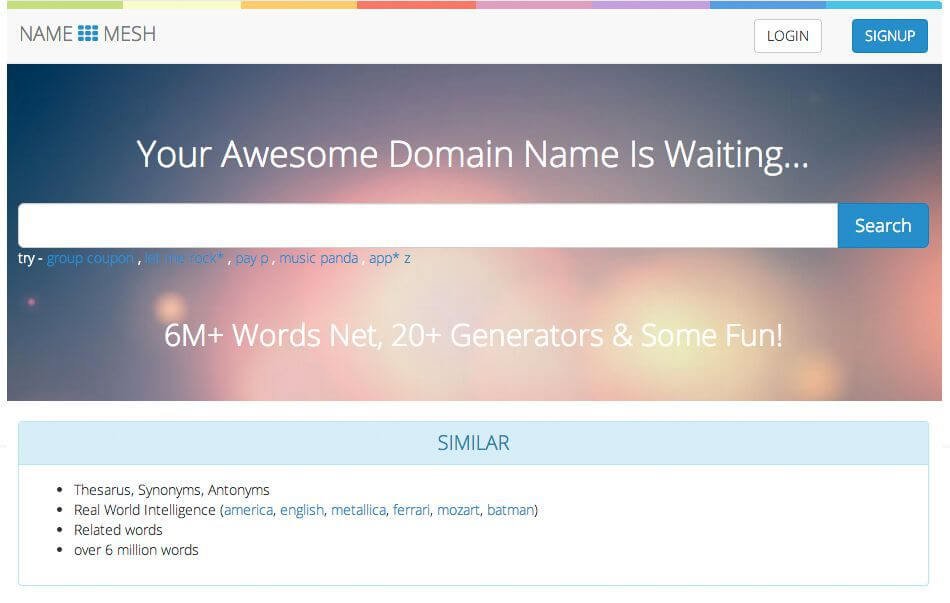 This tool creates words that are unique, great looking and sound. The words generated by namemesh are usually less than 10 letters long. The tool allows you to select names which are hyphenated or have similar sounds to a name that may already be taken. Furthermore, you will be able to see new Generic top-level domains (gTLDs) as they are created, as well as those that will elevate your SEO.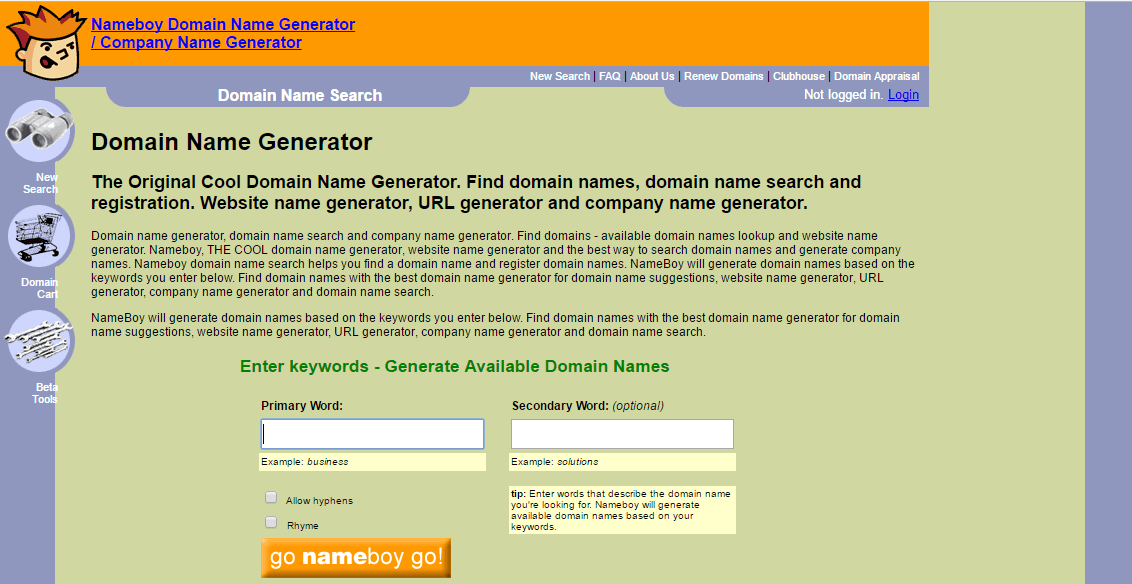 This is a domain name generator that uses keyword search. You can use one or two words for this search. Hyphens and rhyming words are also allowed in the search. The good thing about this tool is that it is very simple, therefore easy to use. You only enter the words that describes the domain name you are trying to achieve and the tool will generate a list of possible domains, showing you the ones that are for free and those that are available for purchase.

This is a great tool that has been in use since 2004. It works with your ideas to generate a unique and great looking name that you can use for your business. The tool will also show you the domain names that are already available, as well as alert you on those that are expired and those that are close to expiration. You will also get a notification about domain names that are for sale. Good thing about this tool is that you can search for domain names from the palm of your hands, using your mobile gadget.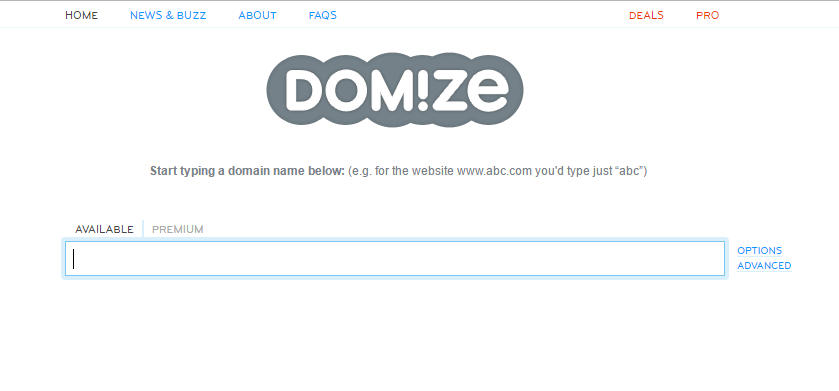 This is a great tool that offers speed and security when one is searching for a domain for their business. You are able to search for domain names in an encrypted situation. You are also able to check whether or not the domain names that are being generated have been registered already, whether they are almost expiring and whether or not they can be purchased. You get instant results as you type.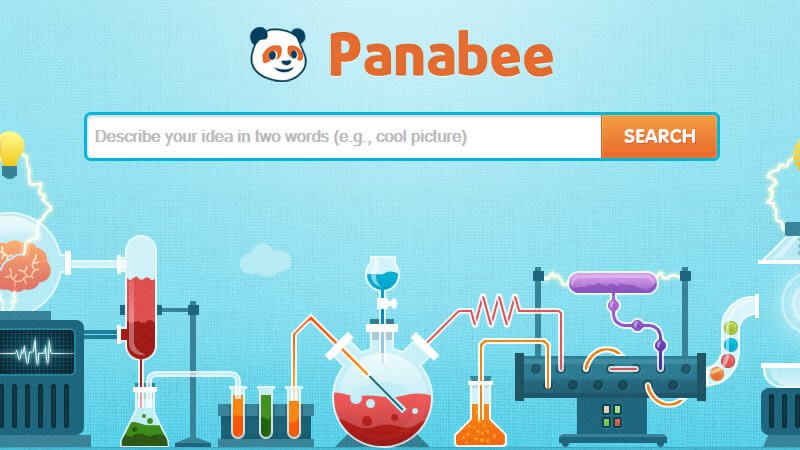 When you are looking for a tool that focuses on simplicity, then this is the one that you should use. You will easily be able to search for domain names, company names, app names as well as those which are more personal. From this, Panabee is able to suggest original ideas for domains which follow trends.
A unique domain is needed for every business in order to set it apart from the others. Coming up with a different domain is not easy but with the help of these and many other tools, choosing a domain name will be easier.