Developing an app is a strategy that is being used by many business people in order to reach out to their users in an easy manner. With a mobile app for your business, your customers can access it when on the go through their Smartphone or tablet. However, developing the app itself is not the main task, as it is not the main determining factor of how successful your business app will be. To be able to enjoy the results, you have to succeed in getting the app in front of your target audience, which is why you need good app rankings. These tips should help you optimize your app in order to enjoy more downloads and better rankings:

Always have your users in mind whenever you are creating a description for your app. It is good to know what they are like and how the app will be helpful to them before you start writing down the goal and benefits of your application. Describe the objectives they might have, which this app will help them achieve.


It is important to know that you need over 5, 000 downloads in a short period of time before you can get a ranking. Therefore you should start by generating traffic to your mobile app so as to get these many downloads. For this, you can employ as many marketing initiatives as you want, just so you can create awareness about your new app. These may include email marketing, PPC, SEO among others. The main idea here is to attract as many potential users to your app as you can.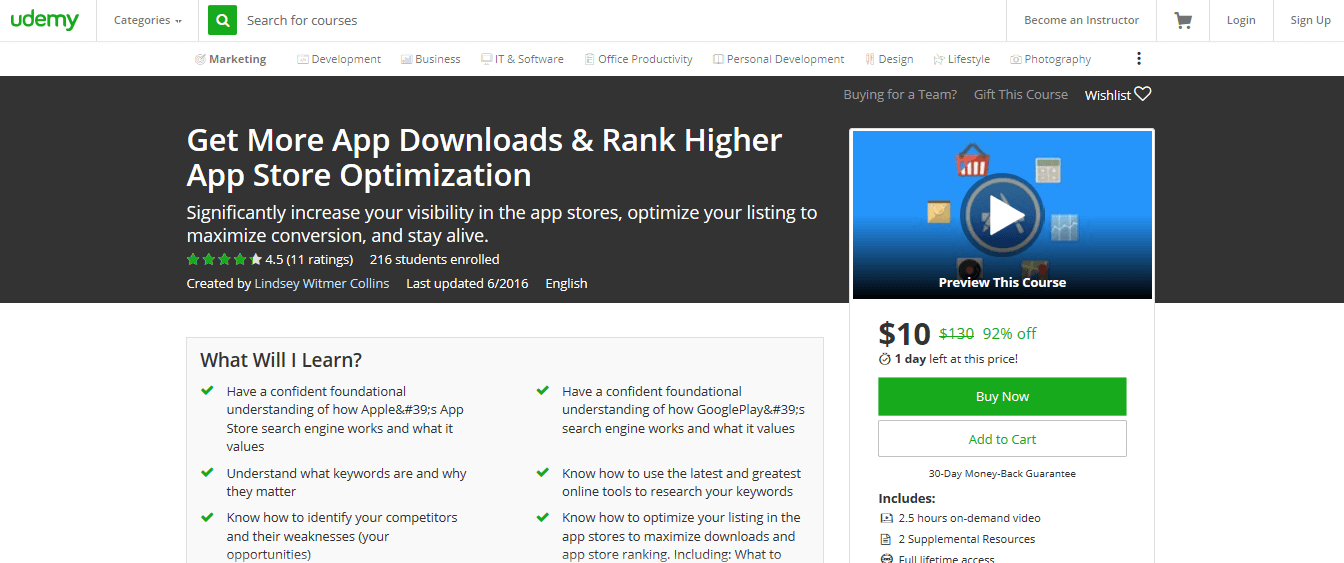 Once you start getting downloads, ensure that you maintain the monthly downloads so that you increase your chances of getting a top ranking. You can set a number of users you want to acquire each month and work towards achieving that goal. In the end, you will get to a prominent position that is stable, and drawing the attention of users will no longer be a problem. For you to maintain the consistency, you must work harder, integrating the best practices for app optimization to reach out to more people every day.

The design of your website should be created with your users in mind. It should be completely user friendly, from the way its navigation has been set up, to the content. Many users will go through your website before they can download your app, therefore use your website to give them a reason to download your application.

The way that your app icon looks determines by a great extent how they will perceive it. The icon you use for your app for instance should indicate what the app is all about, though it should be done in a simple manner. Always focus on simple yet bold and vibrant icons if you want to get more downloads. One of the things that will make your app successful is if you focus more on visuals on your design. Ensure your interface is easy to use too. Go for design aesthetics that will be appealing to the eyes of your users.

You should know that images are usually louder than words, therefore utilize them to achieve what you want for the success of your app. When using screenshots, make sure that you only pick out those that will appear with a description of your app. They should also represent what your app is all about. Descriptive screenshots will help you explain to your target audience the idea behind your product or service without the needs to use words. The screenshots to be used should therefore be carefully selected.


The way different app stores work changes all the time, therefore it is important to pay attention to their trends so that you will know what you can do to get a ranking.

Reviews are always helpful in informing potential users what your app is like. Genuine reviews from users with a positive experience will help a lot in showcasing your brand credibility, thus encouraging more customers to download your app. Use reviews that show potential users that your app is highly recommended. These reviews can also send a message to app stores about your app and how much it needs a better ranking. If, however the reviews you are getting are not positive, this could affect your rankings.

These ensure that your app is performing well at all times, and this is the only way you can provide the best experience for your users. This will also help a lot when it comes to ranking your app. You need to implement a regular update for your app, for instance on a monthly basis. This should be done frequently and consistently in order to show your users that your brand is constantly improving and therefore dedicated to improve their experience. App stores are always on the lookout to see the businesses that are neglecting to improve their apps with the necessary updates; therefore this is important for rankings.

It is important to remember that these days; a lot of people are on social media. You need to find ways through which you can keep them engaged and interacting with your brand and this can only happen if you promote your app on the social media sites. Use strategies that can help you achieve this easily for instance by developing content for different platforms like Facebook, Twitter and Instagram. This should encourage a lot of people interested in your product or service to download the app.
It is evident that getting a top ranking and downloads for your app is not easy. There is a lot you should do in order to achieve the success you deserve with your new app. A better solution is to use some or most of these strategies collaboratively in order to reach your objectives.