As a web designer, it is possible that you experience periods where you find it challenging to come up with new ideas. The best way to get some inspiration is to look at what the other people are coming up with, and this is where you need to evaluate creative website designs.
A brilliant design will determine if visitors will be impressed from the moment they land on the site or if they will swiftly move on to something better. You need a design that will inspire both, you and potential visitors. Here are ten fantastic website designs that inspire: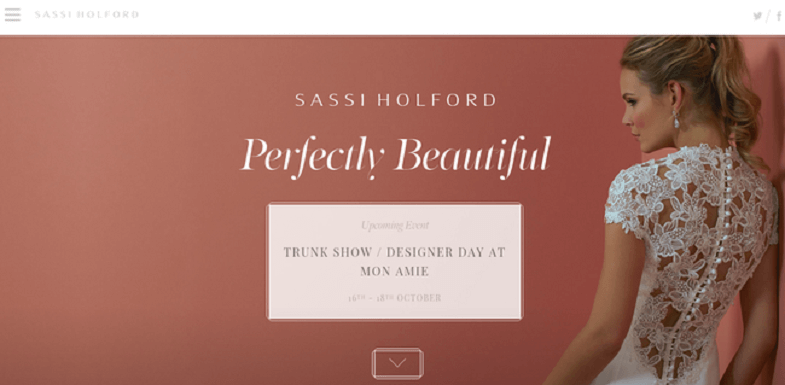 The first thing that you notice about this website is the stunning design and the pictures which make it clear that this is a bridal site that is fashion forward and elegant. In addition to the use of feminine colours, the transition from one page to the next makes you want to spend more time on the site. The content has been brought out very clearly in an easy to navigate manner making the visitor experience on this site excellent. Anyone shopping for these dresses will definitely love what they see thanks to the captivating web design.

The first thing that you will notice about this website is that it actually uses the product to communicate the message, in a clean and clear way. The picture is bold and there is a subtle hint of content on the left hand navigation panel. At a glance, the visitor knows what to expect from this site. The top left hand corner features a bold call to action that is meant to stimulate a response or possible sale from the visitors.

Everything about this website design is inspiring, from the color choice, the arrangement, and the information. At a glance, the  visitor can easily tell the kind of business you are running and this is important if you want to attract visitors and keep them coming back. To start with, the image is clear and attractive. This design also has an interactive element, as visitors are urged to scroll up for more information, something that is different from the more traditional scroll down.

This website has powerfully utilized color to communicate the type of product that it is about. When you land on the site, you will notice that the small lights are not static, they are in subtle motion, which makes you want to click and visit the site. A click on the home page directs you to a page that separates the various sectors this product caters to with panels and pictures, speaking volumes to the visitor. Furthermore, sound has been accentuated to help transform the user experience and create a better appreciation of the product.
Also See: 10 Web Designers Who Should Inspire Your Website

At a glance, visitors have an idea what this website is all about and this is the most attractive part of this design. It features elements that help you visualize space, with stars moving in the background. The design is creatively connecting two interesting concepts which are the power of impressive nature of space and sports on an online platform. As one scrolls down the homepage, there is a bounty of rich information that is available. The best thing about this design it that it is highly memorable and the call to action is right there!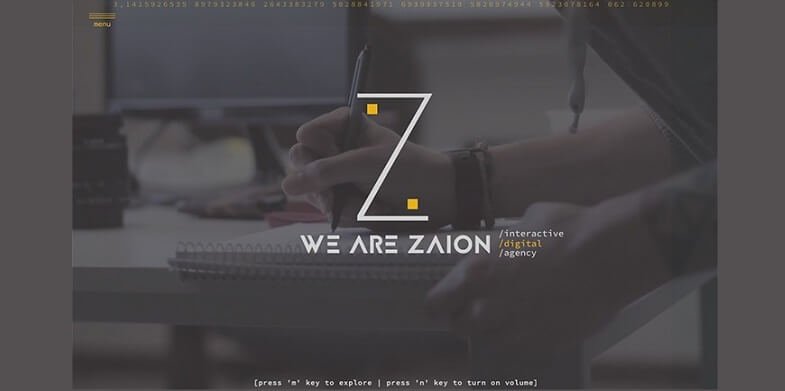 Website developers looking for a captivating website design will love this one. When you land on the home page, you will notice that it is not static, it has movement that appears to tell a story in the back ground. This makes the visitor take a moment to look at the site before going in deeper. This site has shortcuts that make it possible for you to explore the web pages without needing to use your mouse. The drop down menu that is located on the top left corner of the site is highly creative, something which every visitor will note and appreciate.

Simple and classy is just what this website design is all about. Rather than focusing on too much written content, you are drawn towards pictures which will lead you to information about specific designs. Upon selecting a picture, a visitor is directed to a page which expands on the scope of the available service. A great way to capitalize on some visitors' first impression, and to keep them clicking through the site.

This is a web design that stands out for its simplicity. The website itself is actually just one web page, which has been divided into three distinct sections. There is the standard section that contains information about the website owner, a section for contact, and the main content part of the website, where there are several videos representing the films of the maker. Clicking on the drop down menu redirects you to one of these sections. Simplicity, subtlety and finesse are what comes to mind with this modest design.


This is a web design that focuses on creating an excellent first impression, which is evident by the bold statement on the welcome page that explains what the site represents. Scrolling down on the home page enables you to identify the various links that are available on this site, as well as to find contact information and subscribe if necessary. The color choice, the arrangement and the content flow is impressive as it looks professional, reads like a professional site and instills trust in the visitor. A large font and those welcome bold statements help this web design leave a lasting impression.

People love beauty and this is what you get through this design. The focus on this site is stunning and clear pictures, posed by professional models that embody fashion. For more information on a picture, all you need to do is hover over it, and you will find that you can click on it and be led to even more captivating pictures and a written description. This is the kind of design that will keep you glued to your screen, just to see what is next. As a designer, this type of creativity will have people returning to your side constantly.