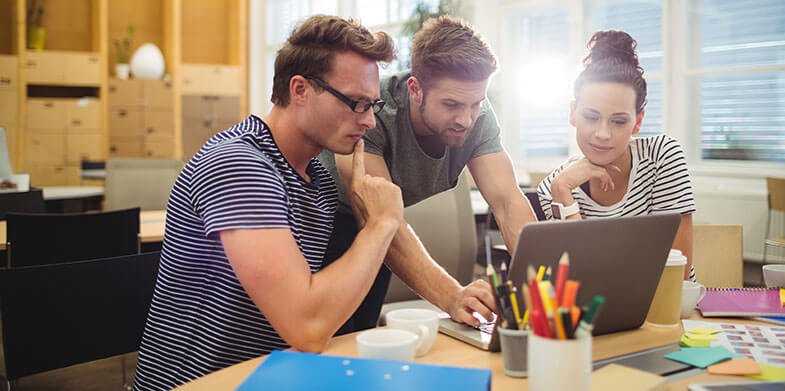 A website designer is an individual who dwells in the front-end side development of a website. The front-end side is what a user or visitor sees after reaching a website. The whole layout, grid, color, font and everything on the webpage is the work of the web designer.
I am sure, you are wondering in order to be called a website designer, what should you do? What can help you qualify as a website designer specialist/professional? It is simple and easy if you set your mind to it.
For starters,
1. Education Basis
You may decide to do a Website Design course. It can either be online or through the various recognized institutions that offer it. Getting the papers that you have pursued a certain course is not really the main thing. The knowledge you get there isn't enough. You are required to learn what you will get, then practice what you learn and look for more resources that correspond to it.
It is not as easy as A, B, C but it is simple. For instance, you may learn basic HTML, but with time you will realize that there is XHTML and HTML5. You will realize that you have to think outside the box and take it a step further.
There are many certification courses all over. If you have the assumption that, if you get the certificate of having pursued a certain course is enough. Unfortunately, it is not, your skills and what you can design is what matters the most.
2. Portfolio
Another amazing thing about being a website designer is that you are not limited to just doing one thing. Well, the good news is that you can do a lot more than just designing websites. For starters, you have learnt that certain appearance will make you reach the greatest of heights. One thing that is constant is that you will need to:
• to practice,
• make multiple websites
• upload them online (to show off your skills)
Uploading them online is a two-way thing. You may decide to purchase a domain and contact a hosting provider to host your website. With that you can upload other websites that you make as subdomains to the main website. In your portfolio, you can link the webpages to the specific websites using the links. Trust me, if you are pursuing website design as a career, you are more likely to get clients if you have a portfolio compared to people without portfolios.
The second option is to upload all your projects on Github or platforms that offer project uploading. When sending cover letters you can link to your projects. Each time you advance and realize that you are doing something good. Don't wait to get a client so as to design a fully functional website. Do it while you are still practicing.
3. Knowledge on Content Management Systems
Content Management Systems include Joomla, WordPress, Drupal and all ecommerce platforms. As a designer you also need to know about CMSes. In this, you also need to know basics of databases so that you can configure them together.
CMS are being widely used, that is why it is important to know how to install them and ensure they are operating well.
4. Knowledge on User Experience
As a designer, you need to see the website the way a visitor will see it. After making a website, you should tell a friend to give you a feedback about it. You should also try to find mistakes yourself, by looking at the website like a visitor; write down what irritates you most about the website.
Make sure you are honest to yourself as much as possible. In this way, you will feel how the other users will feel after visiting the website. Be truthful and at the end of the day you will create an awesome user experience (UX).
5. Use designing software
Software are such as Photoshop and Illustrator are important to a designer. It is important to know how to edit photos, create photos, images and receipts. Illustrator is a great tool that is mainly used by graphic designers and also website designers. You should be as creative as possible. For websites, it is essential to have a logo on the site. Logos tend to give you a sense of belonging, it becomes like a brand for you.
You will also get clients who will want business cards, invoices and all those kinds of stuff. It won't be fair to send them away or have to consult other professionals . Be diverse and learn everything.
6. Knowledge of CSS and styling
It is essential to know CSS and various coding languages designed for the front-end. If you want to change a certain font, you will need to code it on the separate CSS file or inline. This is essential if you want your website to have an awesome look.
In the CSS file, you can also set the dimensions for images and also for the menu bar.
7. Knowledge of how to make a website responsive
In the previous years when laptops and desktops were being used mostly, there was no need for website mobile friendliness. However, overtime the use of smartphones and tablets has increased. Thus, it is essential to have websites that can adjust to the size of the various device screens.
Many visitors get irritated when they get to a website and have to zoom in and out so as to see certain content.
8. Know how to modify already existing websites
You might come across a client who had a website that was built 5 years ago but hasn't seen any changes. In this case, you will have to revamp the website and modern elements. That is why as a website designer, you need to know how to modify old websites so that they can be up to date with the current trend.
9. Research, join communities and forums
If you want to be a professional website designer, you need to do as much research as possible. You need to subscribe to blogs or magazines such as "Smashing Magazine". Read their newsletters, get the knowledge and update your skills.
You will be able to visualize things better than you can imagine. If you join communities and forums you will be able to exchange ideas and help each other out when someone is stuck with a problem.
10. Know how to make a design plan
As a website designer, you need to know how to make a sketch or a plan of how the website should look. After making a plan, it will be much easier to make the actual website with ease.
11. Know jQuery, Php and JavaScript basics
To some extent it is essential to know jQuery, Php and JavaScript. They add multiple functions that will make your website to look professional. They will help you as you advance in your career path.
12. Knowledge of Search Engine Optimization
Search Engine Optimization is optimization of content, videos, images and code for easy visibility by search engines. Ever wondered how comes some webpages come above all the others. Well, it is because those websites were created in an optimized way. If the website also loads fast is a plus for it.
Thus as a website designer, even though you work as a front-end developer, you need to get all the basics of optimization for higher ranking. It is such a pleasure to browse something that you have on your website and find it on the first page of Google and yahoo search results.
Personal skills that you need
Creativity
For starters, you need to be creative. You should be the person that sees the big picture as well as focuses on the minute details. You should see what others are not seeing. That's the beauty of being a designer.
Patience
The second thing is that you should be patient and be attentive to details. You may assume minor details aren't important as they aren't visible, but you are wrong, as every detail counts. For instance, you may ignore a tag that has been misplaced and it may end up destroying your whole code.
Problem-solver
In order to qualify as a professional website designer, you need to know how to solve certain problems here and there. You should logically see things and reason out well. Being a problem solver, you will be able to tackle any problem that comes your way as you design. In case the problem is big, don't be afraid to approach other professionals for advice.
Be able to work with web developers
As mentioned earlier, being a website designer you work like a front-end developer. Thus, you also need to know how to work with a team. There must be a back-end developer who makes sure that everything is functioning from the back-side. The back-end entails what is not being seen with the eyes.
Wrap it up: –
After reading this article, I hope you have realized how easy it is to be a website designer. It is not that easy to be a designer, if you don't love it. You need to be self-driven, patient and creative.
Everyone can go and pursue a course on website design, but what do you think will make you unique? What else are you doing that will make you stand out of the rest and be the best of the best.
Your portfolio speaks a lot about who you are. Thus, it is important to make your projects as appealing as possible. Make them amazing and unique. Remember knowledge without the skills is vain. We can all do it!