The consumption of information through videos is huge. We all watch videos not simply to kill time but also to gain information. We love watching documentaries, movies, video songs, animated films, television series, cartoons, real-time coverage of sport and cultural events. Today, videos serve as a mode of entertainment, marketing, training, and recreation. There are a lot of video entertainment platforms, such as Youtube and DailyMotion that have been around for quite some time. But, their popularity increased with the rise of social networking websites, such as Facebook, Twitter, LinkedIn, and more.
With the advent of social networking websites, creating videos and then sharing it has now become an integral part of our lives. We all want videos that we upload to go viral on social media and reach out to as many people as possible. These expectations are fulfilled by video platforms that help us to gain more online attention. They help our videos to reach far and wide and ultimately, serve the purpose, which is to educate, inspire and entertain people. Moreover, to fulfill this need, several platforms like Adobe Spark and others have emerged that allow users to edit & create cool videos. It provides tons of cool features like intro maker, presentations and so much more.
It is quite obvious that videos are uploaded and shared for a variety of reasons. Students find it easy to learn and communicate through webinars, e-learning tutorials, and video lessons. Large-scale companies rely on popular video sharing platforms to garner attention for their products by uploading interactive product videos. Besides, there are others who want to share their memories of personal events with their loved ones.
Video sharing platforms pave a great way for social interaction. Hence, here, I am presenting a list of popular online platforms where you can upload your own videos and share them with the world to gain exposure. Alright, so check out this list of 12 Best Websites To Upload Videos.
Note:
 If you're wondering which tools to use for creating high-quality videos, you can either 
pick Final Cut Pro or Premiere Pro
. Both of these are extremely powerful and capable.
1) Break
Break is an entertainment website dedicated to funny videos, hilarious real-life pranks, funny movie clips and more. The website allows anyone to register an account on its website and upload videos, photo galleries and articles. Break is a great website for uploading videos for fun or for brand promotion. Moreover, if your video features on its homepage then you can also earn some quick bucks.
2) Flickr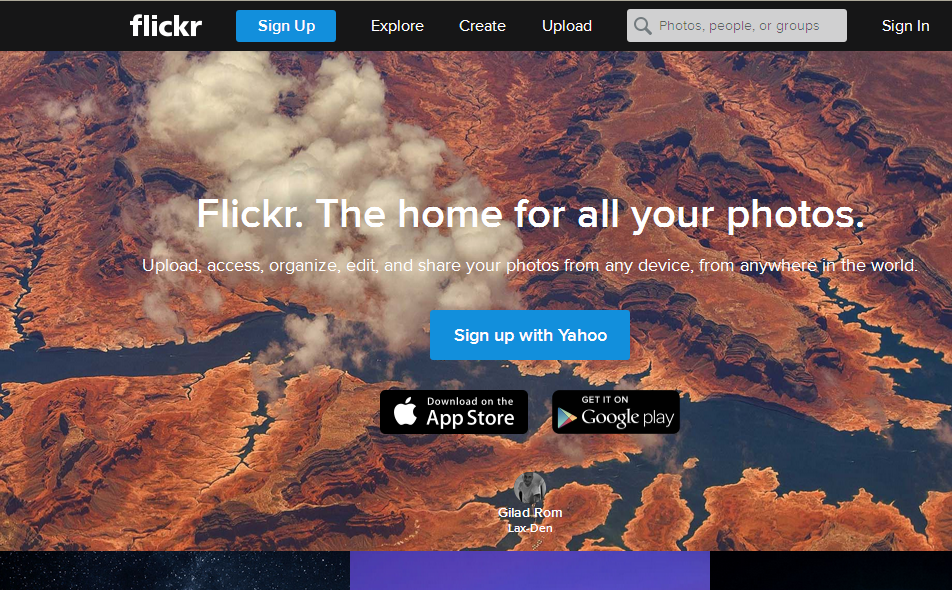 Flickr is a popular photo sharing platform, but you can also upload videos, screen casts and animated video clips on the website. Flickr's popularity can surely cause your personal videos to trend on the online and social media space.
3) Metacafe
Metacafe is a popular website providing free video entertainment. Here, you will find interesting video content from categories like movies, television, video games, sports and more. The website works closely with popular brands in consumer electronics, video game publishing, music labels, sports leagues and cable television networks.
4) DailyMotion
DailyMotion is one of the world's largest platforms for video entertainment. The website is available in 18 different languages and 35 localized versions. DailyMotion features videos of sport competitions, cultural events, television series, movies and more.
5) YouTube
Youtube is one of the most trending video entertainment websites in the online space. You can easily upload videos that fall in a range of categories from scare pranks to self-made documentaries. Youtube is a great platform to gain some instant fame. Remember Ganganam Style?
6) Vimeo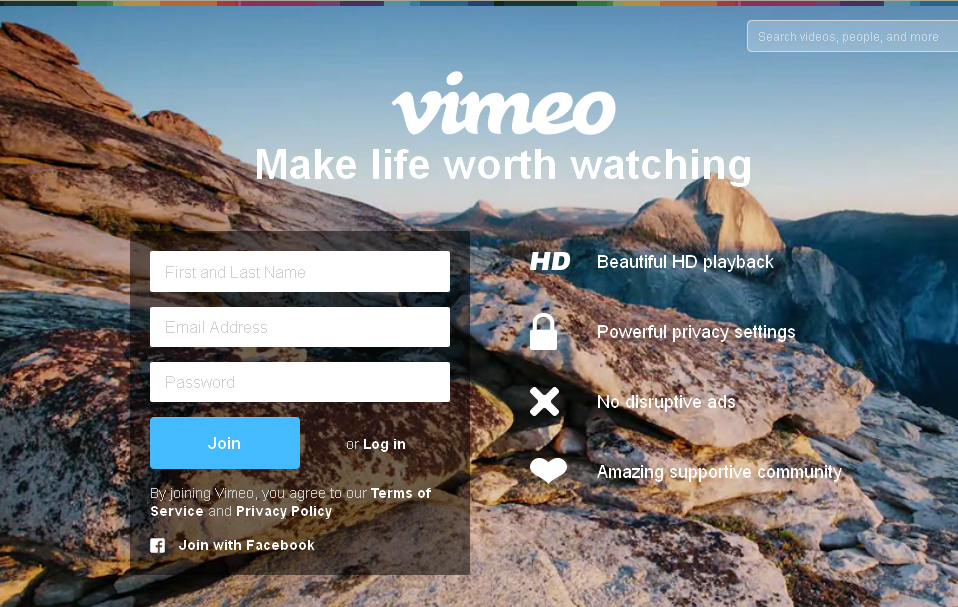 If you are looking forward to showcase your creative talent in the field of film-making then there is no other website other than Vimeo that can get your job done. Here, you will find a community of creative and aspiring professionals who upload and share their video content with others. Vimeo lets users to create and manage their own profile with several customization features.
7) ShowMeDo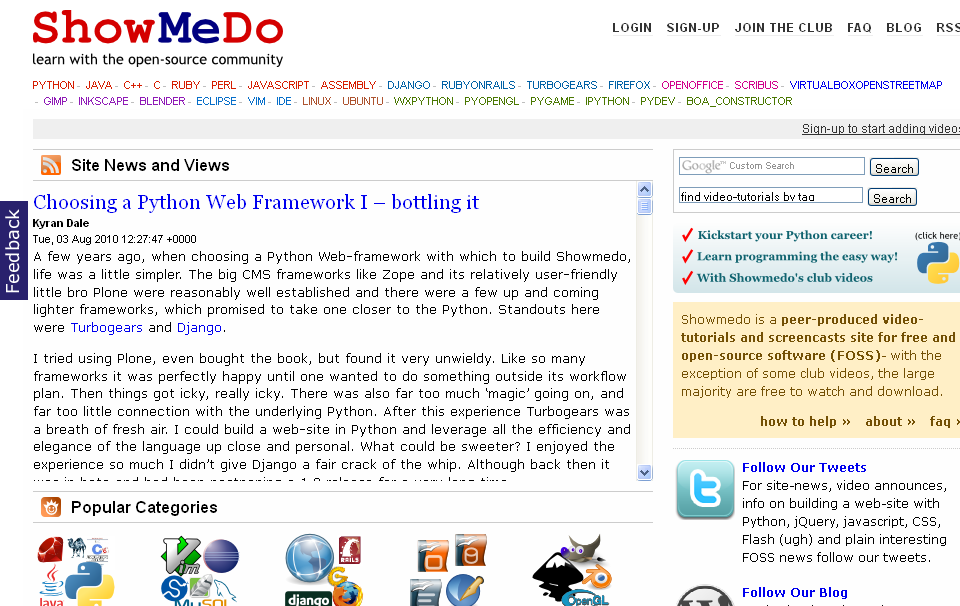 ShowMeDo is a popular educational website dedicated to video tutorials on learning open-source technologies, such as popular programming languages and tools, web development frameworks, graphic designing and more. For an educator, it is a good platform for connecting with learners and gaining exposure. On ShowMedo, you can upload your video tutorials and screen casts.
8) EngageMedia
EngageMedia is a popular video sharing platform featuring blogs, videos, news and other multimedia content pertaining to global issues, such as human rights and environmental awareness, technology, social justice and more.
9) Phanfare
Phanfare offers a great opportunity for users to have their own online destination with their own destination URL. It lets you have your own photo and video website which you can be viewed by your friends, colleagues and family members. A Phanfare website is mobile-friendly and allows a video uploading capacity of up to 2 GB per file. It offers a good platform to share personal photo galleries, videos and slideshows.
10) Veoh
Veoh is one of the leading video sharing platforms in the digital space. You can upload video content and other flash-based media content, such as music, slideshows, games, presentations and more. It also offers social features such as text, voice and video chat.
11) MySpace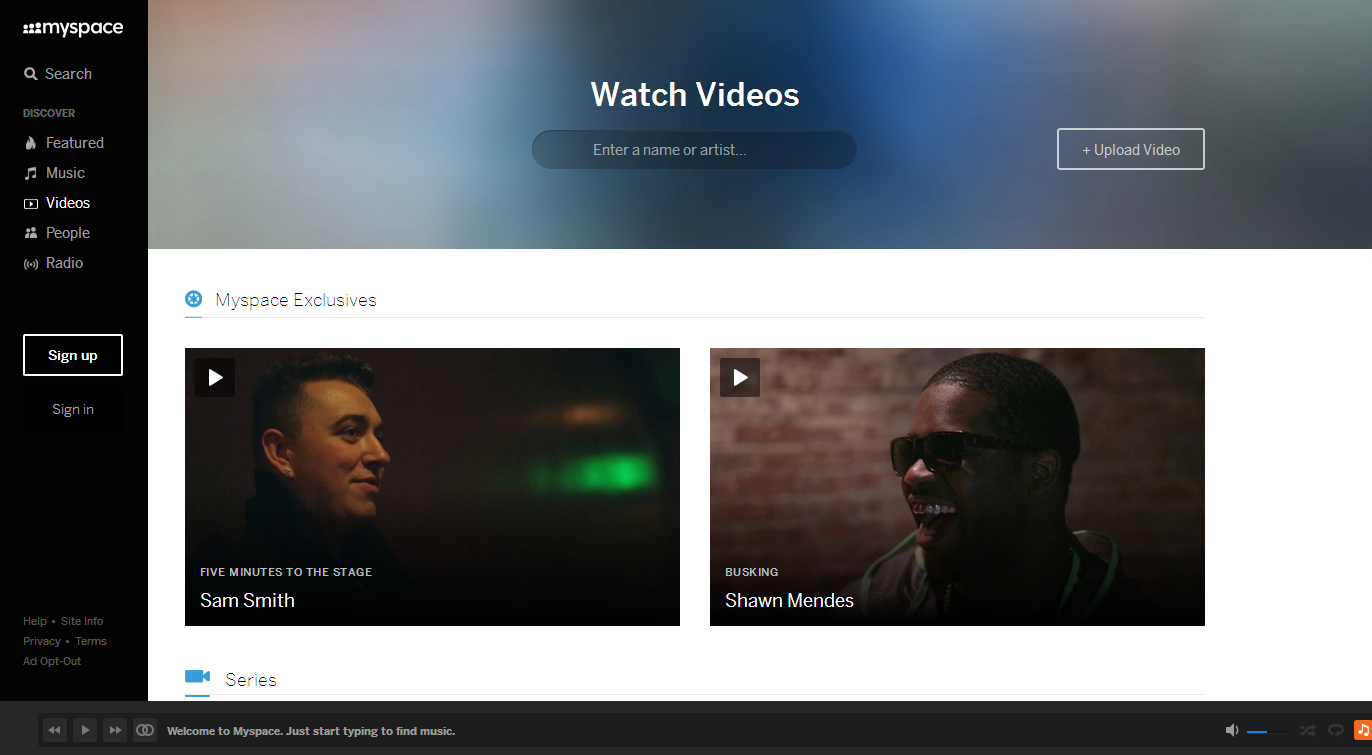 MySpace is a popular social networking website featuring a vast collection of photos, music, videos, blog posts and more submitted by its users. You can create your own personal profile and share a variety of multimedia content with others. MySpace also serves as a popular platform for upcoming musicians to upload and share their live recordings publicly and promote themselves through MySpace Records.
12) Upload Society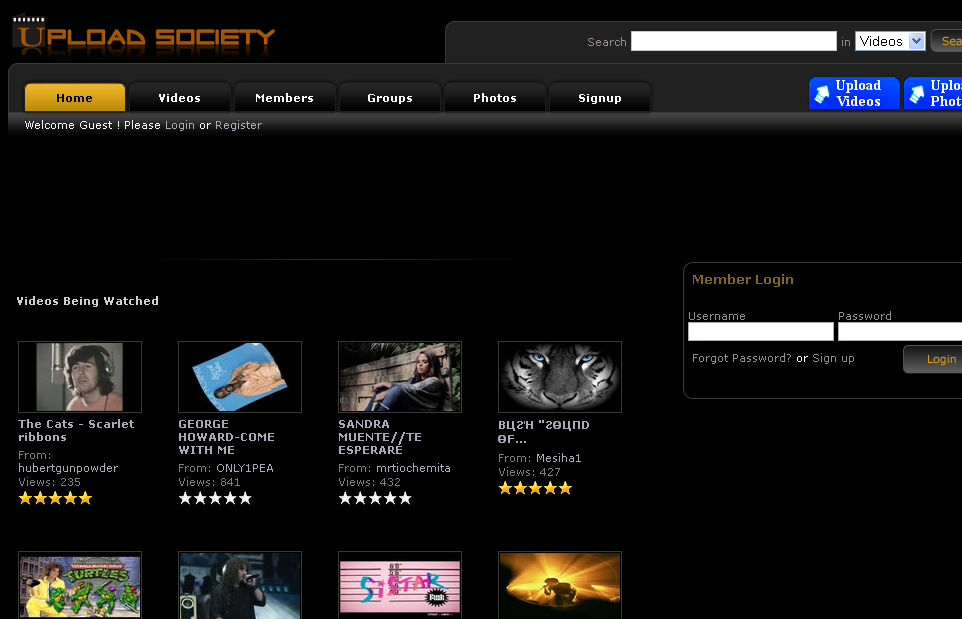 Upload Society is a popular video sharing and social networking website. The website offers a good platform for upcoming artists, musicians, comedians and actors to showcase their talent and promote their work online by uploading their videos and other multimedia content.
Conclusion:
That is all from the world of videos. We all are aware about different video platforms having different purposes and different terms pertaining to user content submission. So, users should abide by the rules before publishing any video content or the content is not accepted when the site administrators review it.
You can share some more information on this topic by adding a few relevant names of video-sharing platforms with us. Your feedback is always welcomed. Thank you.