This Twitter guide will help you expose your business, reach new connections and help you better understand your current followers, as well the ones that you're going to get by following these easy to implement tips.
Twitter can consume a lot of your time, if you're not being careful. It has been known for a long time – trying to manage a brand through the default Twitter interface is next to impossible. Hmm, I do disagree with that statement, but I am hoping to discuss both sides of the story within this post.
All in all, Twitter is an easy to use and understand platform, none of these tips would be available to us if it wasn't for constant trial and error by so many online marketers. It comes down to how we ourselves interpret the suggestions and advice we're given.
Begin With the Bio
This is where you send out a clear message about who you are, what you do and who do you work for. I've tried one-liners and dumb pickup lines. Having a short bio that explains more than just your name is necessary and important. I found that my follower rate increased by almost 200% once I added a bio that explained what I do online and what are my passions.
You've got 160 characters to explain yourself and your business. You can see that I have explained that I am a writer, I have passion for blogging, business and web development. On top of that – I've mentioned that I am an activist, self-help supporter and someone who encourages positive attitude.
Try putting them all together and see what happens…
I don't recommend copying other people's bio's (which is perfectly fine if you want to), and rather focus on being unique and honest about yourself and your business.
Tweet Stuff Relevant to That Bio
It's more than likely that people follow you based on what you've written in your bio and so they're completely fine with receiving news and updates that relate to that bio. In my case it's a lot of things, starting from writing and all the way up to web development.
I try to deliver on that promise, as you can see in the snapshot above, 2 out of 3 of my latest tweets were pretty relevant to my bio – which also helps me to keep my current followers and gain new ones along the way.
I'm Bad at Replying to People
I recommend that you do not take an example from me on this matter. I do recommend that you extend your kindness to those people who're reaching out to you and promoting your content. At the very end of the day, it's very easy to tell a difference from a real tweet and a fake one. We've all learned that in the elementary class of the internet.
When you @reply to someone, only you and the person you're replying to are going to see the tweet (unless one of your followers are following the same person) and so the need to worry about spamming your timeline with replies is out of the question.
You're more likely to increase engagement if people see that you're responsible and answering to peoples favorites and retweets. There is always someone who wants to jump in the conversation, and that someone could very well be your next follower.
Share Other People's Content @Directly
Whenever I read a new piece of content online – I will share it with my Twitter followers (unless it was really bad), and I will also directly @mention the person who created the content. I think that a lot of people and business owners underestimate the power of this…
You can easily find out the handle of the post author either by doing a Google search or simply checking out his author page. Then tweet out the article the given person had written and include them at the end, something like 'via @someone' works..
I have personally gained a lot of new followers this way, and it has also enabled me to have a few decent discussions – which would have never been possible if I didn't do the extra work of finding the actual profile for the author of the post..
You Should Use Twitter Lists
I'm not a big believer in following 100,00 people, just because others are doing it, and because it allows me to have more useless followers – that's right: useless followers. I use Twitter Lists to help myself keep a track of those people whom I rather not follow, but still would read their news feeds time to time.
These are usually people who send out like 200-300 tweets per day, which is a load of horseshit to be fair, but you never know when the inspiration is going to trike. I recommend clicking on the profile of an influential person, and then looking at the lists he's been assigned to, this way you can save a lot of time for yourself by not having to create your lists from scratch.
Try Out TweetDeck
It can sometimes get really difficult to try and keep track of all that is happening within the Twitter's platform, especially if you're looking to track a lot of keywords and/or have a group of team members that need a tool for collaborating on Twitter – like having a support team for example.
TweetDeck is a free tool from Twitter itself, which allows you to monitor your Twitter account(s) in a lot of different ways, you can track mentions and searches, or direct messages – everything that Twitter offers to be fair.
Maybe You Should Schedule Your Tweets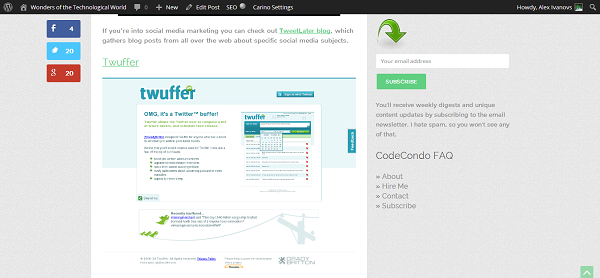 The advantage is that you can do this and worry less about having content being posted on your Twitter account all the time, I've written a post about tools for scheduling tweets before, and I'd like you to check it out in order to learn about the available free tools on the market.
First You Need Great Content to Share
Twitter Has an Advertising Platform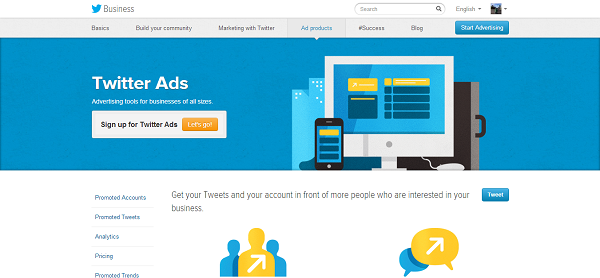 You can promote a page, or your profile directly through the Twitter advertising platform. It works just like any other platform would, and gives you the ability to scale, pay only when someone takes action upon your ads and of course enable targeted advertising for maximum potential and ROI.
It's not the most well received platforms, but it is run by Twitter itself, so you're getting all that there is to get when it comes to reaching out for new customers, followers or clients.
Run Contests With Rafflecopter
Rafflecopter enables you to create contests and giveaways through a widget that can be adjusted for people to earn 'badges' through their social media platforms. The badges then can be used to increase their chances of winning at the contest. The great thing is that you can reward more badges to people (set custom amount yourself) who either follow you on Twitter, or send out your tweet – it's pretty big win-win situation, and most of the time you get to keep 80-90% of people who followed you.
Twitter Directories Can Be Useful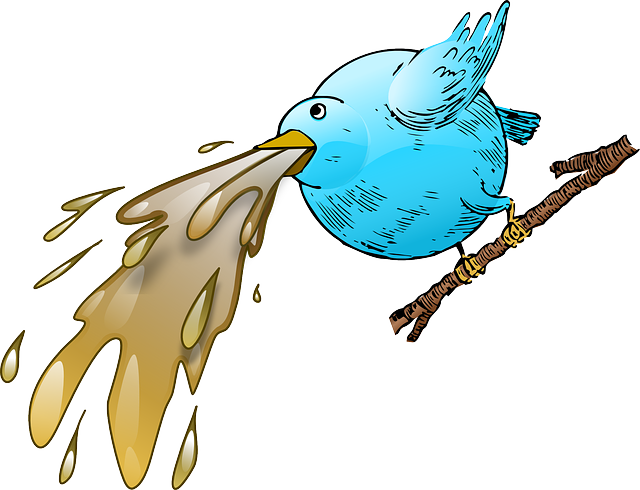 I'm not a huge fan, and only because I don't see the point in having my account featured on a Twitter directory, how many people actually visit these directories for regular browsing? I might be missing the whole point here, but that's how I feel about Twitter directories.
You can use Twitter directories to help yourself find new people to follow, as well as to list your own account on the directory – amplified by keywords and professional photos which can help other members of those directories to find you.
I haven't got a Twitter directory post done myself, but you can check out any of these posts and check out the Twitter directories they've listed:
The 10 Best Twitter Directories to Grow Your Twitter Followers
15 of the Best Twitter Directories for Growing Your Network
List of Top 15 Twitter Directories
Official Twitter Buttons (Share, Follow)

I'm sure you're already using these, but if not – it might be a good idea to start using them asap. Twitter offers some great widgets, and share/follow buttons to choose from – which can be modified to your own liking. Try them all out by following this link. You can always find a WordPress plugin that will do all of that for you.
Improve Your Social Media With Topsy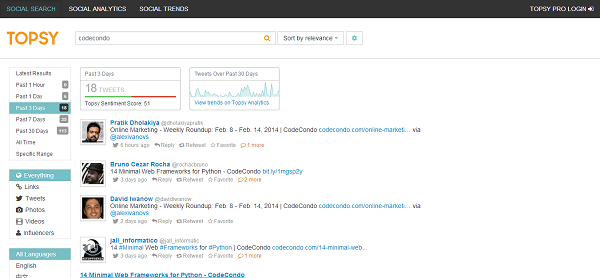 Topsy is incredibly useful for finding trending content across Twitter. It allows to sort by date, popularity and even influential power, all of which can come in handy when you're looking for content to share or for people to follow who can help to boost your own Twitter presence.
You can check out this tiny introduction to Topsy, and how it works. I think it's a great tool that's not only incredibly useful, but also easy to understand and use.
Share Pictures With Twitpic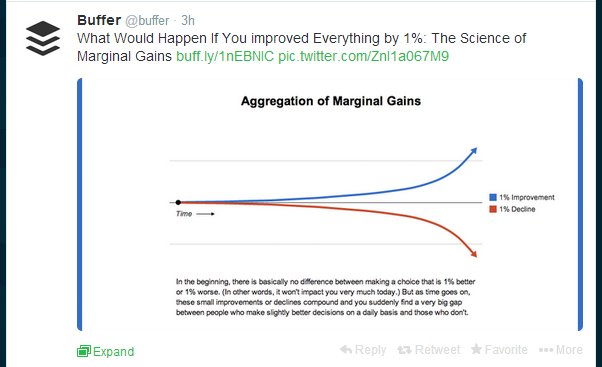 Twitter allows to embed media like videos, but most importantly – it allows to embed photos. Ever since photos have started showing up on the Twitter streams, it has increased engagement rate by 200% in some cases. I cannot recommend it enough, and although this is the first time I mention image sharing for Twitter in my own posts, here are two guides for sharing photos with Twitter for increased engagement rate:
Posting photos on Twitter
How Twitter's new expanded images increase clicks, retweets and favorites [New data]
Don't be Stingy – Retweet Others Tweets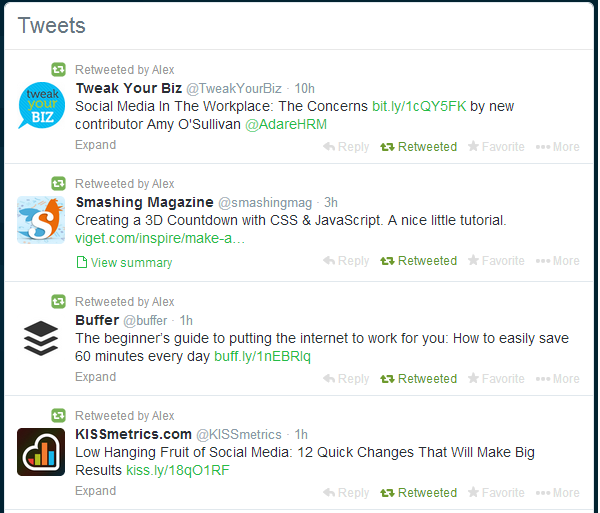 You know that feeling when someone retweets your tweet? It's a nice feeling, isn't it? It's twice as nice when there are a lot of retweets happening, and you just melt away in awe.
Why not return that feeling to other people? I'm probably giving a bad example in the above snapshot, as those retweets are for brands / companies that already get enough of RT's for mine to even count, but anyway – the point I am trying to make is that you've got to give some back in order to get some.
I would try and keep it to 5-10 retweets every day, and then see how it improves my follower count and engagement rate.
I almost forgot: #hashtags
You need to use hashtags, it's one of the main ways of making it possible for your content (tweets) to be discovered. I've written a blog post about the best twitter hashtag tools before, and it has received a great response from the community – check it out if you want to amplify your hashtags.
I've also included a snapshot above that shows an example of great hashtag usage, experiment and see what works for you – I'm saying that because some hashtags are generally overused and worth nothing, except for automated favorites and retweets from bot accounts.
[box type='info']From this point on, the rest of the tips are going to be without an image.[/box]
Appealing Background Photo / Design
Twitter allows you to create a custom design for your profile, and you should take this to your advantage if you want to maximize the potential of getting noticed. It's worth looking into how colors affect conversion rates, and also this and this guide for how to create the perfect Twitter design.
Make Room for Inspiration, Creativity and Humor
You've got a brand page on Twitter, but all you're doing is posting only business related stuff, and after time it becomes really boring. You might not think about it that way, but many people will. This is why it's a good idea to diversify and add a little bit of new flavor to your Twitter stream, it can be quotes or direct sayings by famous people, or it can be some funny stuff that people will want to share with their friends. Be creative.
Try Triberr
Triberr is great for reaching out to new groups of people (Tribes) that can help you increase your follower count drastically, if you're sharing great and relevant content of course. Signing up is free, and you can instantly start looking for tribes to join, or ask in the community forums for an invite, by specifying what kind of content you share.
Just be Yourself
Your business needs to have a voice of its own, and so it's only natural that you're going to be speaking in the voice of your brand. I'm more of a person who's currently advertising his name, and so I integrate my brand with my own personality and it seems to be working as far as reaching out goes. Never attempt to please one certain group of people, as they may bail on you at any given moment.
Catchy Headlines
If everything else falls apart, at least you can try catchy headlines – not in a way that you'd advertise something as false (like saying 'you will shit your pants reading this'), but enough controversial that the user will want to click and find out more. Read more about headlines in this post.
Share Your Website Content Multiple Times
If you want to improve the chances of your content getting seen across the social media platforms, you need to increase the amount of times you're sharing content on your Twitter account. You should check out this guide from Buffer, to learn more about the benefits of sharing content more than once.
Just Chat With People
The last tip and advice I want to send you away with, in order to help you increase engagement and business presence is this: just chat with people.
It can go a longer way than you think. It might not be the newest or most advanced of advice's, but it certainly works and will work with the 'simplest' of people, we all know how easy it is to over-complicate things and then get stuck in the process.
Twitter Tips for Your Business
This was certainly an interesting post to put together, and learn and obverse from. I hope I was able to give you some advice on how to increase your business visibility on Twitter, and even other social media platforms where these very same tips will work just fine.
I'm eager to hear your own tips and tricks, and of course success stories.
photo by jez