It almost feels like the phrase project management means something completely different to each of us, to me: it's the process of getting something done, within its appropriate order, as determined at the beginning of the project.
I guess another way to look at it is from the perspective of team collaboration, and how teams organize themselves around certain projects they work together, and most importantly – what are the tools these teams are using to bring out the best of themselves?
I've built up a reputation of these posts, for their concise and honest quality, but when I began researching the phrase project management tools, I was blown away by the amount of stuff that there is available.
This led me to do some deep diving into the topic, and in the end – I was able to surface back with what I believe is a list of five, more or less essential, project management tools that every team should use and work with.
Yes, you probably know them all already, and I applaud you for that – it means you're doing something right, and you care for the work that you do. That in itself, is a fairly rare achievement.
1. Meldium: Cloud Password & Access Manager for Teams

Meldium is the simplest way for teams to access the cloud services they need. By aggregating and monitoring accounts across any web service, it frees your people from tedious account management. Administrators can easily onboard new people and users can see, share and log into their apps from a central dashboard.
Just short five months after the initial launch of Meldium, they were able to acquire 1 million in funding, which has helped the service to grow, and build partnerships with many recognized cloud services online.
Why would you have your team manage dozens of different apps separately, when all of you can have one account to share for them all, this is the ultimate time management tool, as much as it is a collaboration tool. This will make your project management less painful, more fun and twice as effective.
(oh, did I mention it's free for up to 5 users? great news for smaller teams!)
2. GitHub: Manage All of Your Code Effortlessly

GitHub is the home of millions, upon millions of repositories, and has been established as the most popular open source code database in the World. You can build projects, and then you and your teams members get to collaborate on that project, exchanging ideas, sharing new code and generally brainstorming of what is possible.
https://www.youtube.com/watch?v=l_T3XEgXl14
It's so great, that the Linux kernel itself is hosted on it, take a look
here
. Yes, there have been some
recent news on sexism
, but whether that is part of your project – is up to you to decide, and of course, there have been some major security breaches,
all taken care of
.
There is no doubt in my mind that GitHub is the key to great project management, and with that in mind – we can take a look at our next application, which is very much GitHub related.
3. Gitter: Awesome Chat Application for GitHub

Sadly, Gitter is not a project of GitHub (perhaps, in the future), but that doesn't mean that it's unable to answer for itself, or should I say: be confident within itself.
It's a chat application for all of your GitHub reposotories, and you can easily share everything with your teammates. This makes for much easier tracking of what is going on, and there are plenty of features to get addicted to it.
Webhook integration
Issue integration (!)
@mentions and notifications
It's a tiny list of features, but that's exactly what I like about it: simplicity, and I doubt there is the need to over complicate something as simple as a chatting application for your projects. The list of features is going to grow gradually.
It is a BETA thing, but I see the potential, and feel like this was needed to mention, if only to spread the word!
4. Red Pen: Live Design Feedback & Collaboration

I've learned that Red Pen goes together really good with some of the free wireframing tools that I've talked about before, and makes for a perfect application / platform to have in any teams project management tools list.
In what seems like a funny coincidence, Red Pen was actually upgraded to a V2 just now (day ago), and now you're able to experience the product on the homepage itself. Everything in Red Pen is designed for maximum efficiency— you don't need to signup to try the product; designs load instantly; notifications appear live; and there's clever keyboard navigation.
I like the fact that Red Pen is telling you that they're not a project management tool, when in fact it's the perfect platform to use on both small and large scale projects, it's collaboration meets management, in super sleek manner!
5. Basecamp: Professional Project Management for Everyone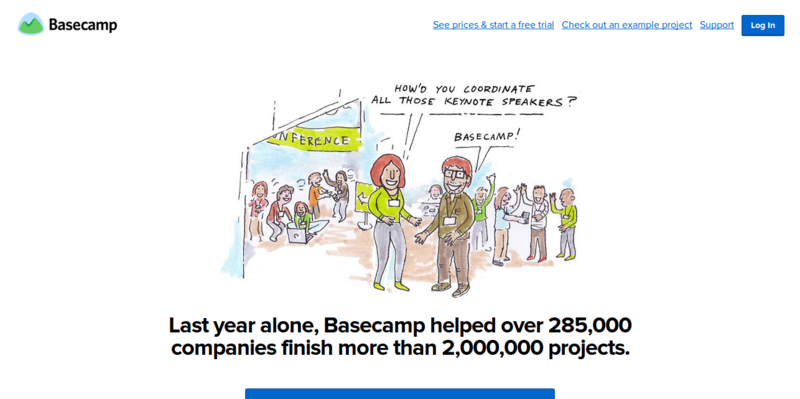 Basecamp is a platform that a big portion of the developer and designer community is already aware of, and so I left it as the last item on this list of management / collaboration (in case you forgot, what this is about) tools for developers / designers.
You only need to try Basecamp for a few weeks, to understand the immense power it has over getting things done in as efficient way as possible. In February, 37Signals officially become Basecamp, and now the team is putting all of their focus to making this platform more amazing than it already is.
You get to try it out for 60 days, at no cost, but you might as well commit to some open source to-do list managers and see how those work out for you.
Project Management Tools for Software Developers
Whether you're a small team, just starting out, or a huge enterprise that needs some quick and efficient solutions for the next big thing; this list is your guide to the world of organized collaboration.
Yes, we've all got our own favorites, and believe me, many of my own are no in this list, but we have to remember – by starting small, we're worrying less about the tools we use, but more about the work we're doing, the key to success.
cover by cselectrical