You need to treat your website as you do your physical business location. You must make sure that your site gets seen and visited by potential customers just like a regular store in a market. Because if no one comes and visits your site, you can't expect that anyone will do business with you.
Your website needs to be regularly updated to attract attention online. However, there are times that just updating your website isn't enough and overhauling it is a better option. But how can you tell when your website needs to be rebuilt? Here are six telltale signs.
1. It's Been A While Since Your Site Was Published Or Update
d
The age of your site and the date when you last updated it are the first things you need to check to determine if you need a website overhaul. If more than a few years have passed already, that's a guarantee that you need to rebuild your website. After all, a website that uses an old design will make users perceive your business as dated and incapable of meeting their current needs. 
When updating or overhauling your site, make sure to focus on user experience (UX). Focusing on UX is a broad advice, to be honest, but to put it simply, you need to redesign your website in a way your visitors will enjoy navigating it. Doing so can raise the chances of your website converting visitors to paying customers. Here are more helpful hints on how to measure usability metrics for UX.
On a different note, if you've moved location, change the contact details published in your site. If you have made changes in the team, be sure to remove the ones who're gone and add the new ones to your about us page. An outdated website can paint the wrong picture and may cause visitors to be confused regarding the information it contains, which can let you easily lose potential customers.
2. Your Website Has A High Bounce Rate
When visitors are met with an outdated site, it leads to high bounce rates. Bounce rate is a metric that measures how many people leave your site after accessing a single page. If you find that more of your visitors don't stick around for more, it's a sign that they don't like what they see at first glance. Some other reasons that may be causing visitors to bounce off your site are poor navigation, slow loading speed, inaccessibility, or wrongly clicking on your site.
It only takes less than a second for a website to capture a visitor's attention. Websites with pages that load slower have high bounce rates, so it's critical that your site loads fast enough to meet users' expectations. Besides that, your need to capture their attention with an attractive layout and design that can prompt them to stay.
3. Web Accessibility Design
A website needs to be accessible to all people, despite their physical or cognitive abilities. The Americans with Disabilities Act (ADA) and other laws across the globe require that online content should be coded so that persons living with disabilities can access them. Besides the legal requirement, accessible web designs enable a business to increase its reach.
If your website was created before these laws came to be, you need a new website that ensures your design, color, and graphics meet the required standards. Also, that it's compatible with accessibility tools.
4. There's A Branding Disconnect
Rebranding happens all the time in businesses. You may have decided to change a few things in your brand marketing such as your logo, tag line, or even your business name. You might even have expanded or dropped some products or services. 
In some cases, businesses can change entirely and move in a new direction, resulting in a change in their target audience. If your business branding changes for any reason, you need to overhaul your website to reflect those changes.
5. Your Site Isn't Optimized For Mobile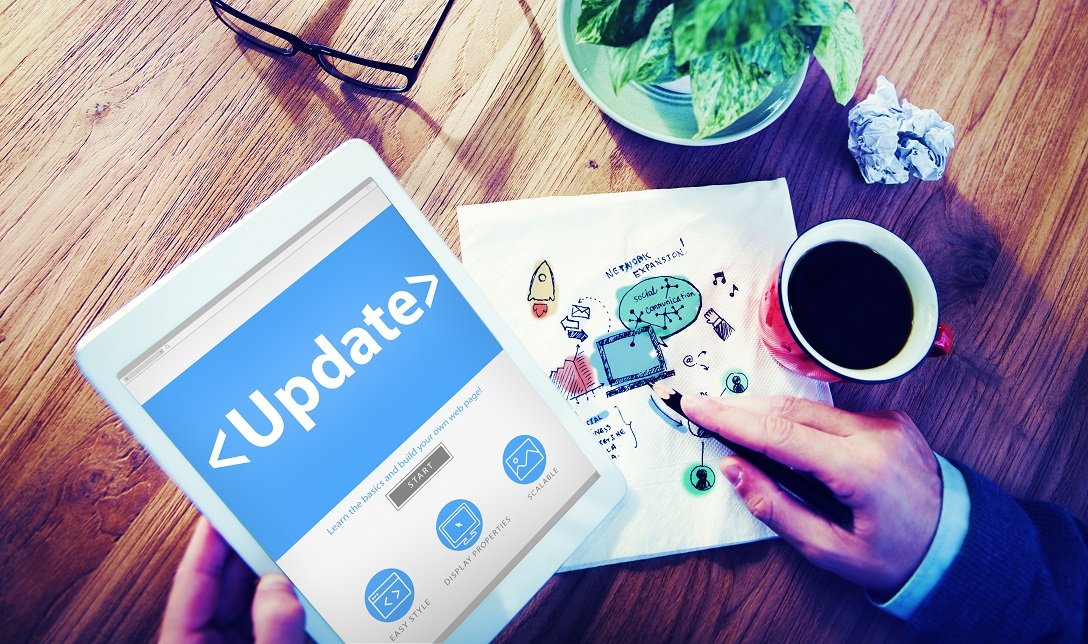 You may have seen some websites that look great on desktop computers or mobile phones. They seem to automatically adjust and fit whichever device the user is using to browse. Those websites behave like that because of responsive web design.
It's not a new concept, and it has been around ever since smartphones and other internet-ready portable devices like tablets have become popular. Integrating it in websites has become necessary today as its main goal or purpose is to give users a seamless experience on any device.
One of the reasons you would want your website to be mobile-ready with responsive web design is convenience. For one, a non-responsive design can give phone and tablet viewers difficulty in reading the text on your site. They will be either be met with tiny fonts or overly large text, and they will have no choice but to zoom in or out of the page to read what you have to say.
Another reason a responsive design is essential is that search engines rank websites without it in their search algorithms lower. This directly affects your visibility on search engine results pages (SERPs).
6. Search Engine Optimization (SEO)
SEO ensures that your content ranks on search engines. It's a critical aspect of the success of your online marketing campaign. If your website isn't ranking on search engines, web visitors won't find your site through search engines. It's a telltale sign that the site needs to receive an overhaul.
However, you need to know that search engines also need you to update your site's content regularly. With each update that you make on your site, search engines index your pages and recalculate your site's ranking. Keeping your site updated with quality content increases your chances of ranking higher on search engines. That, coupled with an attractive, accessible, navigable, and mobile-friendly design, will attract more attention.
In conclusion
Your website's purpose is to build and market your brand with the primary goal of increasing profits. If for one reason or the other, it's not doing the job it's intended for, it needs an overhaul. Look for the reason your website is not leading to conversions and think about changing it entirely. The services of a professional web designer will be quite helpful in this case.
Also Read: Tips for Enhancing Website Loading Speed by Proper Optimization