Fordham University, Brooks Brothers, Foot Locker, and Kylie Jenner – all have something in common. They've faced lawsuits because of their business websites' alleged non-compliance with ADA (Americans with Disabilities Act) norms for websites. 
The ADA and Section 508 state that everyone should have equal access to communication, goods, and services. The regulations apply to websites as well. 
If they can, so can you! 
In fact, every American business that has a website, is exposed to lawsuits because of ADA non-compliance.
AI To the Rescue
To steer clear of a lawsuit that could upset your business, you need a quick and comprehensive solution. The quick way to increase your site accessibility easily is by utilizing an AI-powered platform/tool that renders your website usable by people with disabilities. 
accessiBe is one such powerful AI-fueled tool that makes your site accessible to those with disabilities, and compliant with ADA norms. 
A brief overview of accessiBe
accessiBe is a cost-effective solution for all your website's ADA compliance needs. It is a completely automated, AI-based platform that helps sites comply with the Web Content Accessibility Guidelines (WACG) 2.1, ADA and Section 508. 
Here are the accessiBe features that make this web accessibility platform so special and popular –
Intuitive User Interface (UI) and High Customizability 
Here's how accessiBe audits and upgrades your website –
Content Adjustment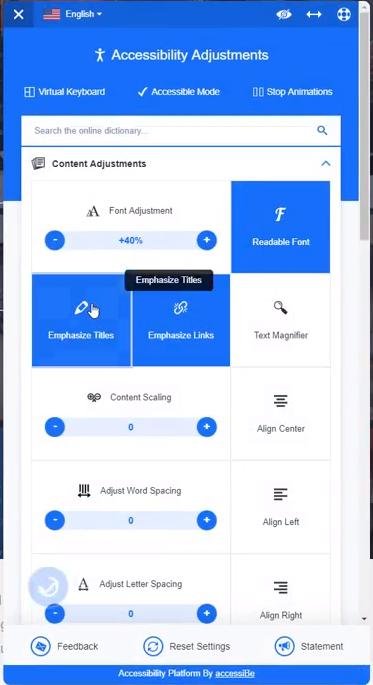 Its web content adjustment panels reserve options to change the font size, embolden the titles, increase text size, increase word and letter spacing, change alignment, scale the content, change font size, emphasize links and more. These adjustments are necessary and make your website accessible for those with visual impairments. 
Color and display options
Flashy colors and animations on a site can trigger epileptic attacks in susceptible individuals. accessiBe's automatic adjustment options can add options for differently-abled users to invert colors, view in monochrome, set a high contrast among colors and adjust the text and background colors. 
Adjusting the navigation options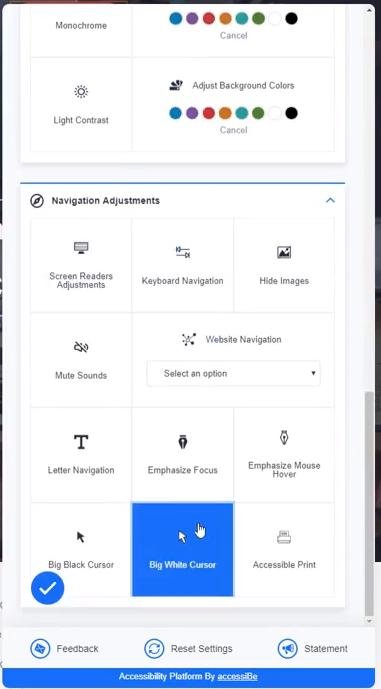 accessiBe learns and understands each environment. The system adds navigation functions like "Emphasize Mouse Hover" and "Stop Animation" to increase site accessibility for everyone, including those with cognitive dysfunction, epilepsy, partial blindness, and color blindness. 
Plus, accessiBe supports 8 languages and also offers a virtual keyboard. It makes navigation a breeze for any user with disabilities. 
accessiBe uses AI-powered contextual understanding
accessiBe utilizes an AI-based contextual understanding of the site content and design elements. The entire process happens in three distinct steps –

The complete scan of the site's structure

– the AI scans the structure and divides it into "net"s of elements. Each "block" consists of layers of useful information from the "net". 

Analysis of the site elements and the deciphering process

– accessiBe AI goes through each block and analyzes it for matching it against the site's data blocks. The AI "plays" with individual elements and checks the outcome of selecting one, clicking another and hovering on some more. 

Making everything accessibility

– accessiBe uses two different sets of technology for "contextual understanding". After analysis and deciphering, the central AI deploys a modified UI that enables image description and alt texts, reading software, keyboard navigation, text display, and virtual typing, all automatically. 
accessiBe enables web accessibility without manual code changes
Once you have created an account with accessiBe, pick an installation method. Get the installation code from accessiBe Embedding > Copy to Keyboard. 
After the initial installation process, accessiBe will scan and analyze your site repeatedly for the next 24 hours. accessiBe's implementation can take up to 48 hours from the time of installation. 

accessiBe demands no manual coding effort. The implementation is automated. It keeps track of regular site and plug-in updates, addition or removal of pages, and content edits. After the implementation is complete, you will receive an Accessibility Statement that certifies the site's browser compatibility. 
At $490 per year, accessiBe is an AI-powered web accessibility platform that helps websites comply with ADA regulations, Section 508, AODA, EN 301549, IS 5568 and WCAG 2.1. It reprocesses every 24-hours thereby reducing the need for manual intervention to almost zero. 
With so many websites facing lawsuits regarding their lack of accessibility, the need for such a tool is obvious. accessiBe is quickly becoming the top choice for some of the leading sites across the world.