While many of the online shopping experiences tend to be smooth sailing, others may range anywhere from slightly irritating to plain cringe-inducing – and unluckily those hair pulling, extremely bad experiences just end up costing an eCommerce business serious sales. Therefore, if you have an eCommerce business, ask yourself: do you've what it really takes to orient your visitors quickly. Make them feel comfy and get them click those "Buy Now" and "Add to Cart" buttons on your site? Or are your button visitors clicking on your site's "Back" button only? So, let's have a look today on 9 tips for designing the perfect eCommerce website that yields transactions and also return visits rather than fist pounding and teeth clenching.
1. Run Sniff Test First
Does your ecommerce website pass sniff test? Not just does this sniff test measures whether your content is simple to understand or not, but it also determines whether your website appears trustworthy or not? This is very imperative for ecommerce sites, because people hand over their credit cards information often and other personal information too. Ensuring that your website appears trustworthy is important to creating a site experience that shoppers love.
2. Make it simple to know what all products you sell
When a shopper does a search for any specific product, they might have hundreds or thousands of options available – but they have selected to visit your website. So, in just 3 seconds, you have to size your website up, make it very clear that they have made the best choice.
3. Compatibility with all screen sizes and devices
As many ecommerce stores see a continuous rise in the mobile shoppers, it is vital to be alert of the different screen sizes and devices used by your clients. Your website's design should adjust to match the smaller screens automatically and even the larger ones. Responsive website design is a great method of design which automatically scales a website's appearance to match with the screen size. It has become a standard quickly for new sites as Google considers mobile friendliness of a website to be a ranking factor. With increasingly more shoppers using mobile devices, or using phones only for shopping, your web store's design should be capable to match the screen size on which it is being viewed. And if not, then you will find clients leaving for other store, which is more mobile friendly.
Also Check: – Learn How to Increase Traffic to Your E – Commerce Site
4. Fast Loading Times
It is a fact that nearly 40% online shopper will dump a site if it takes over three seconds to load. Regardless of how beautiful your ecommerce store's design might be, if the page's loading speed it slow, the bounce rate will increase and conversion rate will dramatically drop. In order to avoid losing your customers, you must aim to apply a design which loads all its assets fast. The slower your web store's design will load, the more prospective customers you will see bounce away from your website, back to the search engines.
5. Make it simple to find products
In fact, customers should be capable to find a product they want in less than 30 seconds. Don't compromise on usability for an exclusive design. If users cannot find what they are looking for, they will most probably leave… regardless of how cool the website looks. Help make your website simple to navigate by simply keeping your list organized. Use categories, tabs, and search bar, so that visitors can find out what they want quickly without needing to click many pages. Also, review your commonly purchased products and then look for any pattern and marry both of them.
6. Make shoppers comfortable to hand over their personal information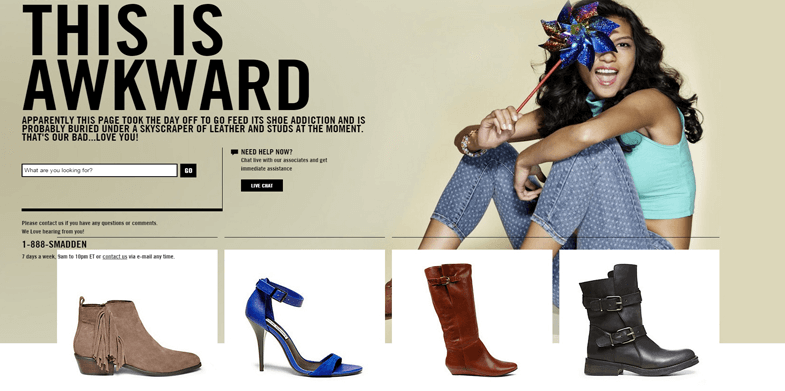 Think of how you would feel walking in an unfamiliar store with low lighting, old signage, questionable inventory and a clerk, who prefer to exchange cash instead of using the register. Sounds a little shady? But that is exactly how people might feel when they come to your website to just find inconsistent website design, product images which look as if they have been lifted from other site and form which needs 10 minutes of contact information. To make shoppers comfortable, keep the forms simple and short. During checkout, just ask what is important.
7. Provide relevant and unique content
The average bounce rates for somebody visiting any new website are 40%. This means 40 percent people leave your website instantly on entry. So, how will you keep them there? Free puppies? Bribery? How about luring them in your lair with outstanding content? E-commerce marketers have an exclusive chance to create outstanding content with product's description. Don't stop at manufacturer's description, create your original products descriptions in order to help your products stand out, solidify your own brand and make your site the one people love and enjoy shopping on.
8. Provide suggestions to browsers which turn them into purchasers

Not all your site visitors will be there to buy, some might be in research phase, while the others might just want window shopping. Do not miss on this interested buyers audience- engage them by just helping them out. The simplest thing to do is take out the guesswork from searching by marketing your best selling products on homepage or via cross promotional techniques throughout your website. Promote the attest trends and help guide shopping experience of less focused browsers who are not sure about what they are looking for.
9. Keep testing the elements of your website
There are some nuances which you can continue testing to optimize your website performance. Here are the five simple tests:
Test order of product's categories in the navigation, or try putting new product categories
Test placement, color and size of your site's Add-to-Cart button.
Test featuring top selling products on homepage
Test whether the coupons impact conversion rate
Test adding sign-up for any special offer button to homepage
Conclusion
Hope this guide helps you get a better understanding about the design features which matter in eCommerce website design.