Product management is treated as a role on an intellectual level, but really it's a specific skillset that allows the product manager to deal with possible obstacles that would otherwise slow down the growth of the product. Product managers are in charge of serving the users and listening to their ideas and needs, as well as to close deals that are in the best interests for future growth. In many ways, product managers are in charge of quite a lot of tasks and responsibilities. The product manager is in charge of the product that he is managing, so he is somewhat of an CEO for that particular part of the company. These days, it's tough to survive without having a proper product management person in place to make the life of your employees as easy as possible.
As a product manager, you're constantly learning new ways to do things, you've got to adapt to your own product in a way where you feel free to hack up new demo's, new features and functions, and most importantly to deal with problems efficiently and on time. Getting your hands dirty is part of the job's description. (unwritten, of course!) We loved these tips about super-productive product managers, and feel like you will too! There's so much to this vast topic that we will surely try and cover additional areas in near future.
Don't miss: giving back as an initiative for growth
With so much work on your hands, it's only natural that you will be looking to find tools and apps to help you with some of the product management tasks, and one of the essential tasks as a product manager is to be fully aware of your performance of the product you're managing in terms of statistics and analytics. This is what our post today is all about, guiding you in the right direction for choosing the best analytics tools out there that a product manager could want for himself and his team. We welcome any additional tools/apps in the comments.

Geckoboard is a truly versatile analytics tool that can be adapted to many parts of your products performance, most importantly — sales, marketing, support and operations. Everything can be hooked up to your main channels and you can instantly start receiving performance reports that can be shared anywhere, including your mobile devices. We feel that pricing is reasonable for the features and flexibility you get in return.

Mixpanel takes all the difficult tasks such as building custom database engines, and gives you simple drag and drop tools to create performance measuring tools that will completely transform the way you look at tailored analytics. Segmentations and funnels are some of the top features of this platform, and it's one of the best tools out there for truly understanding (getting to know) your users.

The analysis of different product placements and style designs is just as important as understanding where your users are coming from, and with that in mind — we recommend to try out Optimizely for all your A/B testing needs. It comes with a visual user interface that requires no amount of code written, which means that you could be up and running within minutes, learning more about what sells and what doesn't.

Surveys allow you to tap directly into the mind of the customer/visitor, and Qualaroo is a leading company in helping you to create the best possible forms and types of surveys to connect with your audience. Custom options such as who-to-show the surveys to allow you to question users who're truly interested in your product. Built-in email notifications allow you to stay on top of the latest answers wherever you are.

Talk to Users is a fun and exciting product that has been changing the way customers interact with your webpages since 2012. Forget about email support or nasty forms, with a single line of JavaScript code — your users will now be able to point and click towards any parts of your webpage to leave feedback. You might have forgotten to specific whether there is free shipping with a particular product. Now your users can quickly point/click and get a direct answer.

GoodData is the industry's leading Insights-as-a-Service provider, pushing beyond traditional BI by guiding users through the use of collective learning, much like popular B2C vendors do for recommending movies or next purchases. GoodData's Insights Network mines the accumulation of the company's experience, best practices and the millions of user interactions to propel organizations to analytic maturity and business success. GoodData offers both accelerators for Sales, Marketing, Services, and Social, as well as customer-specific implementations to deliver rapid time to value and self-service agility.

You can't go wrong with Google Analytics. The team at Google has been working hard to improve the functionality and list of features of their popular Analytics platform, and if done right — it can quite literally replace any tool on our list today. There's a premium version available for those who want to take it a step further.

Kissmetrics tracks individual and group visitor behavior from their first anonymous visit, through each conversion, to their lifetime value. Our reports give you metrics to fully analyze and drastically improve your business. Kissmetrics gives you the tools to fix your blind spots, maintain a 360-degree view, and strengthen your marketing impact through several specifically built reports.
Woopra has been a name in the analytics industry since the late 2000s. What started out as a web analytics product has evolved into a much more robust platform. As a product analytics tool, Woopra is used by many SaaS companies looking to track the user journey across their journey. You can use it to track individual users in the product, out of product, and across multiple devices. Best of all, there's a "forever free" plan that allows anyone to test its capabilities.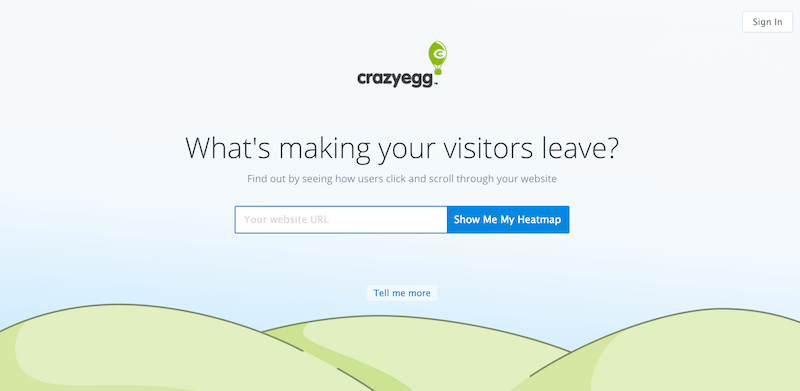 CrazyEgg has been an industry leader in user analytics for the past couple of years. Their heatmaps platform is one of the nicest and reliable tools out there for when it comes to learning more about why your users are leaving your webpages at a particular time, place. With heatmaps analytics — it's easier to get to know your own design and how it is working for your users, and with that data in your hands; you can easily optimize where necessary.

Segment is last because it helps to tailor everything in our list together. It can be a daunting task to monitor dozens of tools at the same time, which is why Segment can be so useful to your product management workflow. Take away focus from browsing and analysis individual stats, to being able to see everything real-time in one single dashboard. Quite literally, more than 70% of apps on our list here are possible to be interconnected with Segment.