Have physical document scanners become obsolete? I guess the households and work offices that still have them, are still using them on frequent basis, but what about individuals and more creative people, even those who don't want to invest in a new scanner? Can you avoid paying hundreds of dollars for a task that you will only do once? Sure, mobile app development has grown a lot in the recent years, and finding a document scanner app on your mobile marketplace is no longer impossible.
So much so, there are dozens of great document scanning apps available today, which we are going to take a look at in this roundup, and let you decide for yourself which one suits your needs the most.
Android is an amazing open-source mobile operating system, we love it so much that a lot of our content at CodeCondo is actually about Android, some of the most popular features in the past including a list of resources for learning Android development for free, a nice roundup of Android app templates that can help us build apps on the go, as well as advice on how to promote your own Android apps to get momentum!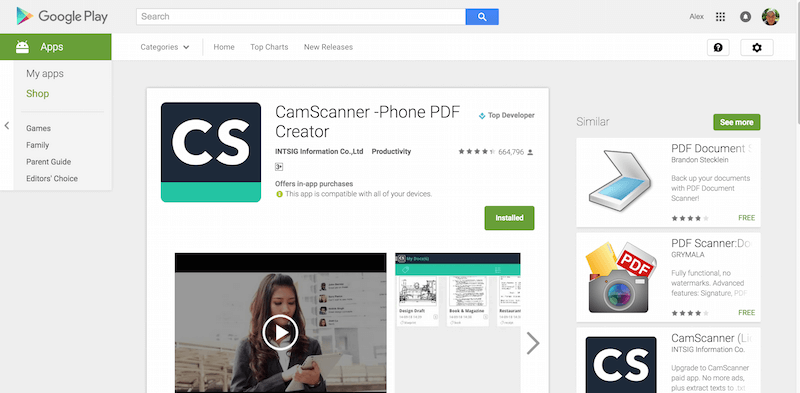 CamScanner is what I frequently use myself whenever there is a need to scan my documents. It works straight out of the box as soon as you install it. Just pick the document, click the Scan button and roll over with your camera over the document you'd like to scan — the result is a copy of your scanned document that looks exactly as it would have been scanned with a professional printer. The documents I have scanned this way have been submitted as verification papers for numerous resources, and they have always been accepted.
Use "Smart Document Scanner" as an ultimate android scanner app to scan, enhance, fax, convert files into PDF file, convert jpeg to pdf file, add annotations, sync and file your prescriptions, invoices, contracts, bank statements, whiteboards and much more and gain accessibility to them from anywhere and at anytime. Make it your mobile scanner, receipt scanner and android scanner app on the go.

Fast Scanner lets your Android smartphone to scan pages that come in any form imaginable, even simple piece of text on paper can be scanned and turned into a document. Upon completing a scan, you an choose to export the document in either JPG or PDF format, and you can use the in-built features to send your documents over email instantly. The PDF documents will be saved on your device, which means you can use them with any other app and/or platform.

Genius Scan does all of the features that the above document scanner did, with the addition that the plus version will let you import and share your documents on a number of cloud services; giving you a chance to instantly have cloud access to all of your scanned documents. On top of doing all that, Genius Scan uses a custom-built technology that includes smart page detection, perspective correction, and image post-processing. Genius Scan will make sure that all documents look professionally scanned, and no one will never even think that your documents might have been scanned using a mobile app.
Tiny Scanner is a little scanner app that turns android device into a portable document scanner and scan everything as images or PDFs. With this pdf document scanner app you can scan documents, photos, receipts, reports, or just about anything. This pdf document scanner app is lightning fast and gorgeously designed for both phone and tablet.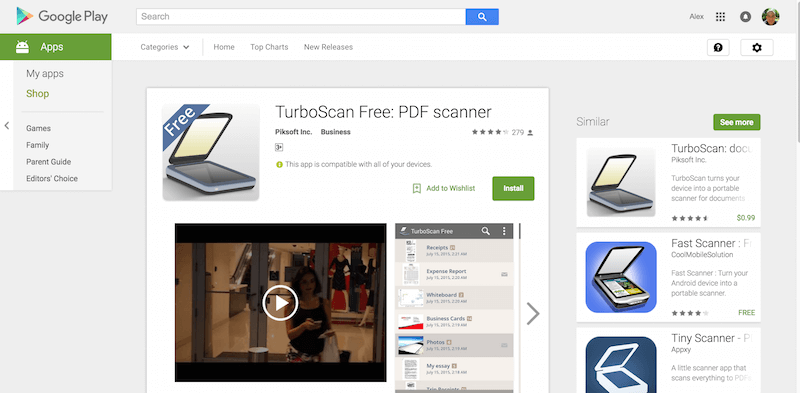 TurboScan is as quick as it sounds. In-built document correction will make sure all documents come out perfectly and optimized for any type of use. If you're working with multiple documents, you'll be pleased to know that TurboScan lets you edit multiple pages all at the same time, saving you time and efficiency. Documents can be emailed in three different formats: PNG, PDF, and JPEG. Cloud app integration lets you save your documents on the most popular cloud services; Dropbox, Evernote, etc,.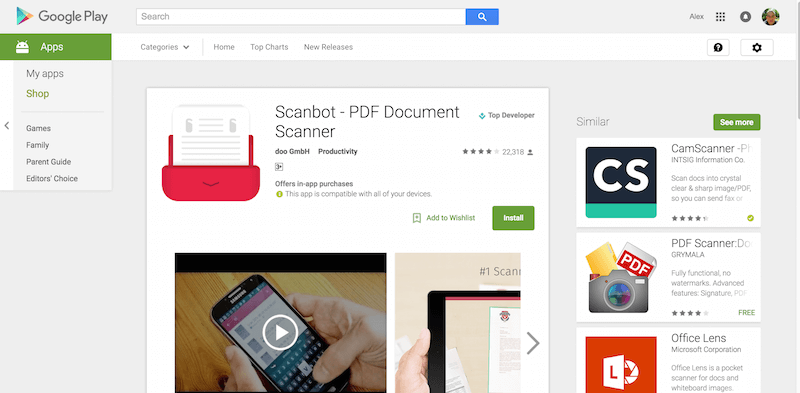 Scanbot will definitely be appealing to those who can appreciate good design, but beyond that, also good functionality. Scanbot uses a special technology that lets you move your camera over the document you want to scan, and it will automatically do the rest of the job for you. If colors seem a little bit off, use the color enhance feature to adjust them. Also supports cloud integration and lets you instantly share/save your scanned documents to cloud services.

Camera 2 PDF is a traditional and very easy to use document scanning app for Android devices. If you're looking for simplicity, then this is the app you will want to get.

Jet Scanner thinks of themselves as fully functional document scanning business tool. Use Jet Scanner to transform any document imaginable into a shareable and usable PDF file. Those who work at offices and need something that can scan multiple pages/documents at rapid speeds, will enjoy the super-fast features of Jet Scanner. Scanning something for everyone? Why not share it on Twitter and Facebook as you complete each of your scans; built-in features let you do just that.

The last Android document scanning app on our list (and definitely not the worst) is PaperScan; a cloud integrated document scanning app that will let you scan stuff on automatic basis, or as you go if you prefer. The list of features reflects pretty much everything that all other scanning apps are offering already, so perhaps it comes down to the choice of design, rather than functionality.