Android is all over the place, the demand for cheap and affordable smartphones is increasing by the minute, and as the rest of the world begins to adapt to a planet thats interconnected through the internet, it's not a surprise to see companies like BlackBerry launch their latest edition smartphones based on the Android operating system.
The same mentality applies to gadgets like Watches, we have seen how powerful the Apple Watch can be, but this time around Google is calling all the shots and wants to push Android Wear in a new direction, one that would essentially stir up the market even more.
We have yet to see all the models for ourselves, but given how experienced Google is in the mobile gadget market, we don't foresee a straight loss right away.
Needless to say, a new version of Android is on its way and seems to be in favor of Google Nexus users, and we have yet to see the official Samsung response to these news, as the final developer version has indeed been made publicly available and the list of new features is already being talked about within the community.
If you're an avid Android user, feel free to immerse yourself in one of our other Android pieces, such as the best Android launchers for transforming the looks of your device, the most stable Android emulators to play around with those mobile apps on your PC, and of course look into our updated list of security tips to keep your Android device safe and secure.
What is an app template?
Basically, it's a pre-built application 'template' that you can download/purchase and use on your own mobile app projects. It's a way of saving yourself a lot of time when it comes to building that new mobile application for your business and/or startup. App templates can range from simple to-do lists, to a full-blown game copy like Flappy Bird.
We have put together what we believe are the ten most helpful Android app templates on the market right now, in accordance to what a new startup might need to get their app ready to go.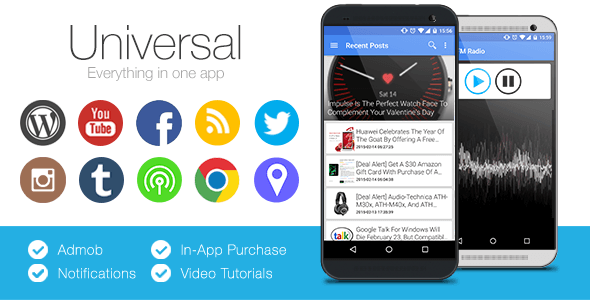 Universal is an amazing app template that gives you all the necessary features to help you create the perfect Android application without the need to do any serious coding or scripting to make things work. Universal is great for those startups that are all about content as there are nearly 10 different ways to organize your content, including from social media, your own blogs, and even remote 3rd party websites. It comes equipped with material design, and if you only want material design alone, check out this next template!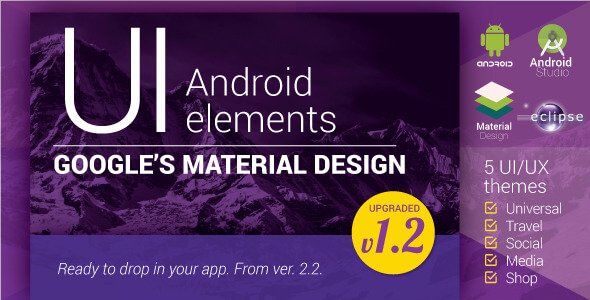 As we have learned before, there are numerous good reasons for switching to Material Design, it's becoming increasingly more used across mobile devices and websites alike, and the fact that it's been built by some of the most promising minds in design today, there's no reason not to give it a whirl. This template will transform the future of your apps instantly.

The Store Finder template can be used in many ways, it really depends what your business is about and what kind of features you're looking for exactly, for your mobile app. Whilst you can build a full application out of this template, you can also borrow some of the features from it — like user ratings, user reviews, and many kinds of communication integrations. Let your users judge the performance of your startup.

For mobile phones, push notifications is like mobile email marketing, only it's more direct and there's a lot more engagement going on. A push notification is what happens when someone sends you a text and you get a notification at the top of the screen of your smartphone. This app template lets you create your own custom push notification styles that you can use to keep in touch with your subscribers, customers, or whoever else has decided to sign up on your list. Any startup owner should be taking advantage of this.

WordPress is without question the most used blogging platform there is, so naturally you will want to have some sort of an application template to help you with integrating your WordPress blog into a mobile application, and for that task we have been blessed with this beautiful app template from Mon Coco. The app also comes with integrated push notifications and is ready to be worked on through the Android Studio.
Android News App is a mobile news system which run under Android platform that used for your own news application. With powerful and Responsive Admin Panel can manage news category, news item, app profile information, change admin username and password with generate password, etc. This application created by Android for client side and then PHP MySQL for Admin side. Run under Android platform which is the most popular operating system in the world. Using this application you can save your money and time in creating application for your own news application.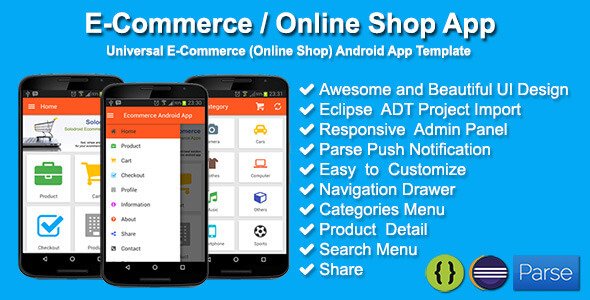 And last but not least, we need an app template that can help us create a reliable, safe and professional online eCommerce store that our customers can use to purchase from us. For that, we have this beautiful template from Solodroid. This mobile eCommerce system is great for promoting and selling your items within a single app. You get full access over the looks, feel and order of of the site, and it doesn't stop there — you can modify the tax rates, currency exchange, categories, users, and so forth. Either use this as a full app for your startup, or take bits and pieces from it to integrate in the app you're already building.
The Best Android App Templates for Startup Apps
What I really like about Codecanyon is that you can always get great support from the people who build these apps and templates, so if you ever run into trouble of trying to make something work, rest assured that the owner of the template is going to be of helping hands to you, as long as you put in the effort to understand.