Much of what we do online today happens with the help of forms, whether it is writing this blog post, or sending an email using your Gmail account, in one way or the other we're relying on the help of forms to help us get from point A to point B.
Thanks to the WordPress developer community, there are many interesting and exciting forms plugins available.
As we will learn about each of these plugins, a forms plugin can be used to build individual forms that either add extra functionality to our WordPress blog, or we can create forms such as contact form, subscription form, or forms that let us collect customer pre-order data; a useful feature for designers and developers alike.
We are always trying to expand our list of WordPress content, so if you're a WordPress blogger, check out WordPress growth hacking tools, some of the best and most popular WordPress themes for writers and bloggers, and also themes for eCommerce stores.
BuddyForms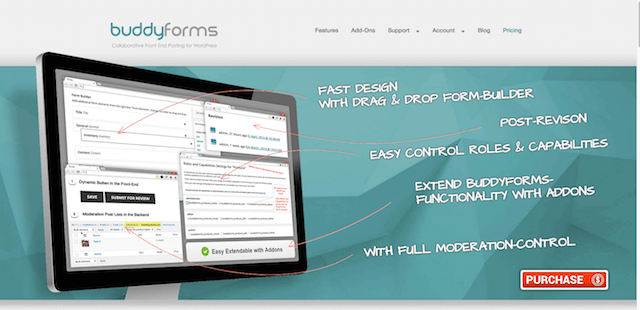 BuddyForms is a unique forms plugin that allows your WordPress members to become content publishers on your blog. If you have been thinking of starting a website such as an online directory, a magazine, or an online store similar to that of eBay — BuddyForms is the forms builder that will help you achieve those results. On top of that, with the help of Addons, you will be able to combine together several other well-known plugins and extensions, such as BuddyPress, WooCommerce, and EasyDigitalDownloads.
For example, you could launch your own Wallpapers site using WordPress, where anyone can become a member and share their own wallpaper pictures, giving you a chance to have your site populated with content from the people who are most likely to use those wallpapers as well. This saves you a lot of time for having to curate your own wallpapers and image content. The possibilities are endless.
Ninja Forms

Ninja Forms is known for having an easy to use Drag & Drop interface that lets bloggers build their own custom forms of pretty much any kind. You can create email signup forms and collect email addresses from your favorite email newsletter services, or you can collect payments through the most popular payment gateways available. The one thing that Ninja Forms stand out the most with is that it allows integration with some of the most known small business tools on the web right now; Zoho, SalesForce, Slack, and many others. Developers will find that the code is easy to navigate and write extensions for.
Form Maker
The Form Maker is one of the best responsive form builders in WordPress Plugin Directory. WordPress Form Builder allows you to set all the parameters such as colors, fonts and dimensions to best fit all form standards. If you want to make minimalistic forms, you can build forms with pre-filled texts, avoiding long form field labels. If want to build simple contact forms with unlimited number of fields, then you can use WordPress Contact Form.
Apart from being highly versatile, Form Maker will feel just as good to beginners as it will to experienced WordPress users. Beginners will find it easy to create the forms they like, while experts can take advantage of custom settings that can drastically change the way this plugin can be used. You can easily build forms to conduct surveys, to collect answers to questions, registrations forms, and even forms for others to use to apply for a job at your site. All in one single plugin.
Smart Forms


The last forms plugin on our list is going to be Smart Forms; a forms plugin that lets you build responsive forms that will work on any device or browser without interference. Once a form is built, it can be displayed anywhere on your theme using a shortcode. Another amazing feature is called Conditional Logic which allows you to build forms that have fields depending on each other, which gives your users a chance to fill in forms at their own pace without feeling like it's going to take forever. In-built style editor allows you to edit CSS and JavaScript of each form as per your own requirements.
The Best WordPress Forms Plugins
As you can see, the variety is there, and the total number of downloads for all four of these plugins goes well into the millions, meaning that WordPress bloggers understand the importance of a good forms plugin and go with what the community has voted to be the best and most useful. We're happy to take in recommendations through the comments and add them to this list as we see fit.