Though many people fear the worst, Artificial Intelligence isn't here to cut jobs or make human life more challenging. On the contrary, technology makes it easy by simplifying tasks, or should I say, by automating manual and time-consuming tasks.
Let's put it this way – artificial intelligence does not get you fired, instead, it increases productivity, enhances user-experience, and drives more business. 
Research reveals that when artificial intelligence (AI) is present, 49 percent of consumers say they would shop at that online location more frequently, while 34 percent say they would spend more money and 38 percent say they would share their experiences with friends and family. –  PointSource
Let's understand how AI is helping businesses to appease customers and get ahead of the competition: 
Customers get what they are looking for
All of us are online shoppers. Have you observed how the recommendations from online shopping sites change, based on search history? If you are using site A to shop a pair of jeans, site B (which you have never visited) will start throwing ads your way which displays the same pair of jeans at a discounted price. The outcome: you end up buying from site B.
Once you're a customer, you get emails, SMS, WhatsApp messages and all sorts of communication that tell what's sitting idle in your cart, the discounted prices of what you clicked on while scrolling the website, etc. 
Now, this is how personalization works – it all seems like a piece of cake, thanks to AI. 
The e-commerce giants know that if they have one-lakh daily visitors, they cannot convert them into customers without considering their personal choices. 
71% of marketers are interested in using AI for personalization – EverString
AI helps businesses to track site visitor preferences and provide them with the most relevant product and content recommendations. The technology also helps predict customer behavior so businesses can manage their expectations with ease and accuracy. Customers prefer to visit sites that know about their choices so they don't have to put time and effort in looking for the best products and services. 
Artificial Intelligence helps businesses to analyze large amounts of customer data and get quick insights about tailoring their products and experiences.
24/7 customer service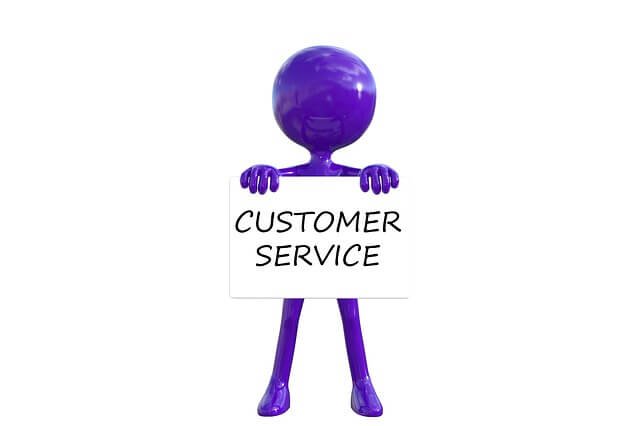 To understand the concept of customer service in AI times, let's go back to the 'no-internet' and 'no-telephone/smart-phone' days. 
Long and arduous queues at local customer-care centers used to be quite common. 
Soon after the advent of telephones and smartphones, customer service moved to these mediums but the queues wouldn't go.
In the age of the Internet, the queues moved online. 
AI is now helping businesses to do away with customer frustration of waiting for a simple query resolution. 
Chatbots and virtual assistants help provide instant answers to audience queries. With chatbots, 24/7 customer service has become a reality.
40% of millennials say that they chat with chatbots on a daily basis (Acquire.io, 2018)
Another way AI takes the complication out of customer service is self-service. Natural Language Processing and Machine Learning help customers to find the most relevant help-articles to solve a problem they're facing.
Let's take the example of an online food delivery service. Suppose you placed an order via a food delivery app. The delivery took longer than expected so you go to the 'HELP' section of the app and it gives you a bunch of issues and a solution for each. 
Artificial Intelligence helps create a process to level-up customer service The technology does away with queues and waiting times by automating query resolution. 
A voice command can do a lot
Imagine not having to open or browse through an app to do shopping or transfer money; AI makes it possible for customers to do just about anything with a simple voice command. 
Companies are now integrating their services to voice assistants like Google Home and Alexa helping customers to simplify tasks like bill payments, money transfers, travel bookings, and a lot more. 
AI and Natural Language Processing, helps customers to have conversations with bots and get their tasks done in no time. Voice assistants are being used in a variety of business verticals such as hospitality, healthcare, and finance, etc. 
Almost all users (94 percent) consider voice technology easy to use and say it does more than save time – it improves their quality of life. – Adobe
AI paves new opportunities for businesses to offer a smooth buying journey for customers.
AI-Driven content marketing
Content marketing is at the heart of any customer experience and brand-building strategy. As content marketing gets evermore challenging, AI is making it easier to overcome the challenges in content marketing. Artificial Intelligence is helping time-starved content marketers to create hyper-personalized content at scale. 
The technology is helping marketers to create content that's backed by data and audience-insights, helping optimize content quality and performance. 
AI tools are helping content marketers to analyze old content and perform content audits for enhancing and upgrading existing content assets.
Marketers can tell brand stories at scale and provide delightful content experiences to a targeted audience, all thanks to AI. 
Can AI emulate human interactions?
The bots cannot interact with customers the way humans can; they're not equipped to understand the emotions of an agitated customer, for instance. 
While artificial intelligence has its limitations, the technology helps businesses and professionals to automate a large number of manual tasks. AI ensures that professionals can devote more time in making each customer experience special and more 'human'. As AI is fast becoming an integral part of the business landscape, an AI-human partnership is essential to meet the ever-growing customer expectations.