To think that we live in a world where government spying is not a thing, is to be completely blind to the reality of things. There's a reason people like Edward Snowden have sacrificed their lives in order to bring forward the real truth behind government agencies, and how the mass spying on the human race is a thing. There's no denying that people are seeking new ways of staying secure and protected, and while not everyone is capable of coding up their own protection system, some boundaries can be established by traditional methods, such as proxies.
A proxy server, also known as a "proxy" or "application-level gateway", is a computer that acts as a gateway between a local network (e.g., all the computers at one company or in one building) and a larger-scale network such as the Internet. Proxy servers provide increased performance and security. //IU
In other words, a proxy is a way of masking your real identity on the internet, so that if you do happen to be at the wrong place in the wrong time, you cannot be traced back to your original home ip address, and hence it will make it a lot more tough for authorities to find you, in most cases it's fairly impossible to find you if you're behind a strong proxy server.
Read: Tools for Password Management
There definitely are VPN services out there, which provide maximum security (like not keeping logs or any data about you), and have proven to be reliable, but sometimes all you need is a good old proxy to keep yourself out of the danger zone. Modern browsers allow you to setup a proxy directly from within the browser.
Google Groups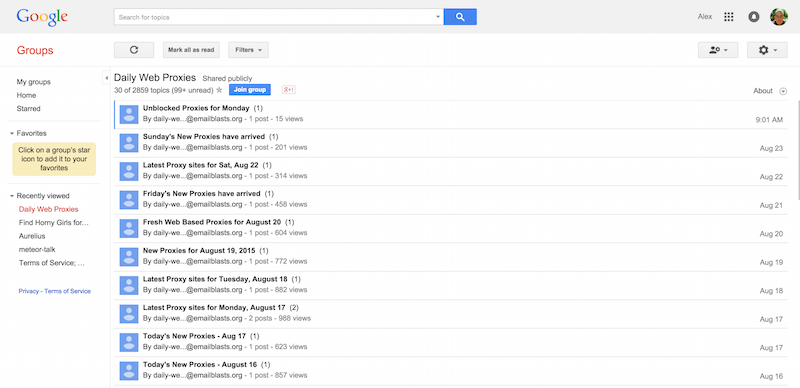 There's a Google Groups community that has been running for many years, and each and every day there's a list of new proxies being shared, even on Sundays. You'll find that most of the time the proxies are actually being linked out to a 3rd party website, but that shouldn't be that big of a problem. As long as they're fresh and ready to go.
Yahoo! Groups

Yahoo Group! has a similar group, with almost 2,000 members, there's always a new proxy service to check out and try for yourself. Many of the sites members are regular posters and have tons of experience in the proxy market. The group has been active for more than 7 years, so there's definitely a lot more to be explored from previous posts to see how things work in this niche.
Daily Proxies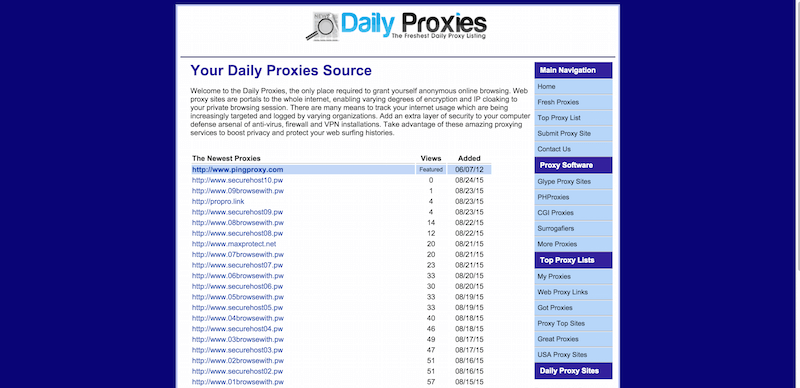 Welcome to the Daily Proxies, the only place required to grant yourself anonymous online browsing. Web proxy sites are portals to the whole internet, enabling varying degrees of encryption and IP cloaking to your private browsing session. There are many means to track your internet usage which are being increasingly targeted and logged by varying organizations. Add an extra layer of security to your computer defense arsenal of anti-virus, firewall and VPN installations. Take advantage of these amazing proxying services to boost privacy and protect your web surfing histories.
Premium Proxies

I'll admit, the first three resources for daily proxies on our list are all about web browsing proxies, web services that are hosted by using special scripts that allow to relay the ip address from a website to another website, and while some people can settle for those as enough, they don't give us nearly as much freedom as proxies from sites such as this one. Premium Proxies focuses on Anonymous proxies that are ip based and that you have to configure using either your browser, or your proxy client.
These are the ones you will see Bitcoin members using, hackers, journalists, and other similar profession enthusiasts all around the world.
Fresh Proxies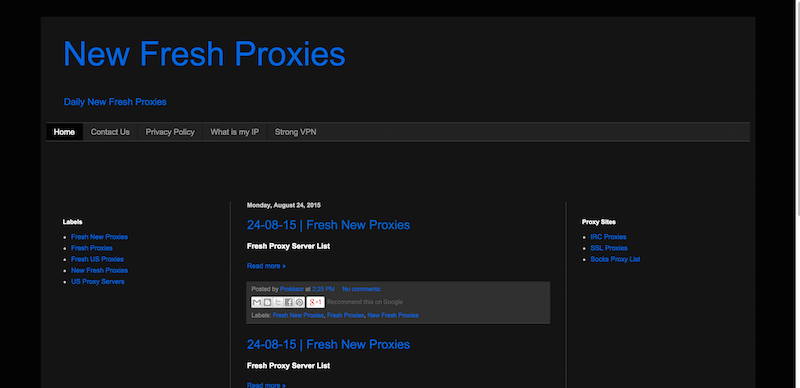 As explained above, Socks 4 and Socks 5 proxies are different to regular web proxies in a way that you have to configure these using your proxy client. You can integrate them in your applications, clients, and other tools that you use on daily basis and wish to hide from whoever might be watching.
Proxies as a way of protecting yourself online
You don't really need much more proxies than what we have listed here, every day there's new additions being added to these lists, so the chance of you running out of proxies to use is very unlikely. And as we briefly mentioned at the beginning of the article, it's not a bad idea to go for something more easy such as a VPN; which can often serve as a proxy anyway.
We are keen to learn more about the daily proxy services that you yourself use, and we're happy to consider adding them to our list.