Streaming content in 2020 is one of the easiest and increasingly popular ways to watch your favorite movies, tv shows, sports, music and more. For ease of use, it just can't be beaten.
Most smart devices in this day and age have the capability for easily streaming smooth media content in full HD without interruption. 
But one of the more popular devices on the market is the Amazon Firestick. Affordable and recently updated to include both 4k streaming and Amazons voice assistant; Alexa. 
The firestick can be connected to most smart TVs and devices with relative ease. The Amazon firestick is well worth a try for anyone on a budget requiring a streaming device that can be set up with a few clicks of a button. 
A close second to the firestick would undoubtedly be the Roku, another excellent, budget-friendly streaming device. 
What about Apps?
Both the Firestick and Roku come with a decent number of apps off the bat and offer the user enough choice to be somewhat content. 
Some of the apps will be free of course, but others you may need to pay for. If you're not entirely happy with the included selection of apps. 
You'll have the ability to download more apps by selecting the app tab near the top of the interface and following the relevant instructions.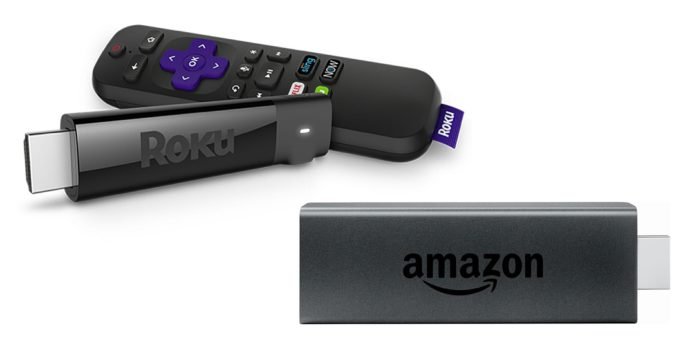 Kodi
Another way to expand your app and content library would be to install Kodi and one of the many compatible builds that are currently available.
This would open up a whole other world of content to choose from. For anyone unsure about the whole process, you can find some great instructions on how to setup Kodi on your firestick HERE.
Some Great Apps to Get you Started…
Below are three apps for the Amazon Firestick that are completely free and that we think you can't go far wrong with.
If you're after a great streaming experience, then continue reading…
CyberFlix TV
When one of the most popular apps on the market shutdown (Terrarium TV) this created a void which was filled by a multitude of clones that tried to incorporate like for like features and design.
One of these clones was the CyberFlix TV app, it functions nearly exactly like the original Terrarium and looks near identical as well.
One of the main features of CyberFlix Tv is the ability to scrape and find many different streams from various sources. Which in turn offers the user a plethora of movies and tv shows to choose from.
With the ability to sort content by both year and genre, as well as mark your videos as favorites, the CyberFlix TV app really does offer the user another viable option in the already crowded app market.
CatMouse
CatMouse is another free app that's great for streaming on-demand media content, including movies, tv shows, music, and much more.
Once again, CatMouse functions so much like the now-defunct Terrarium app that it is safe to assume that it is another clone.
With a high volume of content to pick from, CatMouse just like CyberFlix TV before it features the ability to scrape high-quality content streams from around different sources across the Web.
Many of the streams available through the CatMouse app are able to be streamed in HD quality, with an abundance of movies, tv shows, sports, music and more to choose from. There's just no doubt that for a fee app, CatMouse rivals some of the best out there.
Titanium TV
Many users of Titanium TV generally think of it as an exact replica of the original Terrarium app, which to be honest is no bad thing, as Terrarium was once one of the most popular streaming apps around. Offering the user an abundance of different movie and tv streams.
We can sort of see why this may be the case, with near enough the exact same design and feel, you could easily believe you were using Terrarium. The only difference being name and brand.
With a massive catalog of movies and tv shows available to be streamed in full HD, and the ability to be used across the entire Amazon range from the firestick to the firecube. The Titanium TV app is a sure-fire way to get the most out of your streaming experience.
What's Next?
I personally can't see people's use of streaming devices, platforms and software ending anytime soon, if anything it's more popular than ever and is predicted to grow even more.
There are some steadfast devices/companies that seem to always occupy most consumers' homes, Amazon and Roku being two of the most popular. 
But, they're not the only streaming options out there, there's plenty that has come on to the market in recent years, and all are continuously vying for the top spot. 
So do your research thoroughly before deciding on what's best for your situation, but most importantly, sit back and enjoy the movie!