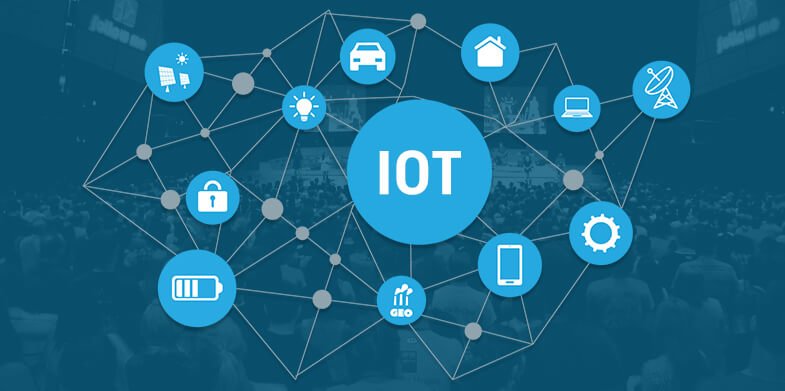 What is it with the digital realm and 3 letter acronyms? One might say that they rule the roost. For a long time now, abbreviations like SEO, SMO, PPC have been unfolding its magic. Now the hype has moved on to yet another incantation, the IoT. Well, while the former are digital marketing services, the latter determine the future of digital technology. Courtesy of IoT (Internet of Things), the state of technology all over the world has experienced a massive boost!
So what is IoT and how is it impacting lives? More importantly, why should businesses learn to care about it? We applaud you for asking the questions bang on but we will take our time answering them. So hang on till the end!
IoT is an interrelated system where everything from computing devices to digital machines to people, objects and animals are assigned with unique identifiers that enable them to happily share information without any human to human or human to pc interactions. It is where your home system intuitively turns on the AC just when your car is a few yards away from home. Or an ambulance dispatches itself from the nearest hospital because you trip down the stairs. Quite a utopian state of living right? Except that it is true! The IoT exists here and now and is doing wonders, that too!
IoT is becoming the future of digital technology, and while smart homes and smart cities are explicit examples, the real deal lies in how the IoT will shape the future of businesses. Let's take corporate events for example.
The Implementation of IoT at Corporate Events
The reach of IoT goes far beyond home automation and app-controlled mood lighting. There is lot more to IoT than just that. IoT is a transformative technology, one that is rapidly paving its path across industries, including that of events. According to a study by IBM, there will be 200 billion devices under the umbrella of IoT by the end of 2018.
Can that change the way in which marketers pursue event management? Short answer, yes! Long answer? Wait till you hear it. IoT will massively influence the way in which the attendees interact with brands. If you have at least one foot firmly planted in the marketing gamut, you must have already heard about the beacon technology! True to its name, it beacons people by sending proximity based content and notifications to smartphones within the range area.
According to Business Insider, "4.5 million beacons will be deployed by 2018". Need we say more? You must have felt the beacon technology at work every time session notifications pop up while you are in the neighbourhood. Devices that are connected to the internet and are synced with the beacon plays a crucial role in forging outstanding discernibility in terms of what the attendees truly want.
IoT Can Help You to Better Engage with Your Audience
Let's say that you are planning to put up something as grand as a national sales meet, it is but obvious that you won't be able to engage with each and every one of the attendee one on one. That's where you can leverage IoT to push relevant content to the audience in a way that is both personal and satisfying. Also, it provides for a much better user experience than when you have just one keynote speaker who addresses the mass audience to take them through the company profile and the agenda of the meet.
Implementing app services such as Conferences. Io also helps in making the open forum, a round of healthy, purpose driven discussion. The Q & A is an important part of a corporate event but if the panel decides to entertain questions on the fly, they may run the risk of hovering over questions that might have precious little to add to the discussion.
But enabling your audience in the ballroom to send questions through an app does not only make up for a seamless question delivery system but also a filtered and more meaningful discussion that will invariably have more value to add to the event.
IoT Helps You to Gather Brand Business Intelligence Like Never Before
We understand how a business pines for user attention and tries to hoard it in every way possible. Using IoT at corporate events might mean that you get to collect prized information about the attendee which is otherwise impossible to obtain. And when you have a scores of effective and reliable data at hand, can a penetrating insight be far behind?
Here is what you can find out: how many booth visits did each of your exhibitors receive and what was the duration of the time spend by the attendees at each of the booths. You can now track the flow of foot traffic all around the exhibit. You can also get a head count as to which speaker sessions got how many attendances. The privilege? Next time, you will know bang on as to which speakers to bring back and how should you tweak your event layout to draw in more people.
To Sum Up . . .
To say the least, IoT will change the future of event management in inexplicable ways. But the question is, how prepared are we to adopt and embrace such a rage in technology which will perform at a dizzying pace, leaving us astonished every single time?
If you are wary about the joy ride, it is time to buckle up. From our cities to our homes to our office security, everything is rapidly adopting the smart approach of a connected world. Can you really afford to have your corporate events to be left behind? We doubt! Well, that's enough from us. Now, over to you.
OH! And just one more thing, before you leave do let us know how much value did our write up create to your corporate, event management life? Leave us a feedback in the comment section and we will get back to you with more such scintillating topics. So, have fun, then!