You haven't experienced the satire humor side of the internet until you have experienced some form of meme sorcery, what exactly are memes you might ask? In the most basic terms, it's a picture that defines someones state of mind at any given situation, amplified with the creators idea of a text to put on the given picture to make it seem even more funny. Memes are great for reflecting back on every day life problems and experiences.
And truth to be told, if you're looking at this post right now, you most likely have some understanding of memes and how they work. This roundup has been built to help bloggers and content creators to create their own memes in order to compliment their content strategy, as it has been said many times over in the last ten years — igniting laughter in your readers is one of the best ways of keeping them.
The idea is clear, write compelling stories and amplify them with memes, right? Pretty much, but in order to get the best return on investment — we must make sure that the memes we use are 100% aligned with the story we're sharing, otherwise we're just trying to be funny for no reason at all. Rory Stobo from Sookio has some insightful answers on this and highly recommended that you check that out.
Without further a due, here are the most popular meme creators on the web: You can use these to make memes on your Android, make memes on your iPhone, and you can easily share the end result on your favorite social networks such as Facebook, Twitter and Instagram. You don't need to install PhotoShop or an expensive image editor, most of this happens either in the browser or on your mobile device.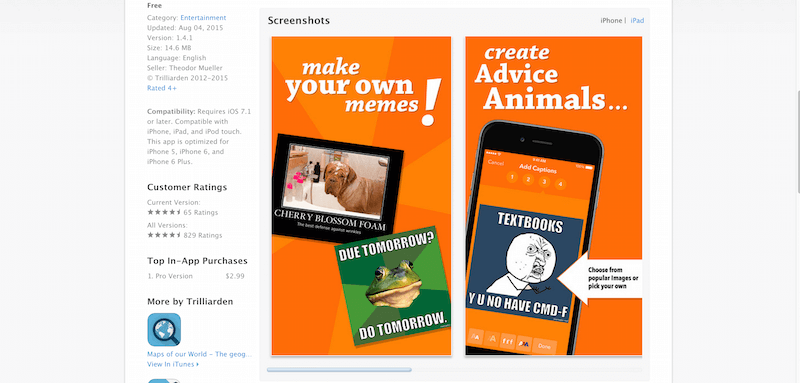 Are you an iPhone/iPad user? Then this is the meme maker for you. There are tons of images to choose from, and you can always upload your own. It's time to 'well meme'd' your friends! Integrated features allow you to share your memes on social networks quickly and effectively.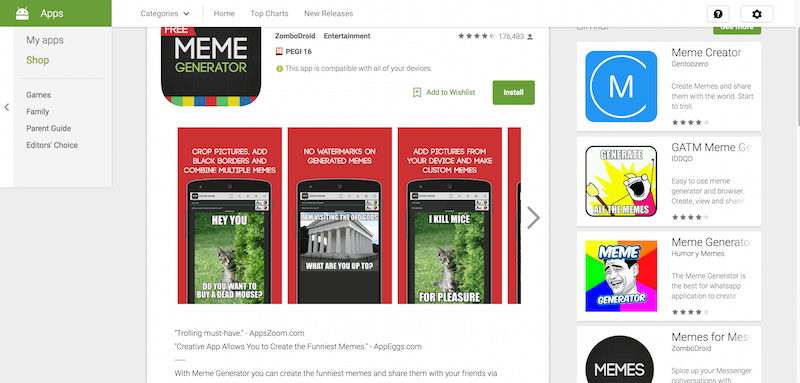 Maybe you're an Android user and need something that works for the Android OS? Don't fear, since there is a free meme generator available for this operating system as well. What I like about this one is that it's incredibly versatile, first of you get access to hundreds of pre-built images (most popular memes) and you can modify things like size/color/text — all of which help in crafting the perfect meem! ;)

Mobile users aside, here's our first browser meme maker that comes from Imgur community, the most popular community that discusses images in the same style that Reddit discusses posts. Definitely give this one a go, all images are instantly saved on Imgur and you can start sharing straight away.

Imgflip provides a lightning fast meme generator that you can use to create memes from existing images, or you can easily upload your own. You can also add extra images like the scumbag hat, or upload your own. Great meme generator!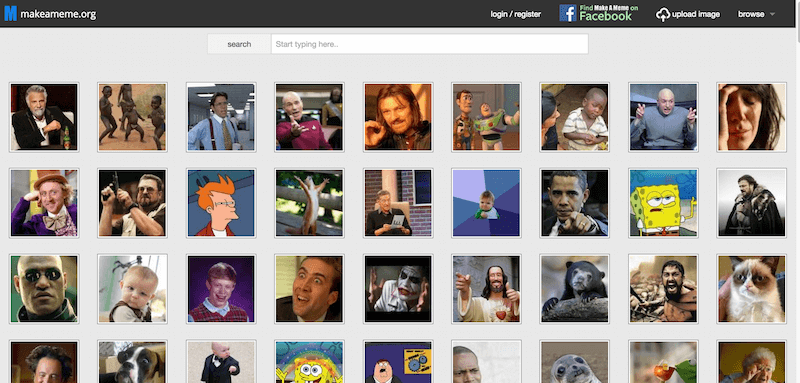 Make a Meme is as straightforward as it gets, select a picture from the pictures given in the gallery and add your text as you see fit. Nothing more to it.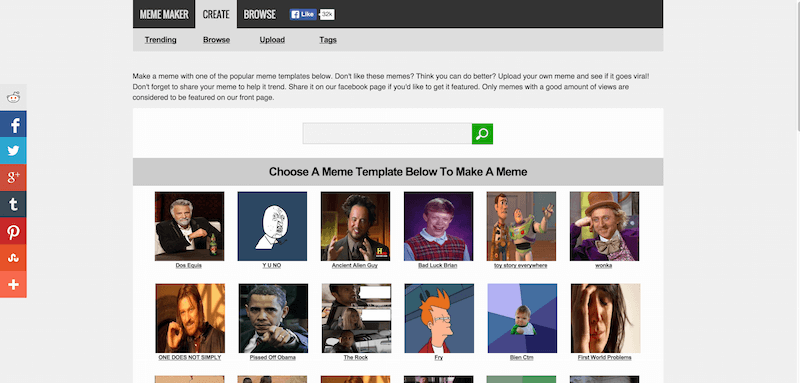 Make a meme with one of the popular meme templates below. Don't like these memes? Think you can do better? Upload your own meme and see if it goes viral! Don't forget to share your meme to help it trend. Share it on our facebook page if you'd like to get it featured. Only memes with a good amount of views are considered to be featured on our front page.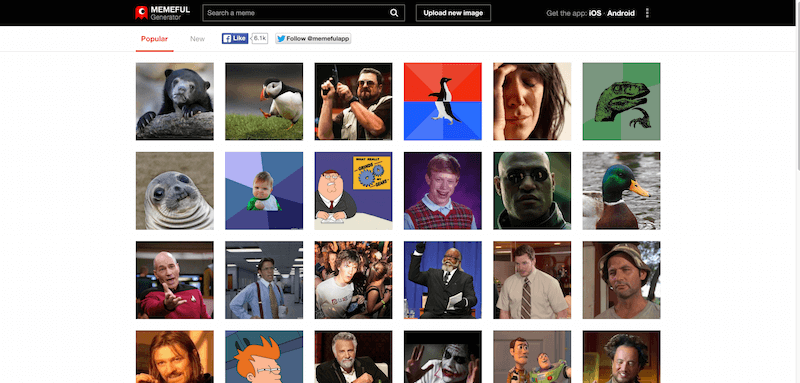 Memeful provides a ton of images to create memes from, you can sort by both Popular and New memes that are flooding the market, click on an image and add text as you like.

Last on our list is ImageChef — another amazing meme germinator site that provides all the basic functionality for crafting those epic legendary memes that will get you laid, or not.
How to make memes
As you can see, making memes is not so hard, all you need is a little bit of rocket science and some tip top advice from pals like me and you've got yourself sorted out. Let us know if we have left out any of your own favorite meme creators and we will make sure to throw them in the list for you.