A clothing line for tech enthusiasts has been your great idea since forever, and 2020 is the year to make it happen. If you're new to this, pay close attention to this guide on how to start a clothing line, and get your apparel business up and running on social media! 
Create Your Label
The first step on this new adventure is to create the basics for your clothing label: logo, colors, and overall visual identity. 
It may sound a lot more complex than what it really is. Nowadays, you can create your complete visual identity online within minutes and with only a couple of bucks, including a customized logo, and graphics to display online. 
In case you have zero clues on where to start, here's a brief guide to help you create your basic visual identity: 
Give your brand a great name:

It must be short, memorable and unique. Remember this should work for your social media, as well as your website domain. 

Choose your brand colors:

Choose up to three colors. Two of them should be complementary. 

Define a brand personality

: This is not exactly visual, but it's what lies behind every element that identifies your brand. Is your line playful? Carefree? Youthful? What does it stand for? Defining this will help you later on when writing copy for social media.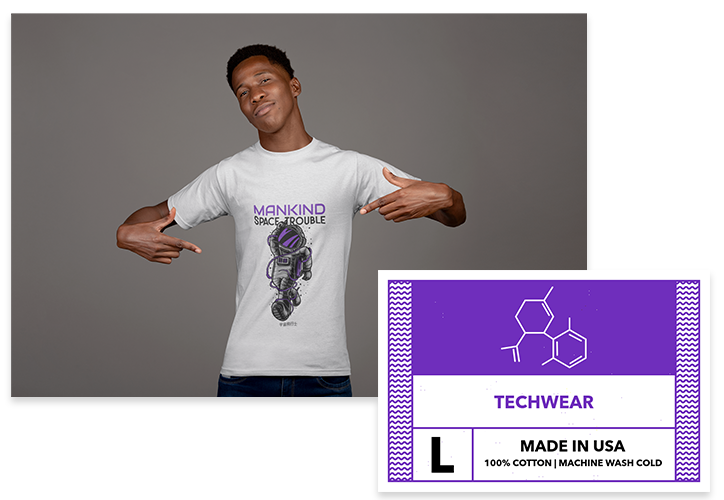 Design Your Clothing Line
Before getting into the details on how to sell clothes, you need to get your products ready.
When starting as an apparel entrepreneur you'll have tons of ideas, just make sure you narrow them to a bunch that you can actually get done to be open for business. 
The apparel world plays a great role in our lives because people choose to wear clothes that represent their way of living or hobbies, and at the same time be identified as part of a larger community. In this case, the people who love technology, techies.  
Witty quotes? Formulas? Funny graphics? Gaming? Sketch a variety of designs you want to sell and drag them into mockups to make them look even better. Here are a few examples of eye-catching designs you can use for t-shirts, hoodies, hats, sweatshirts, beanies, even onesies!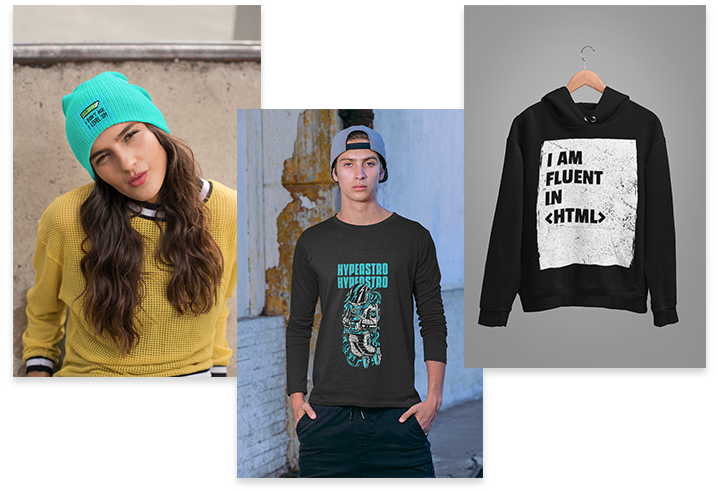 If you're not the most skilled designer, find a website that allows you to create t-shirt designs online without the need for expensive software or hiring a professional, this way you can create tons of options for your potential customers to choose from. 
Attract Customers on Social Media
How to promote your business on social media?
Below you'll find a few key things to start with if you want your target to see your clothing line on their feed. But first, make sure your pictures are on point.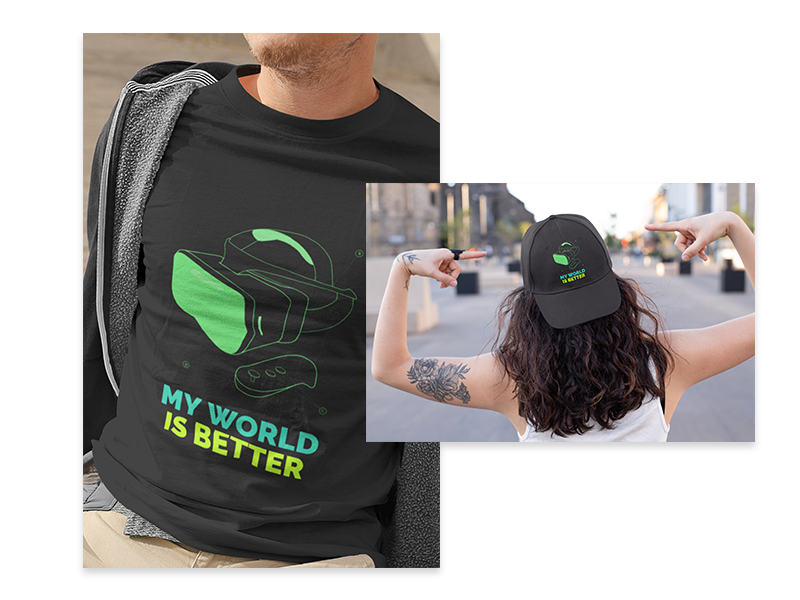 You can use online tools like Placeit to create a t-shirt mockup, a hat mockup, or any other apparel mockup you need to give your label a professional look. By choosing this, you can select from a wide range of scenarios to display your products in a real-life environment without renting equipment, a studio, and hiring a professional photographer. On top of that, you don't need to spend on editing, because your designs appear automatically over a picture that has been carefully taken so every product looks good. 
After you've created your designs and have professional-looking pictures of them, it's time to start your journey over on social media.
Create a Facebook Page
These are specially planned to connect with specific audiences, and you can customize it to fit your business' needs.
Make sure you create an appropriate cover picture that conveys the message of what you're selling, as well as a profile picture with your logo. Additionally, you should plan to regularly publish content about your products, new lines, special offers, and to be in touch with those who want to connect with your business as a customer or a potential partner. 
Go on Instagram
To be ready for business on Instagram it's pretty much the same since it belongs to Facebook too. Keep in mind that it should be a business profile in order to have prices listed, as well as the option to swipe up on stories, get access to insights, and running ads. 
One small difference, though, is that you should be doing hashtag research to give your content the visibility you need. My advice on this is to use a combination of high posting volume hashtags, and those that have lower posting volume, that way, you'll make your content more relevant.
Note that the platform hit one billion monthly users in 2019, and you can get the insights you need to make an impact on the right customers. Also, as a business profile, Instagram lets you include a CTA button for people to get in touch with your business via email, call, or get your business' address. 
Plan for YouTube
You can create short videos and slideshows to talk about your clothing line, or, if you're not into making your own videos, you can partner up with influencers to make your product popular among their viewers.
If you're well aware of your target audience, start contacting gamers and tech enthusiasts that are willing to mention your product in their videos. If your budget allows you to, you can even sponsor videos that are intended for your potential customers. 
Talk to Your Techie Customers
Remember you're selling to a very specific target, so your content must be planned accordingly. 
Take some time to do proper research on topics your customers would enjoy besides just talking about your products. 
Start Selling Online
First, you have to decide whether you're creating your own online store from scratch, or if you're opting for an online eCommerce platform to sell your clothes. Consider this in your main budget, since almost every platform requires payment. Keep in mind that shipping is one area of e-commerce that can quickly become overwhelming. If you find that to be the case, you may want to look into t-shirt fulfillment services to handle shipping for you.

Navigate through different websites to sell clothes, and think about what would work for your business goals. 
Other Ways to Promote Your Business
When you're ready, you can ask for a spot in tech conventions and use banners to let people know your merch is around. Use a banner mockup to see how it would look indoors or outdoors, depending on what you need.
Who says technology and clothing design are separate worlds? It's time to make that business happen!
Let us know if you have other ideas to start promoting apparel that every techie will love.