With the changing world, cybersecurity has turned out to be the biggest concern of the 21st century. With the evolution of PC and smartphones, life has become easier but it has emerged as a trouble option in case of negligence.  Many stories are highlighted in relation to the identification of fraud deeds and proliferation of data breaches which resulted in major consequences for internet users. This represents that the aftermath is not subjected to one but to the entire society.
Cyber-attacks have become an unavoidable offense. Therefore, it is majorly important to understand the affairs of cybersecurity in an actual sense. In simple words, it acts as a precaution to reduce the effect of potential cyber threats.
Why Is Cybersecurity Important?
The entire world seems to be interconnected today. In the case of Australia, it has been discovered that there are 87% of smartphone users amongst which 95% are available online on a weekly basis. People at regular intervals are uploading their basic information on social media as well as sharing their Credit card info on several e-commerce websites and company data are stored in an insecure mode of cloud storage services. Negligible misconduct leads to cybercrime. 
Cyber-attacks have become frequent nowadays due to the increased demand for sophistication. Frequently, one may come across a newspaper about how companies are apologizing to its customers for the loss or leakage of private information. It is mainly because of various types of cyberattacks like Dyn DDOS attack & others that are capable to disable the access of many websites such as Netflix, etc.
But, this is not all, every device operational at home, offices, public, or private sectors are accessed with the use of the internet which means it can be reprogrammed distantly and would result in chaos and damage. This is the major challenge that how one can protect their device from getting exploited by internet spiders having evil intentions. 
What Is Cybersecurity?
As per the guidelines of I.T. companies, cybersecurity is defined as the practice of protective systems, networks, and programs against digital crimes. It is widely used to eradicate the threat or impact of any kind of evil digital action. This comprises of application, implementation of preventing action that helps in the maintenance of integrated data, data security, and other cyber-related security operations. 
These sorts of cyberattacks aimed at stealing money, interrupting of business affairs, and even access to personal information. A subsection of cybersecurity includes Network Security, Data Loss Prevention (DLP), Cloud Security, Intrusion Detection System (IDS), Application Security, Endpoint Security, Cloud Security, Mobile Security, Disaster Recovery/Business Continuity Planning, End-User Education, and Identity and Access Management (IAM).
We need to majorly focus on understanding that every task that we perform on cyberspace can fall as prey of cyberattacks that have recently hampered a few of the organizations and companies. Let's have a look at it:
#1. Facebook:
Social media titan- Facebook had experienced a data breach that resulted in the exposure to millions of user's records that got exposed to Amazon's cloud server. This action allowed the third party to access the data and exploit the leaked data for illegal actions.  

#2. Yahoo:
In 2003, yahoo being the world's largest search engine confirmed whopping of 3 billion accounts including Email, Tumblr, Flickr, And Fantasy accounts that got hacked.
#3. UnderArmour:
Being one of the famous sport apparel brands, it had to face data breaching which affected nearly 150 million users making use of its food and nutritional app named MyFitnessPal. As the information, username, email address, and password were hacked. 
#4. United Kingdom's National Health Service:
NHS being a reputed trust of England was attacked by the WannaCry malware attack. This was the most harassing cyberattack that displayed loss of £92m which caused the cancellation of 19000 appointments and 600 GP surgeries as well as the diversion of ambulance of five different hospitals from NHS to somewhere else. 
With the above detail, it must be clear that how important is cybersecurity for companies and enterprises. Even, the government needs to handle this vulnerable crime. Therefore, cybersecurity is highly important to come into the limelight to combat the issue that aids from governmental bodies. Precaution is the best way to overcome every sort of online crime as there may be a number of crimes unregistered yet.
Advancement of Cyberattacks
Mostly one would imagine the term "cybersecurity" with the introduction of cyberattacks in the digital era. The cyberattack was highlighted since the year 1903 and then the advancement of technology resulted in hacking with the use of infiltration and disruption. Therefore, cybersecurity is highly useful for business persons, a student who desires to get educated, or people who easily fall prey to such cyber attacks. 
Cybersecurity Threats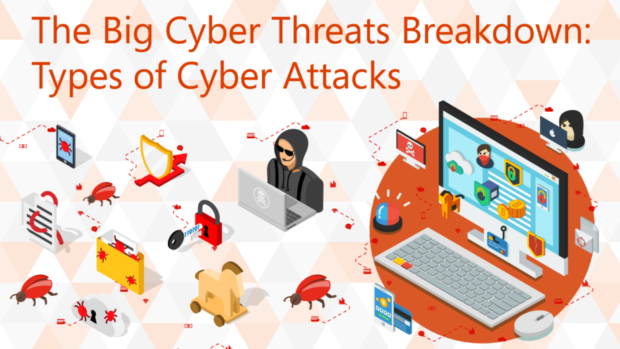 The threat comes when one knows its enemy well. Therefore, it is important for cybersecurity to deal with the enemy in a better way. Finally, everyone is aware of the best precaution mode that would help to overcome the consequences of a computer virus, bugs, and hacks. The easiest preys are the computers and smart devices that are not technically advanced. Hackers have stepped forward with their A-plan to corrupt devices with the support of viruses and spyware.  
#1. Phishing
It is one of the most common cyber-attacks in which hackers use sensitive information in the format of an email. This email is similar to reputable sources as it aims particularly to fetch the data such as passwords, credit card info, etc. 
Read More: An Inception Bar- A New Way to Do Phishing!
#2. Vishing
In the case of phishing, the major collective source is email but vishing uses voice to collect the information just with the use of the telephone. Vishing is a sort of fake banking & insurance company whose representatives make a call to fetch the required data.   
#3. Smishing
This is a newly introduced sibling of phishing that makes use of SMS or text message to hack and collect the detail of individuals. This SMS resembles a bank or insurance company message that may request to make a call on a particular number.   
#4. Malware
This is a short program or software that is authorized to access or damage one's computer. Few of the recognized malware are worms, viruses, Trojan horses, and spyware. 
Read More: How to Protect Your PC From Viruses and Malware?
#5. Ransomware
This is another type of malicious software designed to extort money just by interrupting the service of a particular computer or its files. This blockage is executed until and unless they are paid a particular ransom amount.  
The first step toward combating the crime is to understand different kinds of threats. One should be aware of the fact that negligible information is liable to disclose all of your affairs. For example, the password is enough for a hacker to collect the maximum information of users. 
Read More: 10 Ways to Protect a Website from Ransomware
Precaution Is the Best Way to Stand up Against an Online Threat!
Top-notch companies have great financial support to fight back against cyber attacks with the support of cybersecurity that proves to be highly beneficial. This helps to overcome the disaster that may creep inside the door with a data breach, exploitation of confidential info, hidden secret trading, or misconduct of operations. Here are a few examples in relation to data security that prevent the happening of cyberattacks. 
1. Avoid Clicking on Sketchy Hyperlinks or Advertisements 
Emails are the common source for communication, so never attempt to click any of the suspicious emails sent from the source unfamiliar to the user. These emails generally arrive at the spam folder. One should be even aware of the suspicious email with attachments that are sent by an unknown sender. These unauthorized links may contain malware that may attack your computer and collect all the information illegally.
Thus, it is important while browsing the internet to avoid opening suspicious links that are entitled to advertisements displaying "too good to be true". With the opening of such culprit websites, your computer is sure to meet failure. 
2. Discloser of Personal Detail Online May Lead to Mishappenings
Always be alert while sharing information on your credit card or address over the internet or via call or SMS. Mostly a legal party has the right to demand any acknowledgment. Therefore, it is necessary to make sure that with whom you're sharing the information so one should always ask questions and always get first in the touch with the official caller from the bank.  
3. Spending on Anti-Virus Software
In today's world, most of the gadgets are pre-installed with antivirus. But, the point arises that how many of them are up-to-date. Therefore, one should always keep on updating its software to combat viruses and malware that can complicate your life. 
Aside from anti-virus software, it's also crucial to invest in multi-layered network security measures. Multi-layer security secures data from hacking and breaches using several security protocols, such as secure authentication, continuous monitoring, data encryption, perimeter security, and firewalls. In addition, the multi-layered process is equipped with varying capabilities and specific functions to combat different types of cyber threats to establish a secure IT system.
4. Use Back-Up Recovery to Protect Your Data
You must spend some time in creating a back-up file for your important documents and programs. In case your computer collapses then, you need to invest in a good external hard drive or solid-state drive. Its best alternative is cloud storage that stores all the back-up files without misplacing. 
Cloud storage promotes maximum data security because the files are encrypted. Data undergoes continuous monitoring to protect all information, such as financial details and personal data, against cybersecurity threats. Furthermore, data is stored redundantly for copy survival in the event of a catastrophe.
5. Cybersecurity Training
With the rapid growth of cybersecurity vulnerabilities and attacks happening in the digital age, it's a must for companies and organizations to educate stakeholders about the risks and possible solutions. Hence, cyber security awareness training must be a part of an organization's policy.
Most often than not, insiders or people within the organization unknowingly expose business data to cybercriminals because of ignorance of how IT systems work. With cybersecurity training, everyone will know how to identify red flags and learn troubleshooting tips to minimize cybersecurity exposure to phishers, identity thieves, fraudsters, and other types of cybercriminals.
Wrap Up!
With the passage of an era, almost every work is linked with online services. This means threats to exposure of personal information in vulnerable ways. A single mistake can lead to the disclosure of related individual's identity hack and consequences would be unmanageable.
It can be said that "prevention is better than cure" as this digital world has eased out life but on some ground, it has underground ugly truth. Hence, the importance of cybersecurity is a relevant topic because it is more inclined toward social media. So, it is important to consider cybersecurity as the topmost priority of the hour. 
Read More