As said on the quoted image in our previous post about design, design is not only the way something looks, it's the way something works; and that's an important factor to take into consideration when thinking of increasing your conversation rates through web design. User Experience design experience might come in handy at this stage.
You might look into more standalone ways of increasing conversions through 3rd party tools and plugins (such as exit-intent technology), but with a little planning and proper thinking — the same results can be achieved directly from within the design itself. Lets take a look at some tips that are easy to implement, and rewarding at the same time.
1. Personalize
To personalize something means to make it appealing to the personality of the user who is browsing your design, but in this case it also means to personalize to the personalities of everyone who visits your site. Google Analytics is a good place to start in order to understand some of the habits that your users display, but the real personalization game begins when you start to incorporate more sophisticated software in your design strategy.
If you're keen on learning more, I published a post about the best UX tools for examining your designs — these tools will give you all the insights and understanding that you need in order to progress further with your personalization efforts.
2. Testing
It's one thing to understand the concepts and the behavior of your users, it's another to implement those insights into your new designs. Which brings us to testing, the best way of making sure that our insights are leading us to increased conversion rates, and overall site engagement. A/B testing between three to four different designs is essential in seeing what works and what doesn't, even better if you can do these tests demographically. Remember, changing colors here and there is not what testing is about, you need to test different types of concepts to see what works.
Take a look at our post of wireframe tools, you'll find it a lot easier to create some mockups that are presentable to your team.
3. Mobile up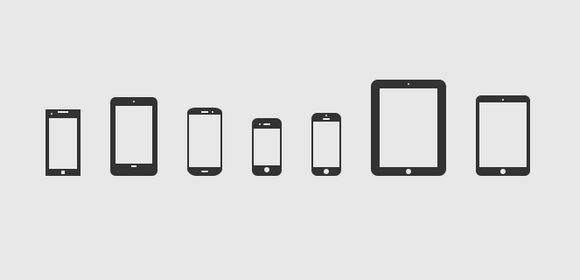 This is it. Mobile is now on par with desktop users, and the trend will only continue to strive towards mobile, essentially, us, the developer and designer community will remain all by ourselves in the desktop industry (well, aside from all the industrial workers), and consumers will be browsing the web only through mobile/portable devices. So, it is better to prepare yourself now than to wait until you begin to notice a significant shift in the way your users are behaving on your websites. Even just a few percent of mobile users is worth making the switch, who knows how much money these users want to spend with you.
4. Tell a story
Learning to tell a story with your web design is one of the most useful skills you can have as a designer, or business owner for that matter. Every day we're seeing how all the web starts to interconnect with each other, and telling stories becomes increasingly more easy, but not everyone is doing it. This article from WebDesignerDepot goes into a few examples and tips on how to take advantage of storytelling.
As for increasing conversion rates this way, if you can capture the attention of a consumer from top to bottom in a single go, chances are you'll have him hooked on your idea by the time he gets to the middle.
5. Smooth design
Take for example scrolling pages, mobile users are quite adjusted to the new design possibilities already, and don't really have the attention span to be clicking through pages for the sake of getting to the next page, chapter, or product in line. Give your users the ability to flow through your pages naturally through smooth design features that you would otherwise ignore. I used to think long-scrolling sucks, but now I'm realizing it's one of the best things I can do for my users. So can you.
Increasing Conversation Rates with Web Design
If you're coming from a big company, reading things and pondering how to implement some of these tips — you must have been doing it wrong the whole time. This post, while quite simple and easy to get started with, is meant for those webmasters, bloggers and business owners who're paying attention to the wrong this, whatever they might be. In terms of overall appearance and ease of use, design is your best bet for making up for some of the leaking sales in other parts of your business.