And just by observing the above quote by Steve Jobs, we come to understand just how important the role of a designer is in any company, and whilst the top minds have already found the careers of their lives, a lot of other creative and inspirational designers are constantly sprouting from the ground up, sharing their work on Dribbble, Behance and other high-profile websites that allow sharing of design concepts.
You would be surprised to learn just how little some of the designers these days are getting paid, and even with full-time schedules, they're eager to find some extra sidekicks to make that extra money. And in all fairness, all that can be achieved with less than a couple of hours of work per week. All you have to do is know how to present yourself, as well as know where to present yourself. And that is what this post today is about. Where do you need to step your foot in order to find the golden pot?
Before we dive in, we recommend that you check out our roundup of the best web design books for beginners to help yourself get started with this career path, and also a very interesting post about becoming a web developer from a web design background; certainly a very interesting, and potent, career choice.
1. Get Paid to Write
Writing for large design publications online has evolved to be quite the market, especially for designers who have the keen eye for a great design. I'm not quite sure what the rates are right now, but a year ago you were looking at earning as much as $600-1000 from a written tutorial for the widely known Tuts+ community.


Think of it this way, if you've got some work created that you're not only proud of, but have a lot of people admiring — there is a very likely chance that people will enjoy a tutorial on how you were able to accomplish such a design, what thinking process you used, what tools, and what inspired you. Quite simple really, but it can end up paying big dollars when given to the right hands.
Sometimes, you could just create a tutorial for a known web design resource (like us, maybe?), and drive leads towards your portfolio in order to capture the attention of aspiring startups, businesses and individuals who are actively pursuing original talent.
2. Write an eBook
An eBook is nothing more than a bunch of related tutorials all thrown together in one place, making it easier to understand; read; utilize in every day life. It requires some patience and focus to write an eBook, but it could very well be the extra income that you're looking for. Driving leads from other sites to portfolio, not only are you able to get new clients to signup, you can get them to purchase your work in the form of a digital book.
Good topics to write about:
User Experience and how to approach it.
Material design and the future of it.
The influence of frameworks in designers life.
From an idea to a concept.
Writing an eBook is not as straightforward as writing a tutorial or a how to guide, it can get frustrating along the way; but this is what makes an eBook sell. Not everyone has the patience to write them, so when someone does on a specific subject — clients will already be waiting.
3. Cast a Video Series

The first platform that comes to mind when I think of casting a video series — is definitely Udemy. Not only do we have our own Udemy channel Eduonix with an ever-growing list of developer and design courses, Udemy has proven to be one of the most rewarding income channels for any independent creator out there. This press release will give you an idea of the potential of this platform.
You could, of course, create a separate video course on your own site, and market it as an individual resource, but platform such as Udemy can provide a customer base that you previously didn't have access to, and while it may feel compelling to create a course based on what you know ever so deeply, it might just be the ticket to create something that people really want to learn about. Once again, the slight tipping point for content on User Experience.
4. Start Creating Templates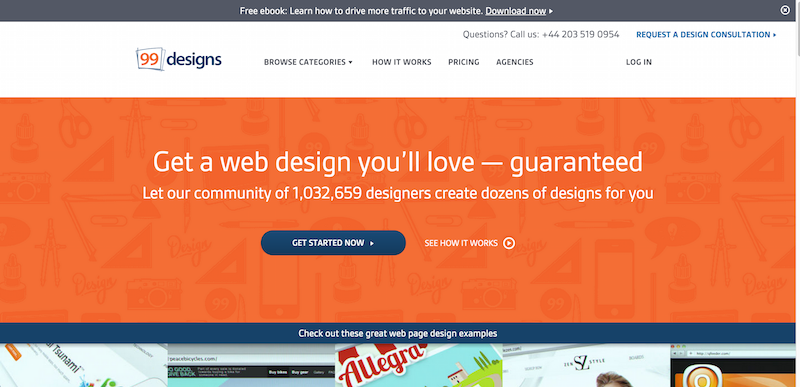 Get with it! Creating templates is one of the best ways to get that extra cash flowing in, and popular design websites such as ThemeForest and 99designs are the true reflection of that fact. Thousands of designers are a part of this pool of unlimited potential, while millions of designers are active on 99designs — participating in life changing opportunities to create logos, styles, templates and other graphic imagery for people with money to spend!
To give you an example, the popular sysadmin platform Docker got their logo straight from the designers that hang out at 99designs. How cool is that, to be able to say to your clients that your design was used to support one of the most widely known platforms in developer community?
There is money to be made, all you need is a little bit of inspiration, some time on your hands and determination do make magic happen!
5. Work on a New Project w/ a Developer
The last tip coming from us on how to make more money on the side as a designer is all about teaming up with a developer, someone who doesn't know much of design, but has incredible developer abilities. Teaming up with someone on the other side is always a fantastic idea, you're a small team — with a project in mind, the design capabilities, and the whole world before you. Well, that sounds quite easy when you put it that way, but eventually it can be rewarding to work with a developer alongside you.
What have been your own ways of generating that extra income as a designer? Anything that you would like to share with our community? We would love to hear your stories, and even feature them in this post wherever possible.