I wanted to emphasize this recent example because it gives a glimpse of the state of security on the web, and also allows for professional hackers to seek better job opportunities. I'm sure that celebrities are ready to pay the price when it comes to securing their digital environment. It's not easy to stay on the path of ethical hacking, but it can be a rewarding career choice.
I'm going to be looking at some popular ethical hacking courses, and also some material that concerns penetration testing – a penetration test, or the short form pentest, is an attack on a computer system with the intention of finding security weaknesses, potentially gaining access to it, its functionality and data.
1. Certified Hacking Training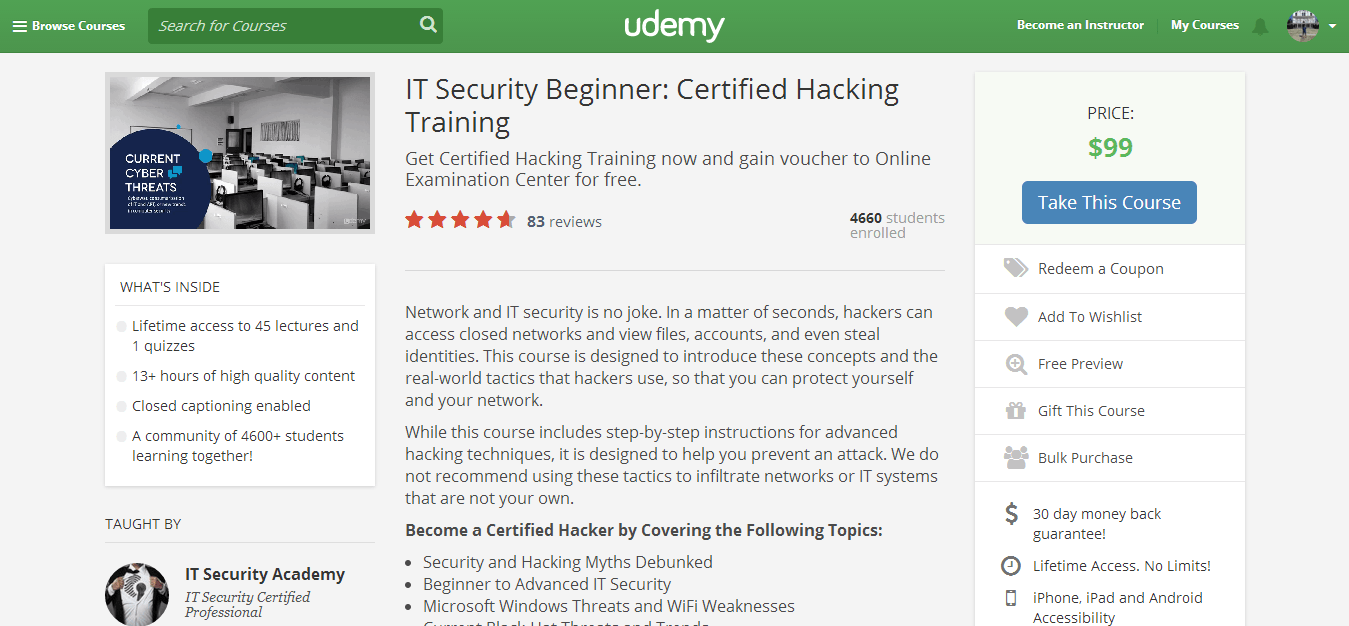 It's the most sought after course on certified hacking that you'll find online. Nearly 5,000 students have began their learning journey, learning the tricks of the trade to understand what it takes for a hacker to hack a public WiFi network, or how a hacker can access your locked file system. You won't just learn how to protect your business or software that you're building, you'll know the way of any modern hacker.
I really enjoyed the section where the instructor talks about current black-hat techniques and trends, you'll learn a lot about hacker movements, and how hackers think in terms of value of hacking something. The real gem is the section where you learn how to protect yourself and your networks from intruders and hackers.
This course is designed for anyone seeking a career in IT security, as well as programmers and technology enthusiasts who want to develop hacking and hacking prevention skills. A basic understanding of IT and infrastructure is recommended but not required.
2. Certified Hacking Training for Professionals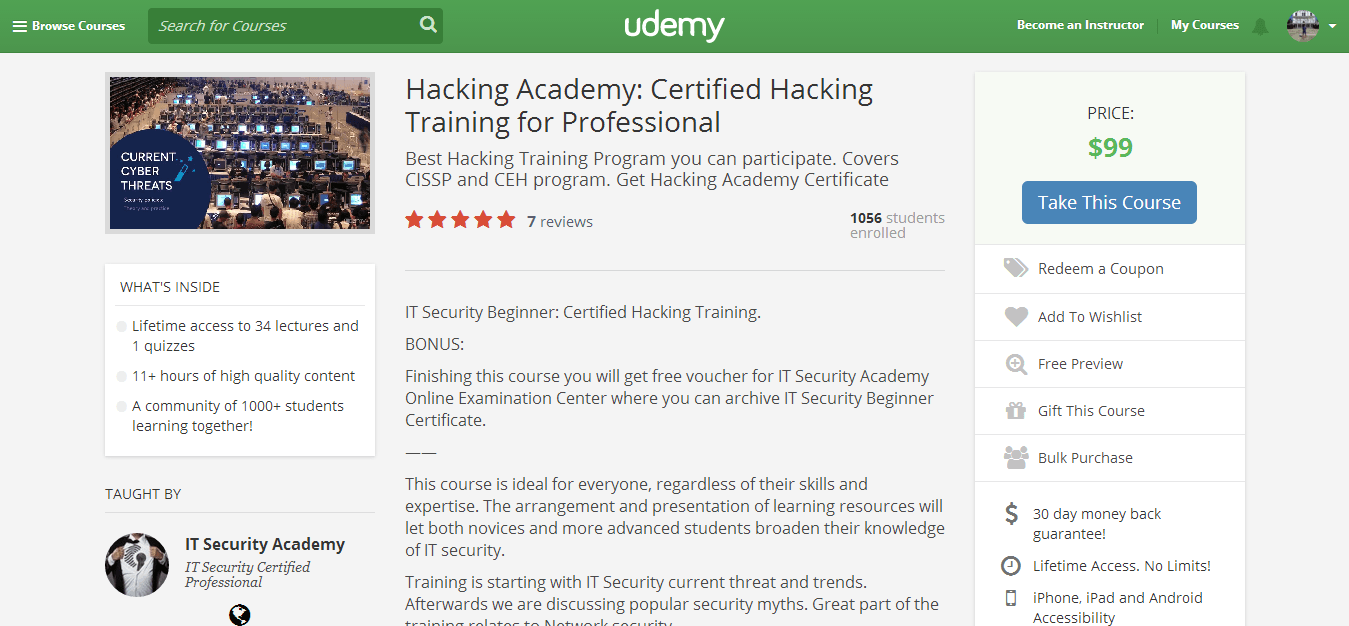 Yes, you're right, this course is made by the same company as the one above, and provides the same high-quality content that you'd expect. The only difference is that this particular course is focused around applications, the way those apps can be attacked, as well as encryption, and methods that can be used to perform attacks on software.
This course is ideal for everyone, regardless of their skills and expertise. The arrangement and presentation of learning resources will let both novices and more advanced students broaden their knowledge of IT security.
Even if you learn just one thing from this course, it's going to be invaluable to your business strategy, or perhaps you're just a random guy who wants to pick up hacking, who knows! Over a thousand students have taken part in this course, plenty of support to be found once you signup!
3. Ethical Hacking for Beginners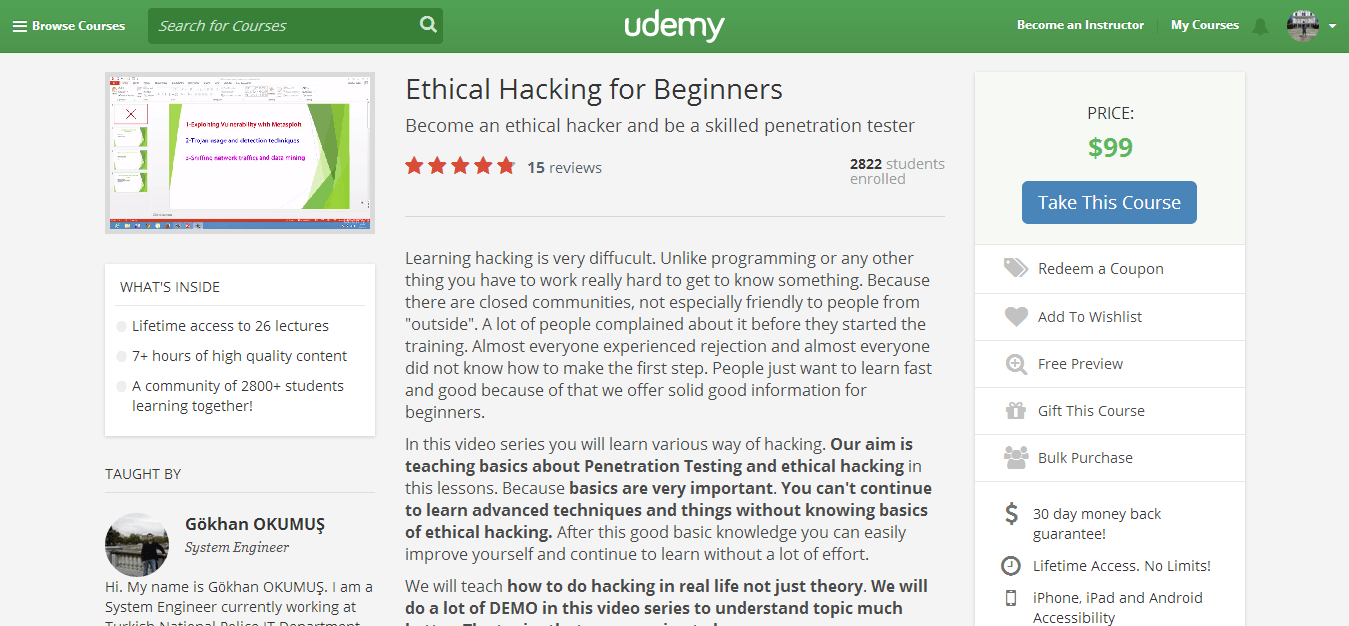 Looking to engrave the basics in your mind forever? Look no further than this amazing course on ethical hacking. I'm right there with the author of this course, learning hacking is not an easy task to do, and it certainly isn't for everyone, not to mention that – if you won't be careful, you'll end up in strange places!
Have you heard of the Metasploit Framework? You can rest assured in the knowledge that this course takes you through the ins and outs of Metasploit, which also includes instructions and guidance on how to exploit vulnerabilities using the framework. Great hackers had to start somewhere, and believe me when I say they, too, rely on Metasploit to perform various attacks.
Other lessons include client side attacks, how to build a Trojan and how to hide it at the same time, as well as information on how to detect Trojans on your own file-system. Has really wide range of lectures, they'll leave you with more knowledge than you had before, but also with enough understanding to begin performing your own hacks.
4. Ethical Hacking and Penetration Testing

So, by now, we've got three good courses already covered. What else is there? What about some lectures on penetration testing? Should we learn about those? I think we should.
This course is a great place to start your journey towards becoming a computer security expert. Gain the valuable skills you need to identify important weaknesses and provide effective computer security techniques that are important for any sized system. The course covers both ethical hacking, and professional penetration testing.
You've to hand it over to this author, the course has over 22,000 active students and provides a very thorough view of the world of hackers, and how to approach it. You will learn how to find vulnerabilities in your target infrastructure, as well as things like how to exploit Windows and Linux Systems, how to find and exploit Web Application Vulnerabilities and much, much more.
5. Whitehat Hacking and Penetration Testing

The last course on our list is aimed at those who're eager to learn ethical/whitehat hacking, as well as deepen their knowledge and understanding of penetration testing. Both are very sought after job professions right now, and you could end up earning a salary of up to $100k every year. I think that's something worth thinking about.
In this Ethical Hacking – Whitehat Hacking and Penetration testing tutorial, expert ethical hacker Ric Messier covers the essentials you will need to know to harden and protect your hardware and software to avoid downtime and loss of data. Protecting your networks and customer data are more important that ever, and understanding HOW you are vulnerable is the best way to learn how you can prevent attacks.
You'll get some insight on topics like encryption, scanning of ports, malware (viruses, etc,.), dos, web application security, and a lot more. I've to say that while these courses look extremely similar, they're actually very different in their own way. Each hacker/instructor uses different set of tools, and has different experience with the certain aspects of hacking.
Ways to Learn Ethical Hacking and Penetration Testing
I understand if you don't want to spend any money on this matter, but realize that not all the free material that's available online is going to be resourceful, or have legitimate claims. You could just reside on using standard exploits, and telling yourself that you're a hacker, but it's much more sophisticated experience when you learn from courses such as these, they give you real insight of what hackers are doing, and how they're doing it.
I've been down the hacking road once, and although I did take some wrong turns alongside my journey, I came out of it alive, and with more experience than I had before. Web is in a very fragile state right now, and hopefully people like you – can pick up ethical hacking and fight against it.
Which one of these are you going to signup for?