Your online business needs to have a way for your customers to get in touch, and what better way of doing that if not in real-time? Live chat software has been around for ages, but it seems like for the majority of early development, only professional marketers knew the advantages of using it to communicate with clients, and potential customers.
Now, it seems that more people have accepted the idea of speaking to visitors directly as soon as they visit, people want to find quick answers about products, they want to know whether the product will solve their one problem, but they're not keen on reading through the endless piles of manuals and documentations. I've found that this is where live chat software becomes really useful, even necessary.
The Benefits of Live Chat Software
It's not just a way of communicating directly with your potential new customers, while that is a huge and important benefit of utilizing live chat software on your business website, there are other just as important reasons to signup for one of the services in our list. I think you'll love the long-term benefits a lot!
Instant Feedback
I already touched this, but here we are again. Instant feedback is incredibly resourceful and helpful to new customers, they want to get their answers fast, because they're most likely just as eager to either make a purchase, or leave the site to look for something more suitable. Here are just a few things customers inquire about:
What are the specifics of the product?
Do you have an item like this for sale?
How to compare this product to another?
What's the return policy?
Constructive feedback, such as suggestions for improvement.
in most cases, each person will be unique and will need an answer tailored specifically for them, so don't always count on the help-desk knowledge-base, live chat software can help you to get to know the customers, and their specific needs! What else is there?
Save Money
Live chat is going to save you a lot of money, but why? First of, it costs a lot less than hiring several employees to manage a call center. Using a live chat platform, you're enabling for the support person to chat with multiple people at the same time. Not all questions are difficult.
But, it also gives the customer a little bit of piece of mind, because they know they'll get a live person answering their queries, without them having to worry about spending money to use a call service. It's those little things that make the biggest difference!
Smash the Competition
Your competition is going to do everything it can in order to protect itself, but also to drive your customers away. That happens in many different forms, but lately the emphasis has been put on the quality of support that a business is able to provide, by having a live chat system installed – you could be doing your customers a favor.
Large brands rely on great customer service to answer peoples questions. Take a look at the O2 support page above, they offer all types of support, including phone – but they've clearly put the weight on live support, it's convenient, fast, and it simply works.
Create More Business
Not every support person is going to be capable of driving you more sales and conversions, but if you take the time to train your staff properly – it could lead to a lot more business. Having someone guide you through the process of purchasing your products, or at least giving great insights about them can make all the difference.
Long-Term Customers
Well, the last reason to consider using live chat software is the fact that people are more likely to return to your business pages if you've provided them with a pleasant experience, it's kind of self-explanatory, but something as simple as live interaction with the people behind the product can be enough for the potential customer to become an actual paying customer.
Here are a couple of reasons why customers love to use live chat:
Having trouble locating a specific item, product.
General questions regarding products, business.
Something went wrong, like checkout error for example.
Looking to compare products.
Questions regarding promotions and coupons.
Plus, because the customer has made the purchase once, he'll surely feel fine with doing it again in the future, just don't forget to get them to signup for the newsletter!
The Software to Get the Job Done
You might already know all that info yourself, it's definitely not something that's overly technical. I think it's time we take a look at the list of vendors that provide live chat software, and perhaps dwell a little deeper into each one, looking at its features and capabilities. Please, add your own favorites in the comment box!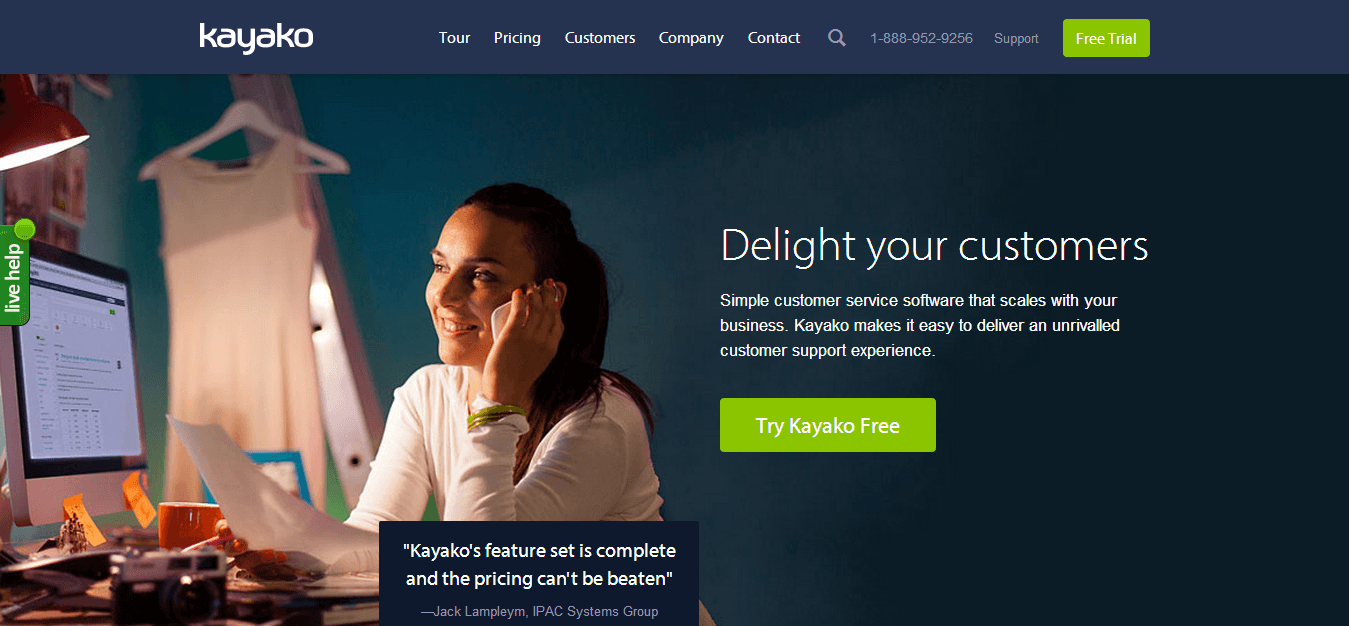 Kayako is simple customer service software that scales with your business. Kayako makes it easy to deliver an unrivalled customer support experience. The company has been around for over a decade, it earned customers trust in the early days when the competition between this market was very shallow. Nowadays, Kayako is among the leaders of online support systems, including live chat solutions.
I'm really fond of the exciting features that the live chat software brings to the table, you can easily provide your customers with outstanding instant support, while also learn about the referring channels that are bringing customers to your door. The Kayako Live Chat Software enables you to view where people are coming from, and which websites are referring new customers to you. Always nice to give back, or settle for a partnership!
You can send out pre-built (canned) responses, or you can have a manager of your business join any of the live chat conversations at any given time, which makes it more friendly among the people who work on the business. One of the great companies that work closely with improving the customer experience, as well as giving you a peace of mind.
Your leading advantage of using LiveZilla is going to be the ability to separately host your Support Server, which means that you've got all data protected under your own cover. On top of that, those who're managing multiple websites will find that the LiveZilla Windows Client allows you to control all your websites from one dashboard.
LiveZilla is the perfect contact platform, even when your are offline. Using a customizable online web form, your website visitors can leave you a message whenever they need your help or want to get in touch with you. Furthermore, it's an efficient way to fight spam.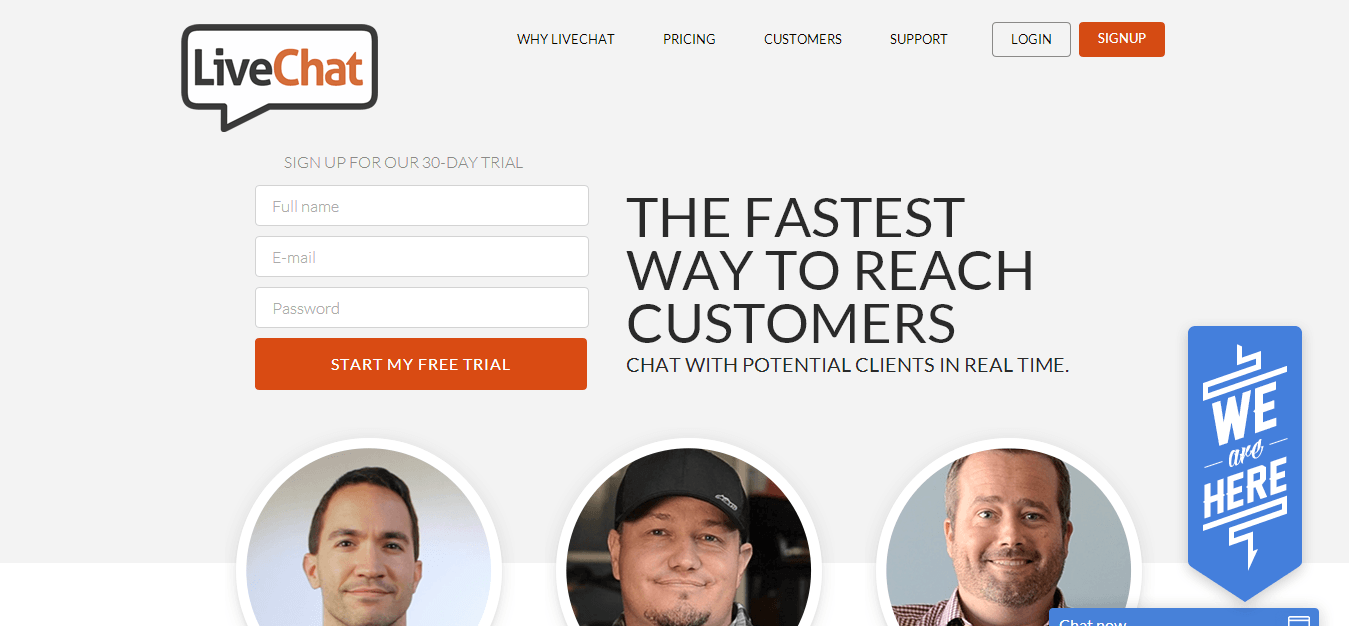 Many online companies and businesses will use different live chat system solutions, either due to their price or their feature flexibility. Each one, usually, offers something different to the one before. LiveChat stands out with their modern design approach, as well as with their great analytics dashboard that can help better understand your user behavior.
LiveChat has worked hard to provide features in areas such as eCommerce, social media and feedback. You can expect to signup at a cost of $39 per team member, but that will grant you access to all the features of this software; which there are plentiful. It's recommended to signup for an annual plan to receive a reasonable discount.
Olark team takes their mission seriously, they want to help webmasters and business owners to get in touch with their visitors and potential customers, and do so in a way where it is convenient and pleasant for both parties involved.
You can choose from features such as easy CRM integration with popular helpdesk software, making it even easier for you to learn more about your customers, and their needs. Or, you can jump straight to the developer API and build your own live chat system based on the Olark features.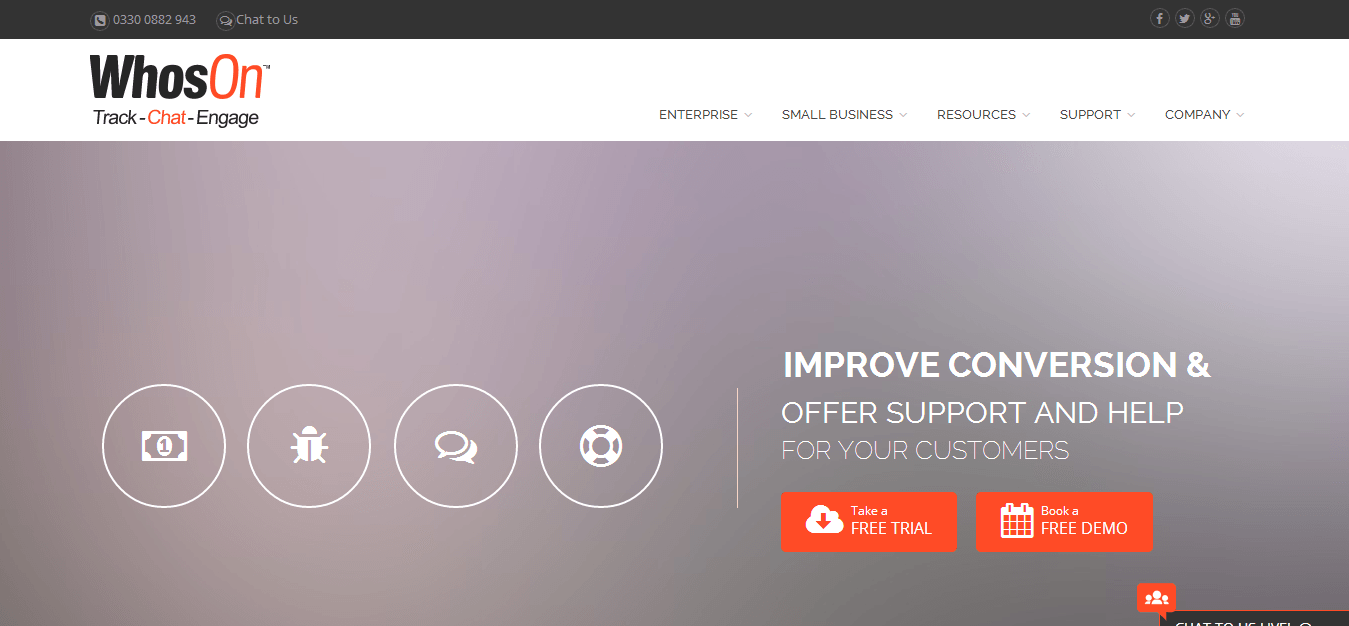 Right, all the chat systems on this list are looking to share a lot of similarities, it only makes sense. After all, something as simple and essential as chat software – should stay simple for the sake of the customer. Though, WhosOn has managed to take it to the next level in few areas. Things like video chatting and real-time text translation can really bring things around for those customers who're still unsure of their decision.
The WhosOn real-time translation allows operators and visitors to chat to each other in different languages. WhosOn will translate the chat text in both directions and can translate over 45 languages. Real time translation is an optional premium feature. But, now that we know it's an available feature – it would be wrong to ignore it.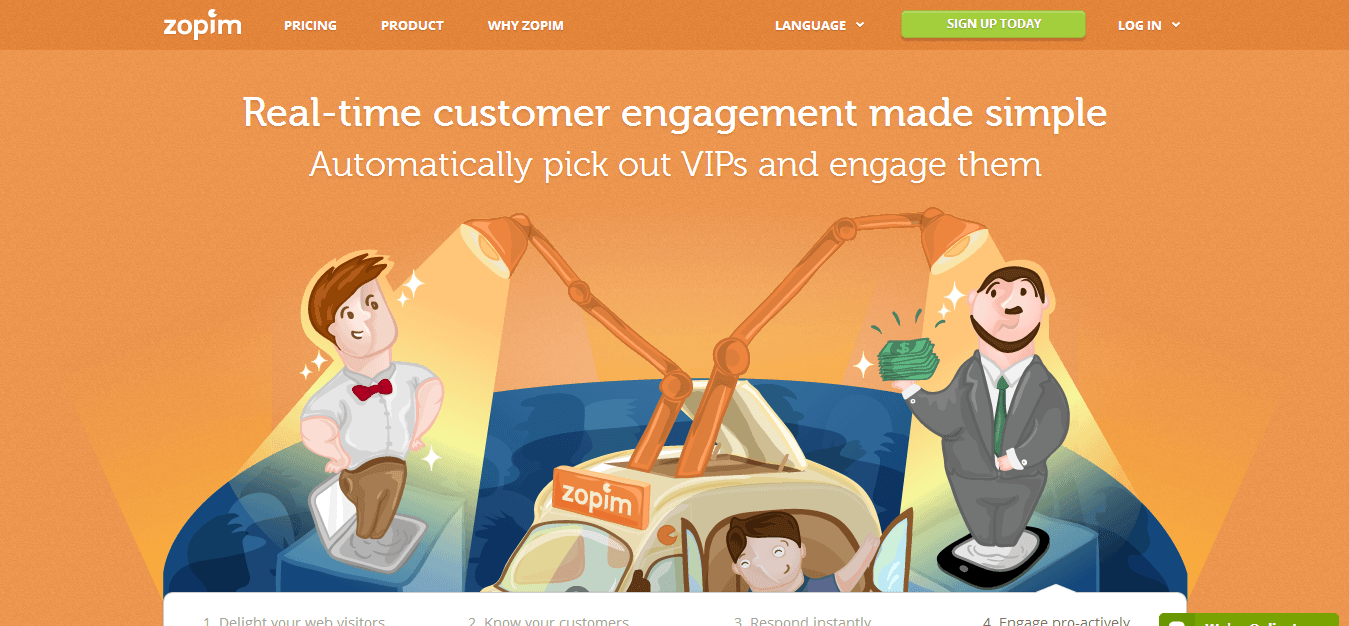 Zopim caters to over 50,000 individual businesses; their live chat software is highly sought after, and not just because they've got a great support team to answer all your questions (mind you, using Zopim itself!), but also because they've perfected what the live chat market should be like.
They're always working on improving their product, everything is built using the latest HTML5 technology to make the experience seamless and native to the browser. It's simple to setup, and works on any modern smartphone out there. Best of all, the Lite package is completely free and supports one person support, with up to two weeks chat history. Nice!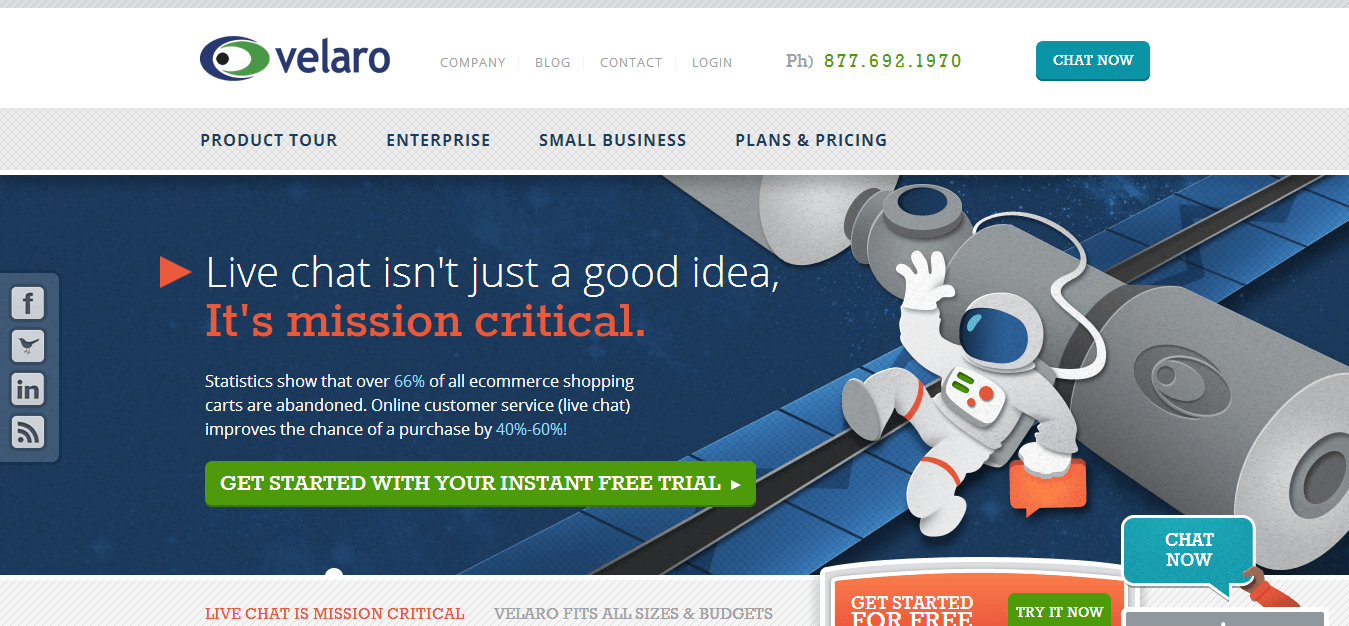 Velaro doesn't just provide a great live chat experience, they've got a decade of experience behind their backs, which has helped them understand what the market needs, and what they can do to meet that market need. Velaro's software provides great tools and opportunities for both smaller, and the more large online businesses.
You can rest assured that these guys have taken good care of things like 3rd-party integration with other popular helpdesk software, as well as things like deep analysis of all things related to the live chat. Pricing is quite reasonable and definitely competes with some of the other software that we've seen on the list so far.
Acquire is a unique live chat platform for businesses to boost the sales with live video, voice call and text chat with your website. It has features called co-browsing and screen sharing to accelerate customer support in an efficient way. Situations when a customer faces issues with placing an order, using CRM software or placing orders, then your customer would simply do the Live video chat with screen sharing feature with the customer care to show the error he or she is facing, and the same can be done by the customer care to demonstrate the solution.
In order to judge the performance of the customer service agent, Acquire offers live call recording facility to get live feedback. Also, both customers and agents can share any types of file with customer via live chat window. It is fully encrypted so that you can exchange sensitive documents online without any hassle.
Customers care agent can handle many call same time by using speech to text feature. It automatically converts 'speech to text" to understand better. Through Acquire's multi-channel customer engagement platform, you can connect to as many as your customer, and eliminate the wait time.
JitBit company focuses on many types of software, but mainly the type that helps to interact with customers in a new way. On top of their helpdesk platform, they also have a very appealing live chat platform built specifically for interacting with your customers. It's priced incredibly well, and packs some great features.
Jitbit Live Chat is a new real-time customer support solution that will help you talk to your visitors directly. Remove any confusion from the start and turn more visitors into customers. You'll love how reliable, easy to configure, and simple JitBit is. Any problems can be addressed through their helpful staff members.
Banckle is also a business that focuses on multiple areas of expertise, rather than just picking one. But, all Banckle products can be interconnected in one way or another, and so it might be a good idea to check out their full list of products first, to see whether there is anything that grabs our attention.
Talk with your website visitors in real-time, provide them excellent support and increase your sales – that is the mission statement of Banckle. Their live chat system is built with everyone in mind, including developers. Everything is well documented, and Banckle provides multiple ways of getting support.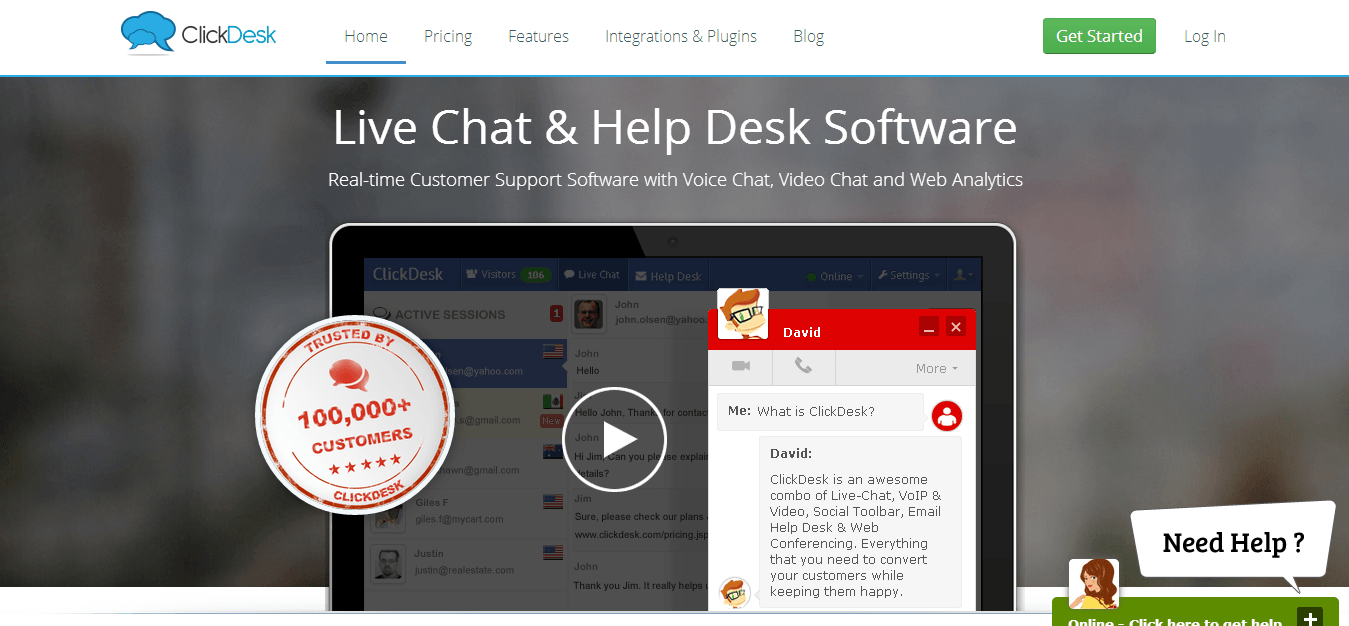 I'm really fond of the interface that ClickDesk is using to power their live chat software. It's super appealing, and can display all the necessary information about a visitor from within one, single dashboard. Just like that, ClickDesk is also capable of allowing video calls with your customers, which can really take things to the next level.
A little while ago, ClickDesk added a very simple and easy to use helpdesk system to their list of software that they offer. It totally takes away the strain and stress of having to manage a full-scale helpdesk ticketing system, and instead enables a very appealing, lightweight helpdesk support system.
Do You Need Live Chat Software?
It's a long list, no doubt. You've got all kinds of platforms being built for this specific purpose, but which software in this list did you find to be the perfect match for your current needs? Not always is popularity the key factor behind the success of a company, although that too is quite important. Still, back to my question. Does your business need live chat?
I guess you can look at it from a few point of views, but I'm only going to say this – if you send out more than 25 emails every day answering the same questions all over again, you probably do need to enable some sort of live chatting method, it's counter productive to reply the same thing over and over again.
So, which one of these are you going to signup for?