I have been running this blog for a while now, and because of my hard work and dedication to making it better, I've started receiving a lot more subscribers to my RSS feed – currently, the only available subscription channel I offer to my readers.
On the way to finding the perfect solution for my signup text, I learned quite a few things, and while most of them are irrelevant, some of them stood out, and have certainly helped me – not to think about whether I'm doing the right thing or not.
These are the few things I've kept in mind when offering a subscription model,
Sidebar-only doesn't work
Make sure everyone knows they can subscribe
Tell potential subs what they're going to get
Lousy signup text can have bad consequences
I'm a big believer in honesty, and while I'm not against using crappy texts like 'Signup now or your life will end' – they're meant to catch the attention of people who're not really going to be my best members of the community. I rather get straight to the point.
The above image is a snapshot of the bottom of this post, it's my own subscription box. It's quite unfortunate that I have to show it to my already subscribed members, but currently I'm using the services of Feedburner to deliver all of my new posts to your inbox.
Now, what I want to do is – give you a couple of examples of newsletter texts you can use on your own blog and/or website, and expect a significant increase in subscribers. I can say that, because it did increase the amount of subscribers I get on daily basis by over 100%.
Sidebar-only Model Doesn't Work!
I mentioned this above, and I thought I'd explain a little bit more, as not to confuse you. You can scroll back to the top of the page, and have a look on the right side, you'll see my 2nd subscription option there (although it's still Feedburner), and from personal experience – I can tell you that it doesn't work as good as having an extra one at the end of the post.
Why? I guess because after reading a full post, the user will make a decision on whether he likes your content or he doesn't, and if he does – chances are he will want to see more, hence; subscribe.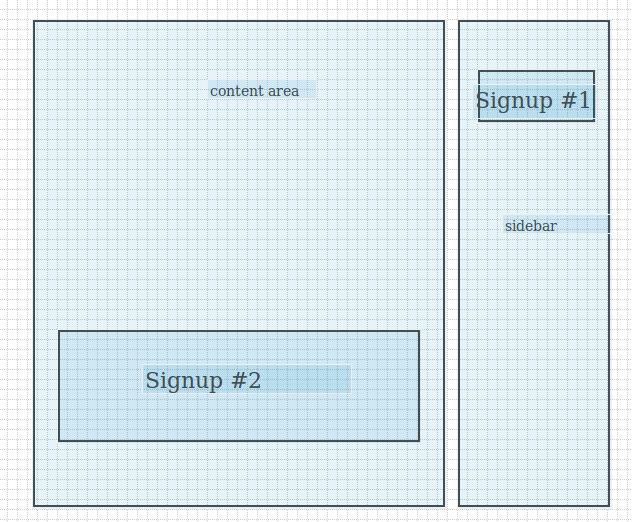 I built a little mockup (using one of the free tools from my wireframe post) to display how I have positioned my newsletter subscription boxes, perhaps it will give you inspiration to look at your own, and rethink the strategy.
But, don't think that people are not subscribing because they think your content is not good, majority of people don't subscribe because they might already have enough subscriptions to deal with as is.
Tell Your Potential Subscribers What They're Going to Get
In my case, I've added the little description under my signup text: "frequent updates on web development, web design, productivity and the internet."
This is really important, because you want to capture the attention of the reader, and also give him some insight on what you're all about – not everyone is going to read your About page. I make it clear that my stuff is going to be focused on technical things.
You can learn more about the psychology of all this in a blog post I wrote a few weeks ago, how to optimize your email strategy for optimal results.
Examples of Newsletter Signup Texts
Alright, we've covered most of the questions, and now it's time to look at some actual samples that we can begin using right away. First of all, you can use mine as a starting point.

I make it loud and clear that the newsletter is going to be containing content from the feed, and most people will know that it means content updates through email. You could replace (RSS) with (Email) in case you're using other email management services.
So, shall we take a look at what some of the top website in the world use to capture their reader attention? I guess it's the best way to go about things.
Also, there is no bias here, and I'm picking these by hand, based on opinion from my own experience.
Smashing Magazine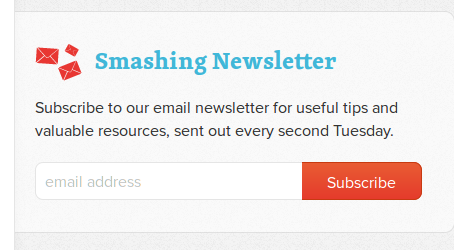 What we see above is the perfect execution of a email subscription box. It doesn't force the user to signup, and the description text is incredibly friendly – you realize you're not going to get science tips (but, who knows!), because you're on a website that is about web design, and development.
Plus, it says that you're going to get it every Tuesday, once per week. What more questions could you have, besides the ones already answered?
Webdesigner Depot

In this example I want to bring your attention to the little box in the bottom left corner, one that mentions how many subscribers the given website has. In our case, WDP is a very large website, with a lot of subscribers and so for them – building a following isn't really hard, as 500,000 subscribers give serious signs about quality and trust from other subscribers.
Often, that is exactly what it's all about, given the reader a sense of security and trust. Though, in these times, it's very easy to spot someone legitimate, and someone not so much.
So, display the number of people who've subscribed to your blog, even if the number is still small. It will encourage others to get on the train. I tried putting a little button like that at my bottom signup form, but I already have a widget on the top right of every page, don't see the reason to do it twice. :)
Sitepoint

The last example I wanted to show you is the use of an initiative, which in turn would give the user something back (besides awesome content!) in return for you giving the subscription model your email address.
This is also one of the most well-known methods in the world, which can be used to grow your email subscriber list very quickly, if the thing you're offering has any real value to the read of course.
Here are a couple of samples of what people usually give away in return for email address,
ebooks
freebies (design, vectors, etc,.)
subscriber only content
discounts to products
I'm currently not giving away anything in return for someone signing up to my RSS newsletter, but perhaps in the future when I've got more free time on my hands – I'll write an eBook or something.
How You Can Optimize Your Newsletter CTR
The obvious thing to do is not force anything, and instead try and be as transparent as possible. At the end of the day, the user himself will make a lot of the decisions based on other factors, other than the newsletter text you're using.
I've put together a couple of titles you can use, and perhaps they're the ones you need to try.
Signup to our newsletter now!
Signup and never miss a post!
Signing up to our newsletter keeps you up-to-date!
Stay fresh with latest content updates in your inbox!
Totally brainstorming from that point on. I hope that helps!
Conclusion: –
I hope this little review of how I was able to optimize my newsletter subscribers has helped you gain new ideas and insights, on how to manage your own blog or website, and make it better for everyone who visits it.
If you enjoyed the post, it would be my honour to have you joined to what seems like an army of subscribers already. :)