One of the biggest components of personal branding is your business card. While there is nothing wrong with choosing a functional business card design from a template, a lot can be said about professionals who take the time to design something personal and unique. The right business card helps you make a good first impression and can instantly tell others what you do.
Coming up with the perfect design isn't easy. Here are a few different business card ideas to help you get started.
Bright and Colorful
Even in very professional environments, adding the right amount of color can go a long way. One of the biggest trends in business cards is to choose a bright color on one side and a more conservative one on the other. This helps your business card stand out when put into a pile or at a networking event but still shows your professional side.
Minimalist Designs
There is nothing wrong with a super simple design as long as it looks neat and organized. Minimalist designs typically only use black and white, keeping the focus on your information. Most minimalist designs don't incorporate a logo either, although they may use small lines and bold fonts to separate sections.
If you are worried about standing out with a minimalist design, try printing your card on heavy cardstock. This can subtly give your business cards some personality without taking away from the simplicity of the design.
Black Business Card Designs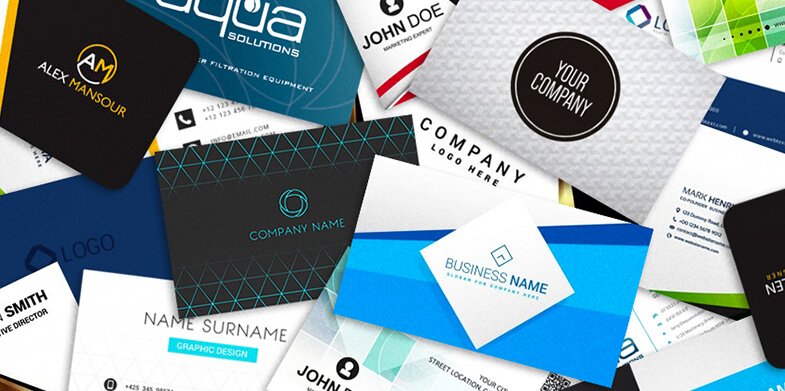 While people typically choose light background colors for their business cards, one emerging trend is to use mostly black. The black shade will make more vibrant colors pop on the card, drawing focus to names or logos. If you print your black business cards online, make sure to choose bright colors for all your text and make fonts big enough to avoid the colors blending.
Bright Color Block Business Cards
When you look at business card printing online, you probably aren't going to worry about the sides. Edge painted business cards are an artful way to stand out. Combine one of the bright colors with a vertical, color block design and you have a simple card that makes a statement.
If the simple and trendy color block isn't your style, try matching colored sides to a single color logo. Place a large logo across a white background and use the same color on the backside to display your details. This can also create a polished, yet colorful and unique look.
Kraft Paper Business Cards
Do you want to show everyone that you are a green company? Business cards made from recycled brown Kraft paper are an eco-friendly solution. This paper type isn't just popular among entrepreneurs going green; many people in the homemade crafting and food industries use the natural look to help them stand out. Because the business cards are printed on a thick recycled paper, you don't have to worry about incorporating "loud' colors or designs to get attention. Instead, use plain black ink to show your logo and crucial information.
Metallic Foil Business Cards
If you already have a fairly simple design for a business card in mind, you can always jazz it up with a little foil. Metallic foil business cards typically help a logo or name stand out against plain white paper, but some professionals incorporate the foil into the negative space of the design. This creates a highly reflective card. While most printing companies will offer silver or gold metallic foil, others will allow you to customize your look with red, blue, black, or copper colors.
A quality printing company will also offer lamination services to help keep your business cards scratch-free.
Leaf Shaped Business Cards
Die-cut business cards are also a great way to show off your personality without being overly distracting. Leaf shapes curve the tops and bottoms of the business card, giving them a very unique look. While the style is very trendy, some entrepreneurs prefer to only use die-cutting on one side or round all four corners of the card. The style you choose should reflect your industry. Professionals who are in the graphic design or art industries may want to look into a more custom die-cut design.
One important thing to remember when it comes to business cards is that the sky is the limit. Your design is only limited by your imagination.