Whether you are an established artist, a new photographer, or a journalist with an eye for imagery, creating and capturing stunning images that inspire, inform, and amaze is vital to the world community. Why? Photographs are universal, they are weightless, and they sort out the chaos of the world into jaw-dropping stories and memorable tales. Most of all though,  they provide us with the beauty that we miss in our everyday lives. In order to create these stunning photographs, complex photo editing tools have been designed to enable color correction, blemish and object removal, tone processing, and so much more. 
While these are fantastic for a photographer that has the time to sit down, learn them, and use them, they do create a barrier for those who are busy or are new to photography. Luckily artificial intelligence is bringing us these tools in simplified formats, making editing tasks much easier to grasp. One such program is the automatic photo editor by PhotoWorks, a revolutionary step forward for photographers who want to simplify their post-processing time with a spectacular result. 
What Does PhotoWorks Bring to the Table as an AI Photo Editor?
1. Enjoy Automatic Photo Editing With No Convoluted Steps
If you are used to manual editing done in programs that require a multi-step process to get the results you want, then you know how difficult and time-consuming the process can be. One misstep and you may have to completely backtrack. PhotoWorks is an automatic photo editor that is equipped with AI technology, meaning that in just a few clicks, you have a stunning photo . Hardly any effort needed on your part and no convoluted steps.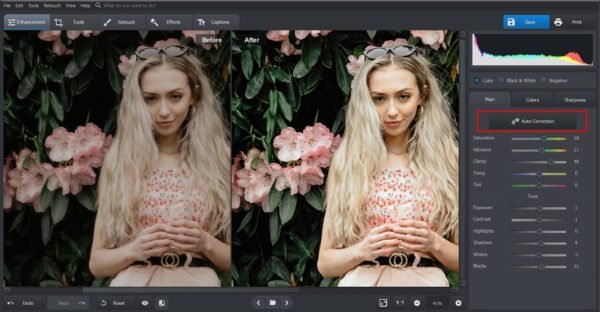 2. Working With People? No More Tedious Adjustments
PhotoWorks includes an AI module for photographers who are working with portraits. It is called Portrait Magic and photographers can use it to remove things like blemishes and red-eye. It can even smooth out complexion and warm-up or cool down the skin.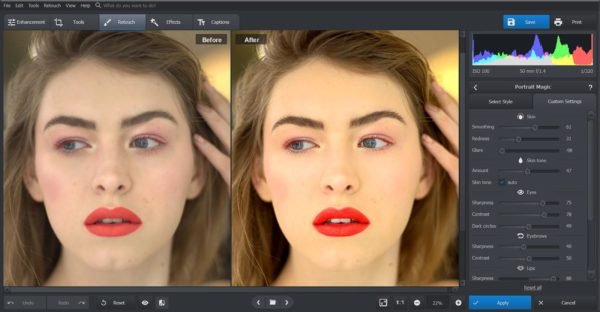 3. Remove Unwanted Objects
One of the most frustrating things with photography is getting that perfect shot just to find out that there is a singular unwanted object in the frame that you missed or couldn't see at the time of the photo. Don't let it ruin the image! Simply remove the unwanted object from the image instead of PhotoWork's healing brush tool.
4. Hate The Background?
With a manual editor, painstakingly removing the entire background would be insanely tedious and frustrating to do. In PhotoWorks, use the change background tool to swap the background out for a different one. Best of all, it takes just a few mouse strokes to get it done. No more erasing one pixel at a time.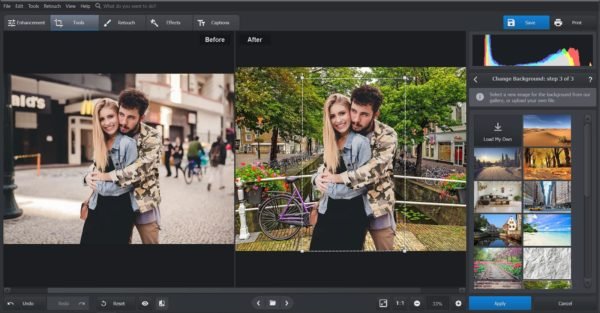 5. Color Correct In One Click
One of the major features that PhotoWorks has when it comes to auto photo editing, is the ability to color correct in one click. Yes, normally, you would have to manually adjust both the tone and hue settings to get the right balance but with PhotoWorks, the color correct is fully-automatic with ready-made presets. A single click will fix your color temperatures, exposure, and balance out your tones.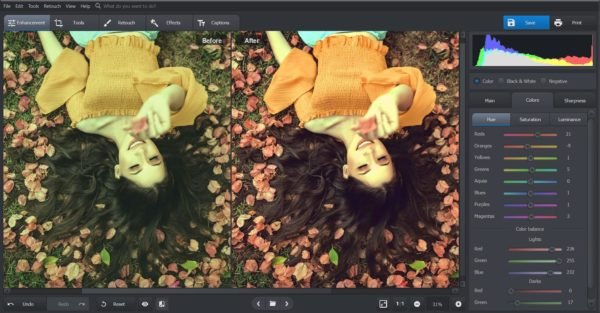 6. Make it Unique With 180+ Creative Effects
Instead of spending hours on creating that perfect effect, grab one from PhotoWork's massive library and have a completely unique photo in an instant. There are over 180+ creative and artistic effects that can be used to enhance your image and give it a different feel. Examples include retro, vintage, movie themes, night shots, and HRD effects. 
7. Learn From PhotoWork's Professional Tools
While seasoned photographers are used to dealing with complex tools, those who are new may want to branch into more professional tools as they get familiar with automatic photo editing. PhotoWork offers a no-barrier entry into the use of tools like tone mapping and curves, as PhotoWork's slider and button interface make them extremely easy to use and understand. 
Final Words
PhotoWork offers an easy to use interface that is accessible to both beginners and professionals alike who are looking to produce high-quality images without the complexity of the learning process. With PhotoWork's, you can save time as the built-in AI does the bulk of the work for you, and you do not have to miss out on traditional editing tools as the program does come with distortion correction, color correction, background removal and more. Creating stunning photography is just a few clicks away with this automatic photo editor.