Ecommerce business has the potential to grow quickly. However, maintaining a successful presence in the e-commerce industry is not an easy task. With so many established brands having set e-commerce sites, it is often difficult for newcomers to make a name for themselves. And if you dream of owning your own business but don't know how to make it happen, why not buy an e-commerce business for sale? These types of companies are often a great way to earn passive income. But even if you have a well-established online business. You have to think of growing your company's revenue constantly. Naturally, the key is to increase sales, but where will you start? Maybe invest in a more massive salesforce? Explore new markets? Or introduce product innovation? The options sometimes seem endless. Yet, you have to bear in mind that not all strategies can be useful for every business. In Nuanced Media, you can find more information about the strategies you should follow.
In this article, we share with you our most favorite smart and exciting strategies to expand your e-commerce business. Follow our pointers, and you might start rivaling or even trumping the big brands.
Continue selling to current customers, but also generate new prospects and clients
Nurturing the relationship you have with your current customers is an affordable way to increase sales because you already know that they love your product. So, find methods of improving sales to the customers you currently have. Try, for example, to give them discounts like buy one get one free. Also, rewarding loyal customers with loyalty cards, entitling them to free services or products for every ten things they purchase or similar techniques that would work wonders. Believe us, it is a great way to boost sales and profits. 
Prospecting is an essential part of sales. And for an e-commerce business to increase it, it has to generate new clients continually. In today's internet environment, customer feedback has never been more critical. So, by using "old" satisfied customer testimonials, you can attract new customers and increase sales online. Happy customer reviews are considerably more influential than even the best-written sales copy. Moreover, they create a more favorable perception of your brand in the mind of the prospect and can potentially overcome hesitations preemptively. They can appear on your product pages, landing pages, pricing page, even your home page.  
Another right way to increase online sales is to use the data of your existing customers to find people just like them. If you have successfully established your brand on LinkedIn, utilize this platform to generate new prospects and customers. With LinkedIn bulk connecting, you can look for potential matches and use a mutual connection with them. Facebook is another platform that can help you target lookalike audiences. You upload your data to Facebook, which then cross-references its data to create matches based on the criteria you specify. That is an excellent way to make the data on your existing customers work for you with minimal effort.
Focus on your digital marketing and put data at the heart of your eCommerce business
Digital marketing plays a vital role in your ability to grow your e-commerce businesses. From your paid advertising and social media to search engine optimization (SEO), these are your primary ways of attracting online business. Think of making your website mobile-friendly. Consider a shopping cart that scrolls with the customer or add-to-cart buttons that are easy to find. Follow new trends and align your business with digital influencers in your sector. That could be social media personalities or well-known industry figures who can promote your products and add credence to them. Whether you bring influencers in as product reviewers or even brand ambassadors, this can do a lot to help your business grow. And make purchases easier. Use social channels like Facebook and Instagram and let your customers purchase your products directly from their feeds.
Importantly, put analytics and data at the heart of your business. Why? It is simple – data will help you immensely in determining what, where, how, and whom to sell. Using in-depth analytics can help you define or refine your e-commerce strategy. Learn how to track social media traffic with Google Analytics because it is the absolute baseline for analytics. It will give you a detailed report on your social media traffic, so you will be in a position to identify which social media sites send the most visitors to your website and which ones need more attention. You can also learn how engaged your social media visitors are by analyzing the time they spend on your site. This data will help you to figure out if you are targeting the right audience. 
If you have a Facebook Page, use Facebook Insights. It is the built-in analytics tool that gives you a giant pile of information about the demographics, habits, and interests of your audience. Do not underestimate email analytics. It is an excellent way to break down your open rate—to give you further insight into your recipients who did open your message. Get to grips with all your data sources and start using them wisely. It is the best way for you to offer a first-class and personalized service to all your customers and boost brand loyalty.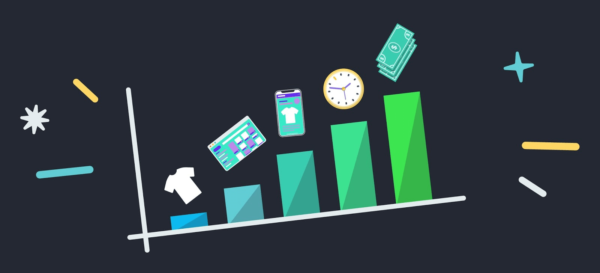 Continuously think outside the box
E-commerce trends are changing all the time. The rapid advancements in internet access, big data, and cutting-edge technology are announcing a more interactive relationship between businesses and consumers. Technological innovations are forming the future of e-commerce, and as a business owner, you need to be aware of that. To stay visible, your brand should discover new tech solutions that can help acquire loyal clients and provide them a unique e-shopping experience.
As an example, invest in artificial intelligence and personalize a consumer's shopping experience. Personalization is going to play a vital role in encouraging people to become loyal customers. Personalization will help you reach audiences on any device and deliver them a superior customer experience. Or think of establishing partnerships. It is one of the best conversion optimization strategies since it allows for more significant potential than what could be accomplished by both parties on an individual level. Getting into advanced collaborations or selling products from particular brands can gain you exposure and credibility (if they are willing to share with their audiences the fact they cooperate with your business). Or expand your target groups. Do not just focus on your primary target audience. Try offering some products and services in a different way of communication to a diverse group of people. 
Thinking creatively and finding diverse ways your business can make money is highly rewarding for your e-commerce store and business growth.