Twitter is incredibly huge and produces incredible amounts of data – that cannot simply be viewed in it's full expression through the default site functionality. This is where tools for monitoring activity and engagement come into play. The tools on this list are mostly free, with some allowing to signup for a premium account.
I have just concluded a post about Twitter tools for finding the best hashtags, it was an updated version of the original I made a couple of weeks ago – I'm really starting to see the change happening and people using more and more hashtags to engage and reach out to the right people.
I'm not sure how much of a good thing that is for big marketers who knew the 'trick' a long time ago, but when it comes to big data – everything eventually becomes saturated.
Relying on just one website for all your metric needs might not be the wisest of ideas, and the reason is because a lot of websites offer different functionality and reports. I think you'll notice the pattern that will form in this post and I hope that you'll find something that you like and want to use in the future.
Finding content and trending topics are just some of the things that these websites allow, I use them to find ideas among other things. It's easy to get distracted by having the need to check for the 'latest'.
[Tweet "If it's hot enough, you'll know about it!"]
What are the monitoring websites that you use? I would love to see what you use for finding and researching new content across the Twitter's platform.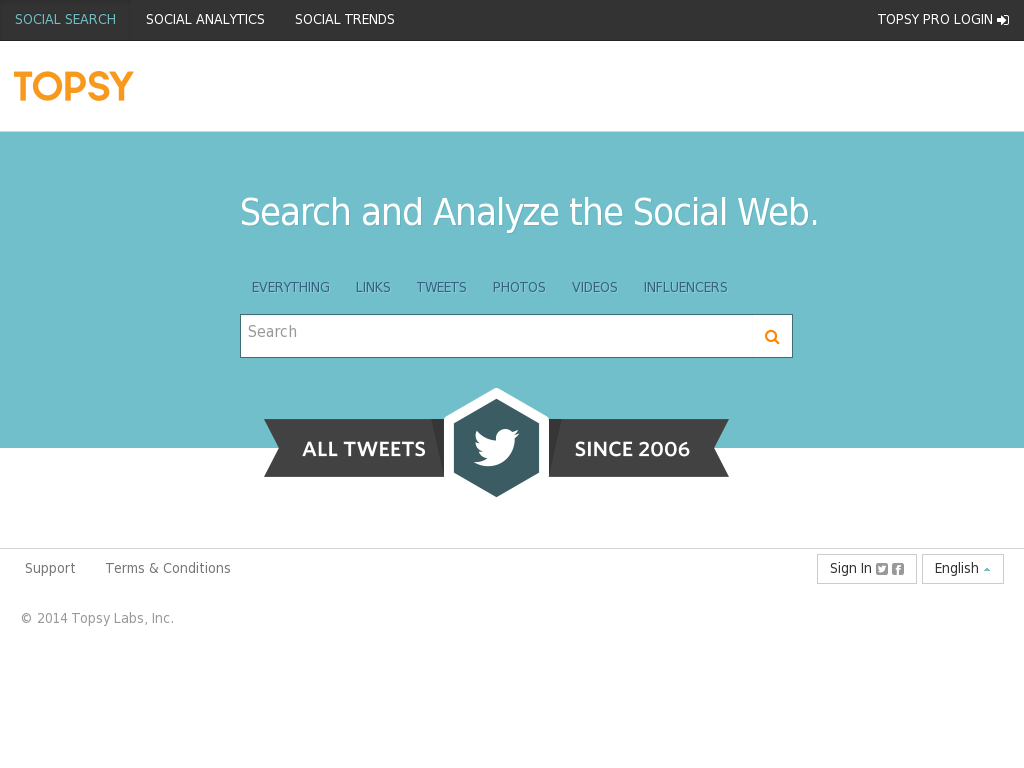 It's so well known across the web that I had to include it as the first tool on our list. I think the reason I did it was because the mentality online tends to be very simple – 'Too many people use this, I need something else – something better!'. Think about it.

Topsy is heavily focused around these three categories:
Social Search
Social Monitoring / Analysis
Social Trends
The bloggers dream. Tools that would otherwise cost you a ton of money.
Topsy has grown over the years, and you'll find that these days it allows to search content by specific types, like these:
Links
Tweets
Video
Photo
Influental
It's all packaged within one simple tool that doesn't cost a penny to use. You won't only increase your Twitter followers, you'll learn what people care about and what really matters to your industry.
The decision to include this tool on the list wasn't made entirely all by myself. The online community thinks it's a good enough tool to be recognized by others, so I thought I would please the audience and perhaps those who haven't seen it around as of yet.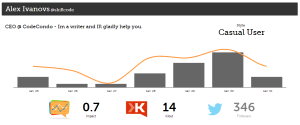 Twitalyzer provides one-click access to the richest body of metrics for Twitter accounts available today. By combining basic Twitter measures with demographic data, widely used metrics like Klout, and our own proprietary scores, Twitalyzer is a "one stop shop" for all of your Twitter analytics needs.
It's heavily focused around bringing the best out of your statistics and measurements, it seems that a lot of the features have become paid and it's impossible to dig deeper with a free account. I'll try and get in touch with an team member from Twitalyzer and see what I can find.
You'll find that SocialBro offers a
free 15 day trial
that you can use to snoop around and get the feel of the tool itself. I think SocialBro is a great tool that you should definitely look into, if you're serious about making your Twitter marketing efforts work for you.
I could create hundreds of snapshots to try and 'prove' what I mean, but please take a look at this video:
<
It's a little bit long, but I think it will help you understand if this tool is something that you'd like to use in the future. Just to give you a glimpse right away, of the potential SocialBro can bring to your Twitter marketing – take a look at this next snapshot of the tools that SocialBro provides:
I hope I was able to sell it to you, right here on the spot. This is the only tool I know that has that many features available, and the statistics are simply amazing! This will be a Twitter monitoring tool you'll want to use when working with global clients that need serious data about their market and industry.
It might take longer than usual to get used to this tool, but don't let that scare you as it servers just the right purpose of analyzing and gathering together useful data that any marketer can use for his campaigns. It's going to cost you $15/month to keep it running, but there is a complimentary 30 day trial when you signup for the first time.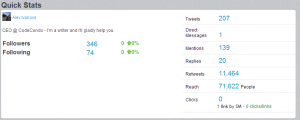 The categories that SocialMotus is focused on:
Social Management
Social Monitoring
Social Publishing
Social Engagement
Social Discovery
Social Analytics
Real-Time Feeds
Conversion Tracking
I've found that I enjoy the insights feature a lot, as it gives me valuable info about what type of content is being shared across my network and that leads to knowing what people want to see. I just wanted to add that while this tool supports Twitter completely, it also supports Facebook and LinkedIn all from one dashboard – it's worth considering to buy the subscription if you're on the lookout for something that can manage multiple social networks for you.
This is a neat little tool, it offers the basic features for the free version – but they are more than enough to keep a track of everything. You might be one of the old-school pioneers (like me) who simply try to avoid getting into your own data too much, but Twitonomy has this simple vibe to it that just begs of you to generate some data.
It will cost you $19 per month to upgrade to a premium account – which offers the ability to download all of the data to your computer, as well as remove any limits for creating data reports. It'll enable for you to do unlimited hashtag searches and analysis. I think it's worth a shot at that price.
Tools for Monitoring Twitter Activity
It was a pretty nice roundup, I think. I think you could notice a trend forming, the fact that most of these tools offer the ability to create charts and reports that can really leverage your marketing efforts, even if you're only a blogger with a couple of clients.
I'm not quite sure how many I missed or didn't add to the list, which perhaps you thought were more suited – but please leave a comment with any further suggestions and I will look into them, I'm myself – always – looking for such sites to explore and see what's possible.
Found it interesting? Let your friends know about it.