I did discuss and go over the details as to why you shouldn't buy Twitter followers, but I never mentioned a replacement. There actually are free tools out there which can help you gain more followers and exposure on your Twitter account.
The one common thing these tools might share is that they are based on people's interests and activity. It means that you are going to end-up following people who are specific about what they like and where they are coming from. If this is something that you are looking for then please, continue reading.
I will also be sharing some essential and easy to implement tips after we have finished reviewing our tools.
5 Tools to Help Increase Your Twitter Followers
Remember, if you want free Twitter followers that are quality and engaging, you will have to engage them first. How can people know who you are or what you do if they haven't seen you tweet them, at least once? It would be really silly of you to think that you can gain followers by not making yourself seen around the Twittersphere.
Are you the type of a person who believes in equality? Friend or Follow is the perfect tool if you are looking to sort your Twitter followers based on whether they follow you or not. The amazing thing is that it will also work for your Instagram and Tumblr accounts, making it extremely easy to manage your social networking accounts and the according followers.
The free account will support up to 300,000 followers that you can go through. After that, a premium plan can be purchased, only $30/month. This tool I know is used by a lot of people because of how efficient it is at sorting out your followers.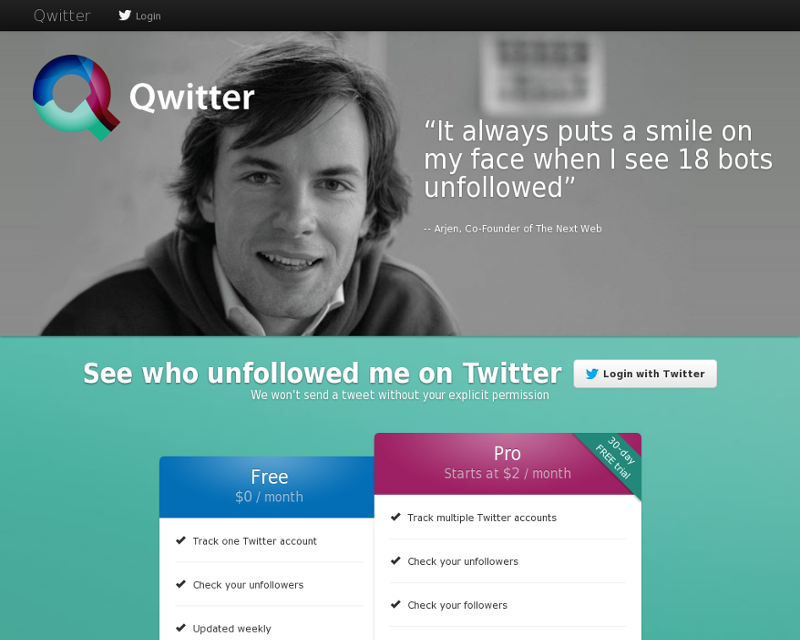 This might not seem like a direct tool to gain more followers, but it can help you keep the ones that unfollwed, with the exception of bots. This tool is going to be amazing for you if you happen to be an avid follower who likes to follow a lot of people and engage with them. (I understand, you might do the same thing for spam purposes, but for the sake of post..)
Qwitter will send you a weekly notification of the changes that took place in your account. After you get the email you can spend some time to see which people unfollwed and think of the reasons why they did it, you can then start improving your accounts quality.
Don't be afraid to ask people why they unfollowed, most will be honest and tell you. :)
This tool might be one of the most important ones you can buy if you happen to be a business owner. TweetBeep will help you track everything related to your website and/or business, including links that have been shortened by url shortening services.
It's very similar to Google Alerts, and is much more broad than a simple notification function that Twitter has integrated into the site. You can literally create notifications for any phrases you like.
I haven't tested this tool myself or plan on advertising it here (I haven't added a link so please Google it), but it seems to be a very sophisticated and function rich tool that can help to gain a lot of Twitter followers based on plenty of setting options.
The options for this tool come in big amounts and you can pretty much do everything with this tool, everything that relates to creating an automated process for following people. Check it out for sure.
You might think that knowing when people are online is no big deal, when in reality it is actually quite useful and can help you gain tons more followers to your Twitter account. Knowing when your followers tweet the most you can start creating content strategies to promote at those specific times.
The more active people are them higher the chances of your content being spotted and further shared with others. And that is the basic math of Twitter, as we already know.
5 Tips to Help Increase Your Twitter Followers
I did say I would share a couple of tips on how to get more followers as well.
Complete Profile
Don't take example from Twitter accounts who got millions of followers and barely any profile information, chances are those are celebrities and they don't need no bio information, everyone already knows who they are.
Fill out your profile as much as possible, try to tell about yourself in as less words as possible. This way people will know a part of you before having to view your tweets or website.
Tweet Great Content
And remember that quality is always going to win over quantity. Tweet frequently, but not too often. Tweet so that every tweet has some value added to further increase your authority. People like knowledgeable and intelligent tweets.
Ask & Answer Questions
Tweeting links and personal opinions is fine, but it's also a good idea to help people, establishing yourself even more as an expert in your field. "How", "why", "where" are usually the words that can be found within a question on Twitter. Look them up and try to help people as much as possible, they will thank you with a follow.
Hashtags
Finally, use #hashatags. I am not gonna go into much detail, as I have already published a post before on my blog; "best tools for finding twitter hashtags".
Conclusion
Where you able to learn something new? Or have your memory refreshed? Let me know down below. I would love to hear about other Twitter tools as well as the market is so huge :)