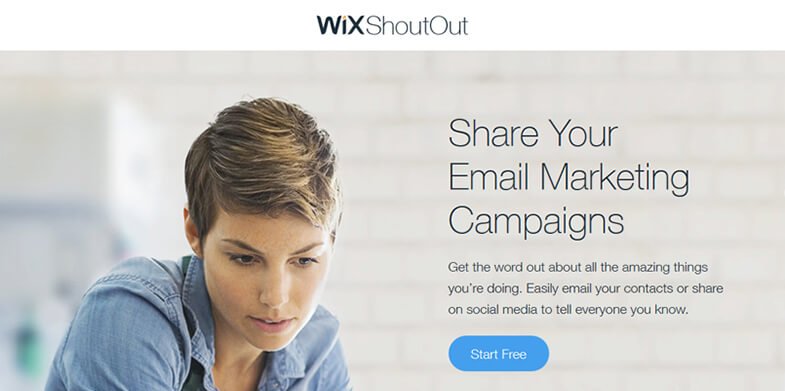 Wix, what is it?
What is it that everyone wants when dealing with business online presence?
Just one thing!
Simplicity!
Small business owners want everything related to a website to be simple… and up till now Wix has been a powerhouse in offering that simplicity. This is a business that offers a website building platform that anyone can use, even if they aren't computer savvy.
And now Wix has even more to offer with its new ShoutOut email marketing service.
What is Wix?
Everyone knows Wix. This is the company that allows everyone to make a website easily . Wix is a pioneer when it comes to giving the non-techie an easy way to build a website without needing to know HTML, PHP, Java or any of the other coding languages. Wix offers fantastic simplicity, but unlike other hosting services, up until recently, the service simply ended with website creation. That is until now. No longer do users have to go to other websites like MailChimp to send out emails or newsletters. Now Wix offers a great service that helps you send out your email newsletters as well.
This new service is known as Wix ShoutOut and it gives all users an easy way to send clients, visitors and friends a great ShoutOut in just a few minutes. WIX users already use the company for their website and to capture their reader's email, so logically, WIX thought easy email sending services was the next step in the easy website building service.
How does WIX ShoutOut Work?

Like other email services, WIX ShoutOut allows you to send emails to clients, visitors and anyone whose email you have captured. The service allows you to easily collect customer emails from your WIX website, but also offers additional features like:
Pre-made Subscribe Forms that allow you to capture your visitor´s email.
Adding RSVP to events
Templates that allow for the customization of email campaigns.
Importing of emails from CSV, Outlook and Gmail.
The Primary Benefit
Like the other services on WIX, the idea is to allow users to create email campaigns in an easy way. There is no need for HTML or any other type of code. The service offers different pre-made templates you can customize for any type of information, newsletter or email. The platform allows you to create, manage and send out attractive business emails with the ease of a push of the button. It offers a user-friendly and code-free solution for your email business needs.
Additional Features
ShoutOut also has another useful feature that comes in handily for users: analytics for campaigns. This allows for easy statistics on important information from each campaign you send out. This includes:
The number of emails that readers open
Number of emails sent
Data on views
Information on total clicks on the link
The Costs
In itself, Wix is a typical freemium website building platform, which means there are different pricing plans, which range from free to $44.90 a month. Basic users get up to three free Shout Outs a month, with room to grow into 5 Shout Outs for a basic monthly price of $4.95, and unlimited email marketing functionality for just $44.90 per month.


The new ShoutOut plan allows for users of the Wix website platform to create beautiful newsletters with just a few clicks from the existing Wix dashboard.
How Easy is Wix ShoutOut to Use?
The beauty of Wix extends to the new ShoutOut feature.  The new service is just as easy to use as the website builder. Just choose a template, click on the generic picture to change and upload your own personalized images in its place. Click on the Header to change content, add your personal content in the content box, and PRESTO, you are ready to send out your email. It's that easy. In fact, Wix has made email marketing so easy that you can do it all from your cellular in a matter of a couple of minutes.
Social Media is an Integral Part of Wix ShoutOut
Wix makes sharing your email notifications, business newsletters and information, easy as can be. The integrated share buttons allow you to share all your Wix ShoutOut emails on your business social media timelines. Just press ¨Share¨ from your computer or mobile device and your customized newsletter will be shared instantly.
The Pros
Wix offers easy website building tools for non-techies
Wix offers updated features like the new email marketing service that allows for simple newsletter creation.
Wix ShoutOut comes in different prices, including a free option
Create email campaigns from your mobile phone in just minutes
Share your email campaigns on social media with one simple click
The Cons
Some web masters feel that Wix is somewhat limited in capabilities, but if you aren't an HTML guru then Wix and the new Wix ShoutOut feature can make email marketing as simple as running out to buy milk.
Bottom Line
There are more than 80 million people using Wix today. And these are the same people who can now enjoy the new Wix ShoutOut newsletter or email campaign service. And that means there has to be something RIGHT about this service.
Yes, it´s got that Wix hallmark alright. Just click and drag…and your email campaign is finished.
You know that´s the recommendations that count, and with so many users, what else can we say; except that, Wix ShoutOut works; it´s easy to use and incredibly quick.  Make your email marketing efforts as easy as 1.2.3 with the new Wix ShoutOut. Complete and send your email newsletters in just a couple of minutes. It really is that easy.
Try Wix ShoutOut to see how easy it is to get into digital marketing without spending a fortune. It all lies in your choosing the right website building platform and email marketing service. And that's where Wix can help.