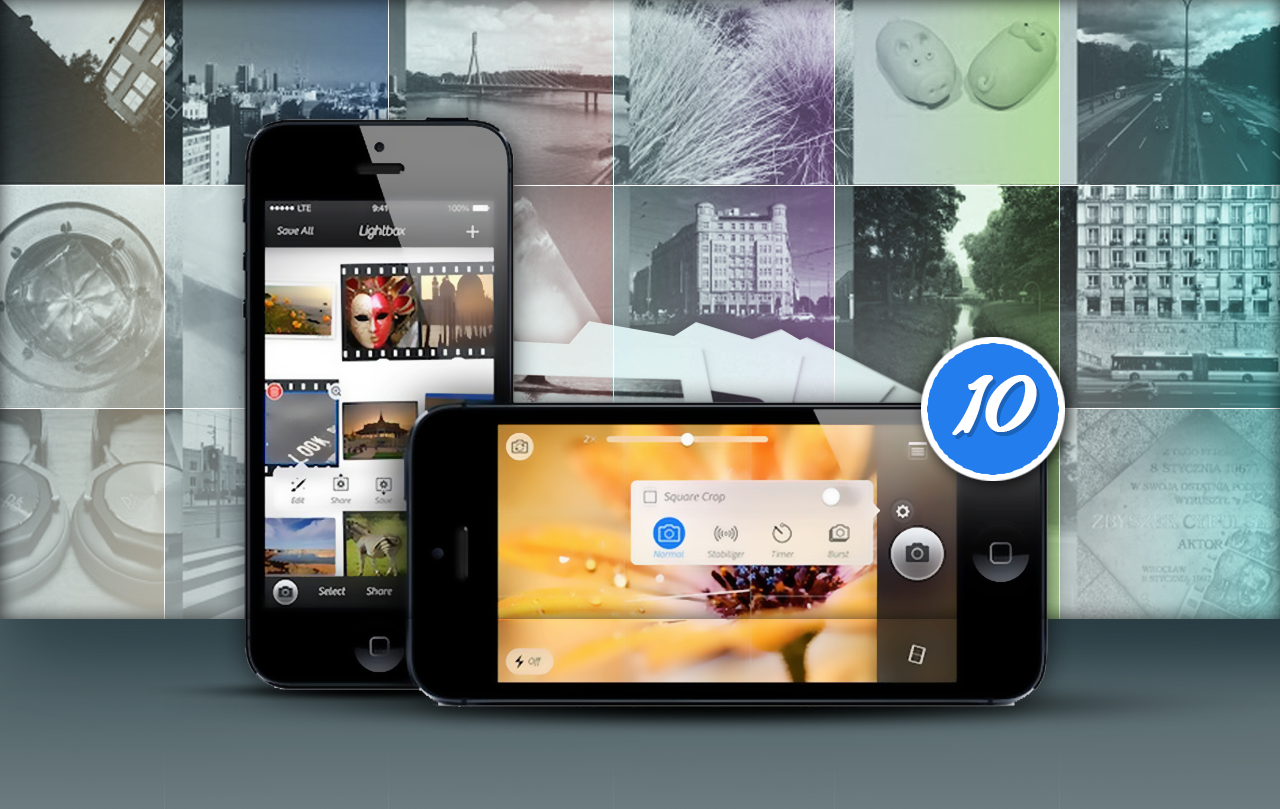 Among all the Smartphones I have used till today, I can guarantee you that iPhone have the best camera which will highly inspire you towards photography, even if you are non-professional in taking photos. And as the cameras in iPhones are improving day by day, so are the editing tools of it which you can find in the App Store.
Editing your photos is a fun task in iPhone photography. From making a pic brighter to spot healing and adding blur effects, these photo editing apps are leaving behind the need for traditional desktop editing software like Photoshop. But with hundreds of photo editing apps available on the App Store, you can find it difficult to know which ones would be best for you. So in this article I have added 10 of the best photo editing apps which I have come across while seeking for them on Apple's Store. You can also have a look on Best Photo editing apps for Android which I have posted few months ago.
Some apps mentioned in this post are my favorites and I use them daily for adding effects to photos, cropping, and concatenating and doing lot more with them. Although all the apps which I have listed are free but some of them requires to be paid for add-ons if you need them. Also, I have selected these apps keeping in mind the iOS and phone's latest version. You don't need to be an expert in using these iPhone apps, just download it and enjoy editing.
1) Instagram


Instagram is arguably the most used and well-known app of today's century with over 300 million people using it worldwide. It is one of my favourite app which I use it for photo editing. Instagram is easy, quick and appealing way to snap and share you photos with your friends.
Features:
You can edit photos and videos with different type of filters
Enhance your pics with advanced creative tools by highlighting, contrasting, shadowing and many more.
Follow your loved ones
Share your photos and videos with single click on Facebook, Twitter and more
Compatible with:  iOS 7.0 and later devices.
2) VSCO Cam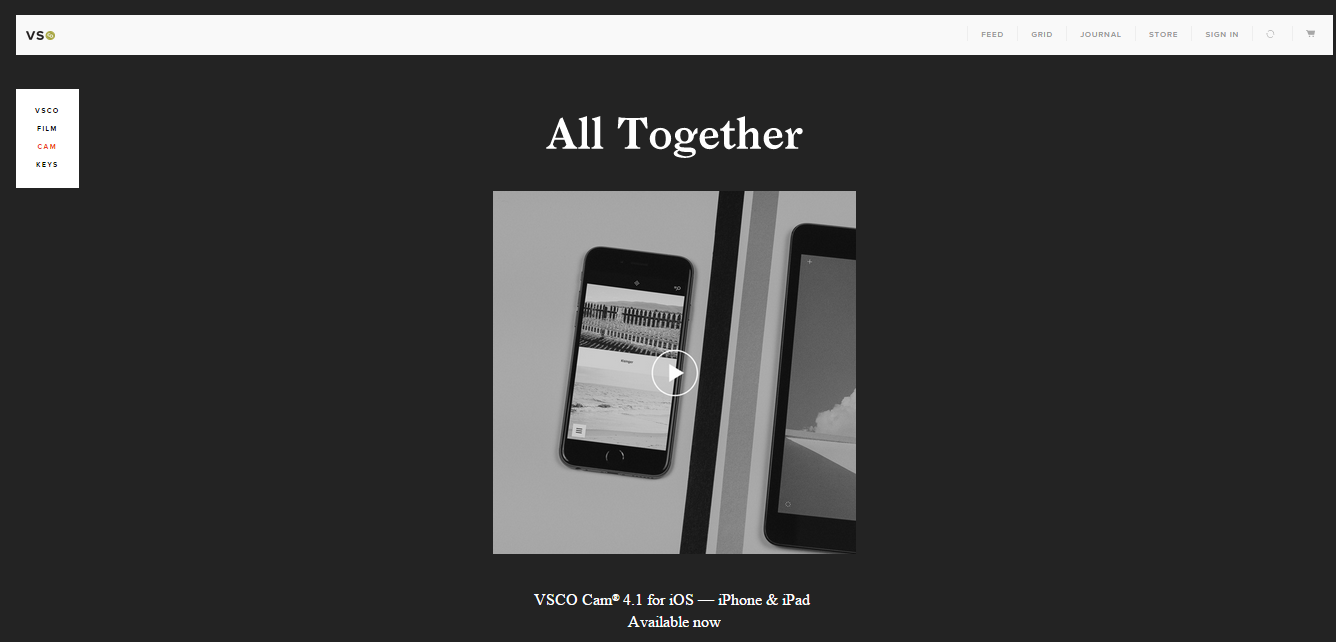 It is a great camera app for users who prefer constantly filtering and fine tuning of photos which are captured.
Features:
VSCO Cam allows users to manually select filters and change the temperature, cropping, contrasting, brightness and fading of pics as the way you want.
You can add effects like Shadows and highlights that allows the view to see pictures in the dark. Along with it you can also colour the shadows and highlights separately to add fine art to your image.
You can lock, focus and adjust the exposure to capture the perfect image.
It also offers a sharing of your pics on social network platforms.
Compatible with: iOS 8.0 or later
3) Snapseed


Snapseed is the Google's photo editing app which you will see topping in iPhones Photo editor's app lists. You will definitely experience high quality photography with Snapseed which make capturing photos fun loving tasks at your fingertips.
Features: 
You can simply adjust your pics with a single click by Auto Correct feature
Modify your picture to create a perfect image with Tune Imagefeature
Adding frames, cropping photos
You can filter your photos with Vintage, Retro, Drama, Grunge effects
Share your art through email, Google+, and other inbuilt sharing options
Compatible with:  iOS 6.1 or later devices.
4) Photo Editor by Aviary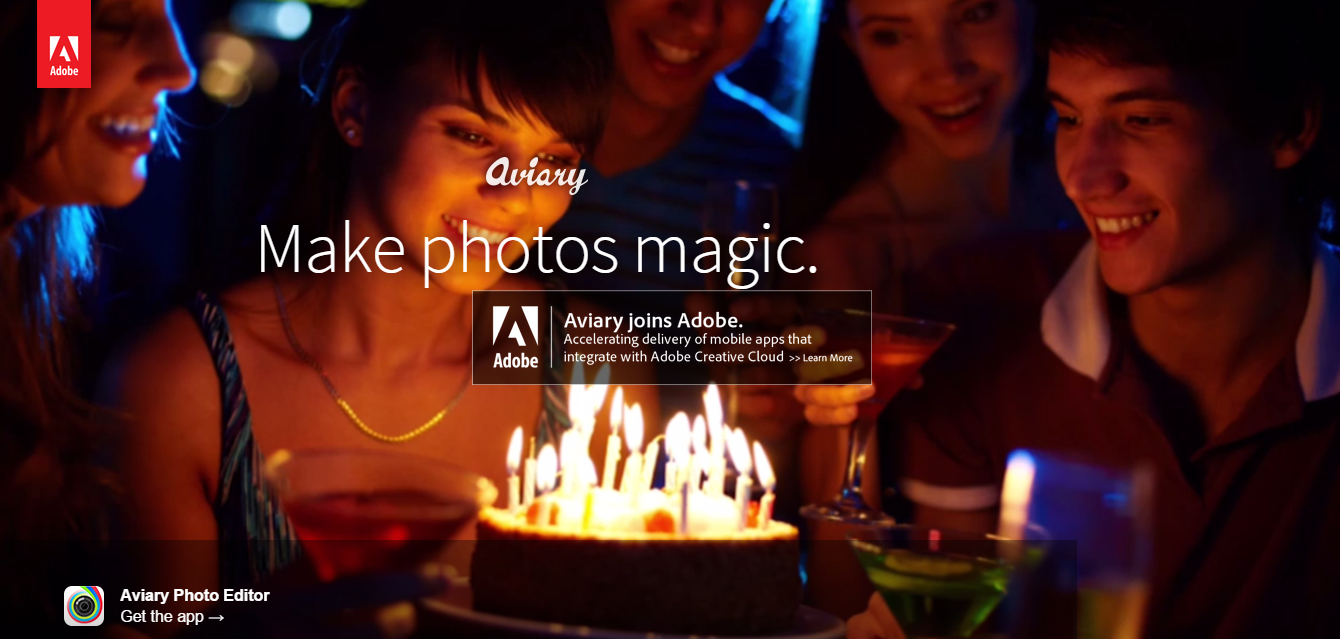 Aviary is one of the photo editor app from Adobe that focuses more on the visual effects of photography. It was entitled by the New York Times as the Best Apps for iOS 7.
Features:
You can enrich your pics with Hi-Definition, Food, Scenery, Portrait, and Night mode.
Style your pics with over 100 free filters
It has amazing frames and stickers
Redeye and blemish removal, Boost smile wattage, teeth whitening, selectively remove and replace colour with Splash, Add Sharpness
Draw, Crop, rotate, and straighten add text to create your photos
Change brightness, contrast, highlights, shadows of images
You can share your photos on Facebook, Instagram, or Twitter
Compatible with:  iOS 7.0 or later devices.
5) Photoshop Express


Photo editing list wouldn't be complete without adding this app to the list of Photo editors. It is an official Adobe app that allows users to get many of the features at their fingertips.
Features:
Basic Functionality
Auto-Fix, Blemish Removal, image rendering, Import and edit photos in RAW format.
Share your photos on Facebook, Instagram, Twitter, or through text messages
The most remarkable functions within the app are in its premium features. The premium features can be purchased or you can sign up for a free Adobe ID account to unlock the features.
Compatible with:  iOS 7.0 or later devices.
6) Facetune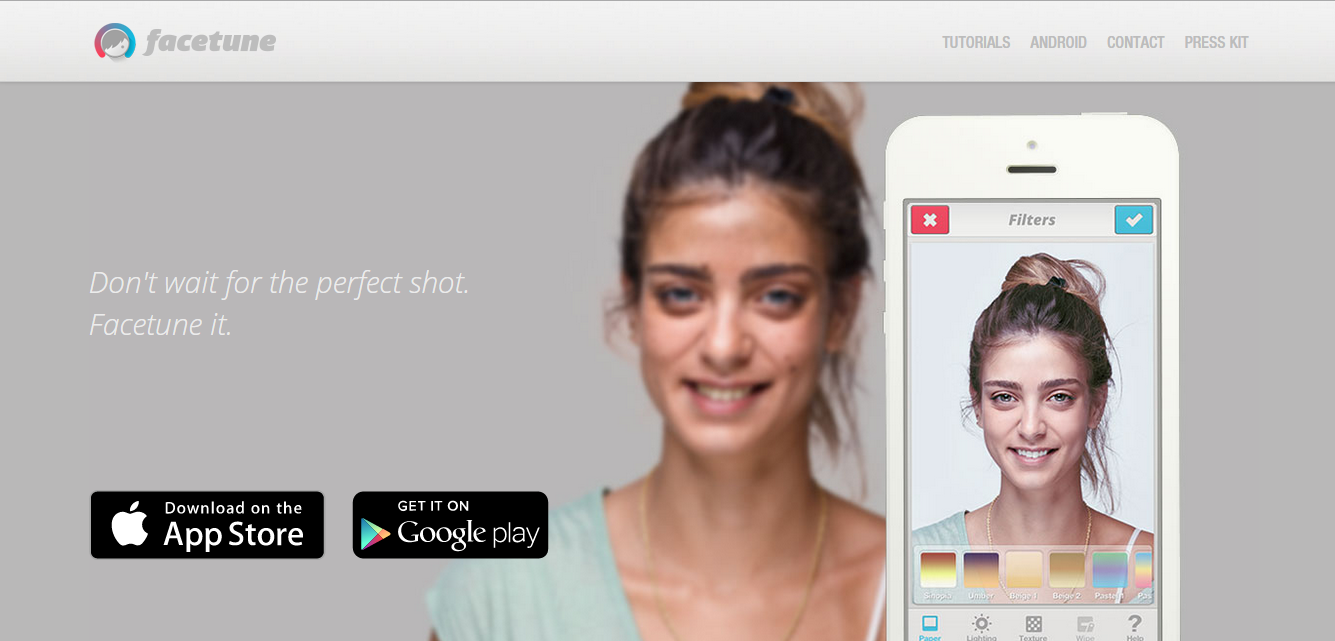 Another free photo-editor app which provides you the ability to retouch and add artistic style to your selfies and pictures with simple and fun loving way is Facetune.
Features:
Provides perfect smile, beautiful skin by adding effects of photography
Style your hairs, facial touch, make up
Focuses on your photo, add special effects, flip flop images
Sharing through social media and email
Compatible with:  iOS 6.0 or later devices.
Also Check: Top 15 Photo Editors for Linux Distributions
7) Darkroom – Photo Editor


It is a powerful and quick photo editor that provides you control over your artistic photos. You can create the pics you want with easy editing tools and also by creating your own filters with Darkroom.
Features:
Instant importing of your files
You can manually create filters and use it again on any of your photo.
Automatic saving of your work
Share your photos to Instagram.
Compatible with:  iOS 8.0 or later devices.
8) Pixlr Express


Pixlr is a fun and powerful photo editor which allows you cropping, rotating and tuning of any picture with a completely ad-free experience.
Features:
You can choose from over 2 million of free effects to further enhance your image.
This app will certainly makes you look like a professional photo editor, even if you don't have any experience in photo editing.
In order to have access to premium content you need to create free account in Pixlr.
Compatible with:  iOS 7.1or later devices.
9) STEP


STEP (Simple Touch Editor for Photos) acts same as its acronym. It is simple and fun to use.
Features:
This app allows for basic filters as well as you can manually set the filters.
It is most loveable app by their community.
If you see an image you like, you can save it as for your own future use with its "GRAB RECEIPE" feature.
If you are not satisfied with current filter, you can purchase extra filter at $0.99 or bundle at $4.99
You can revert, store, and share your creations on social media
Compatible with:  iOS 7.0 or later devices.
Also Check: 7 Creative iOS Photo Apps for iPhone & iPad
10) Camu – Camera for Simply Perfect Pictures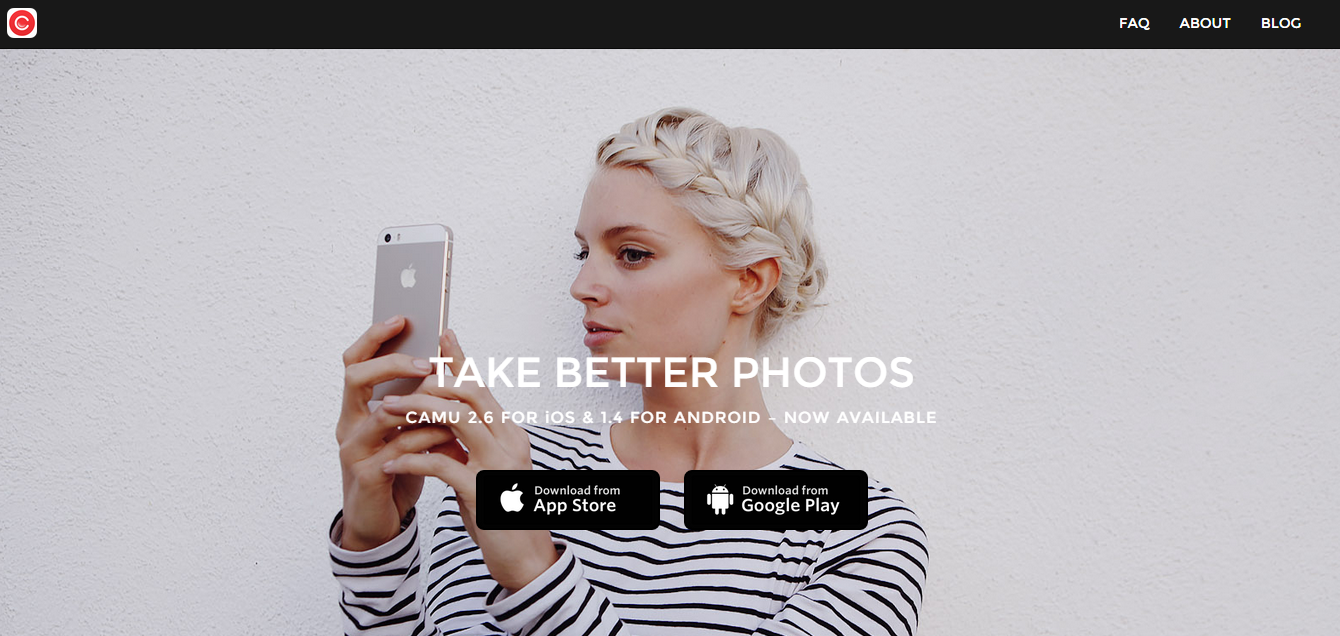 Camu allows you to take great pictures and videos with its live filter and good Clarity control. It was amongst the Best App of 2014 in iTunes. It offers and simple and clean interface which you won't find in any other photo editing app.
Features:
Shoot Perfect Shots
Add Text And Effects
Make Coolest Collages
Take Best Selfies With Auto Mode
Amazing Super Focus
Share Instantly With Friends
Compatible with:  iOS 7.0 or later devices.
All these above Photo editing apps are the ones, which I believe that serious iPhone photographers should have in their toolkit! iPhone certainly has differentiated itself with its great camera and you can have even more fantastic experience with your photos having these apps in your pocket.
These photo editing app provides different functions which may or may not be considered by all users, but they certainly offer a variety of options for you to try. Some users may have their own favourite based on usability or interface or communication. So which one are you using or is your favourite, you can share with us in comments.