Backgrounds have utmost importance in web and graphic designing. Almost every modern design art requires a background that enhances the overall beauty of that design art. Be it logos, banners, billboards or others, backgrounds are used everywhere. Backgrounds not only serve as simple wallpapers but also provide a colourful framework for developing other designs. Backgrounds come in a variety of styles and colors and are used by designers to a great extent. There are several kinds of background patterns, such as dotted, checkered, striped and more.
Today, there are a range of online web and graphic designing tools which can simplify the job of designers to a considerable extent. There are several online color palette generators, font generators, icon makers and other such tools which are extremely useful for designers working on various projects. Similarly, there are several background patterns and textures designing tools which can come in handy for designers. These web applications are quite simple to operate and can even be used by amateur designers. Alright, so get ready to check out this amazing list of 12 Online Tools for Generating Seamless Background Patterns and Textures.

Stripe Generator is a web-based tool for designing seamless striped patterns. The tool offers a lot of functionality to create custom striped patterns on tiles using various sizes, colors and orientations. It allows using up to 5 colors and also setting background colors, background styles, spacing and shadows. The striped tiles are easily editable and one can also check out a vast collection of stripe designs shared by the other members.

Noise Texture Generator allows creating a simple background texture using a variety of colors and color shades. It allows setting the dimensions of the texture as well as opacity and density. You can preview the tile-shaped texture and download it instantly.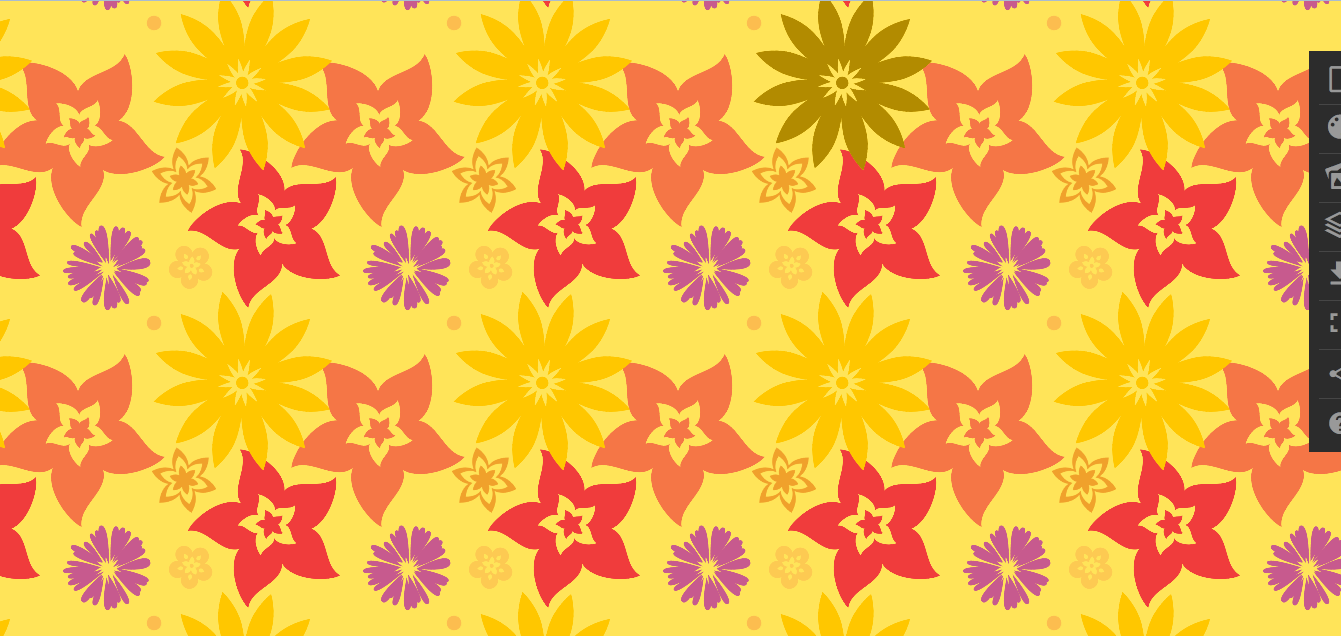 BG Patterns is a modern tool for generating colourful patterns using various in-built shapes or custom images. The tool offers shapes for various pattern themes, such as flowers, party, animals and geometric shapes. You can chose from a variety of colors for backgrounds and shapes. It also allows rotating and scaling custom images and setting overlapping order for using multiple shapes. BG Patterns allow using custom images which are higher than 300×300 px in resolution and supports PNG and SVG file formats.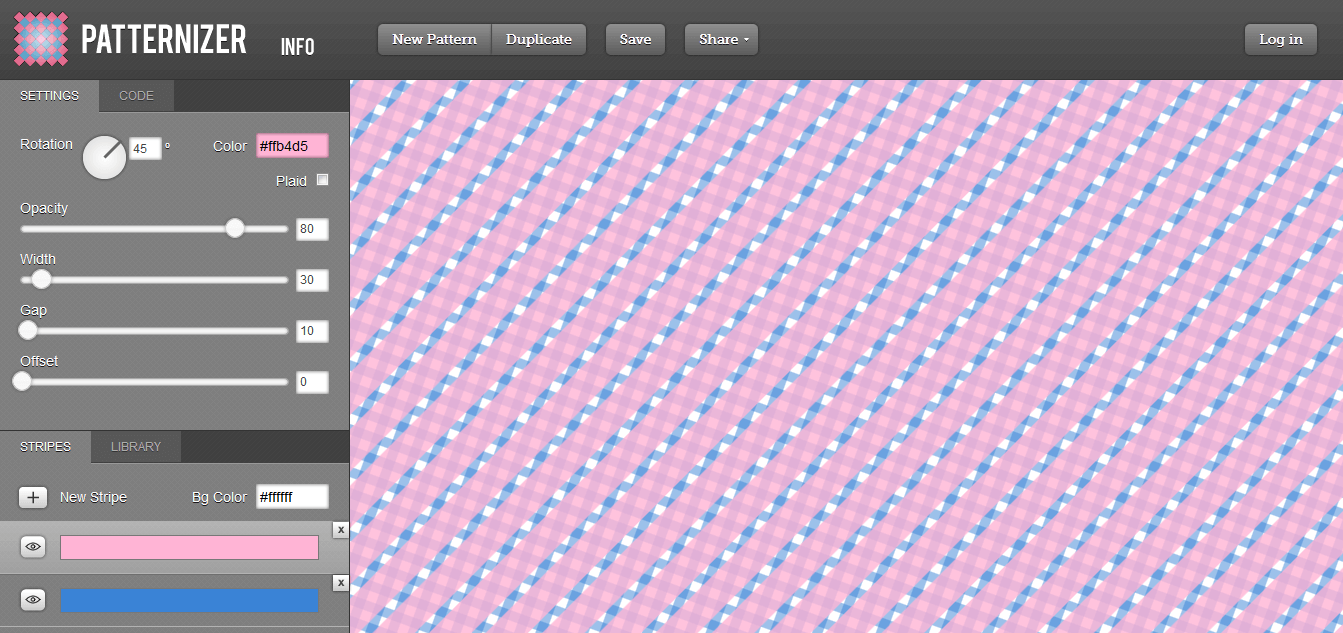 Patternizer is an advanced online pattern generator application. One can easily pick a design from several in-built colourful pattern styles, such as checker cloth and argyle as well as edit their dimensions and colors. Patternizer allows designing custom pattern styles using multiple stripes, setting width, rotation and opacity as well as choosing from various background colors.

Repper Patterns is a robust software tool for designing patterns for various web, graphic and print designing projects. It allows creating patterns from custom images which can be used for book covers, coffee mugs, newspapers and several web designing artworks, such as online banners, logos, website backgrounds and flyers. Repper Patterns is useful for beginners as it offers 14 in-built pattern styles which are unique and beautiful.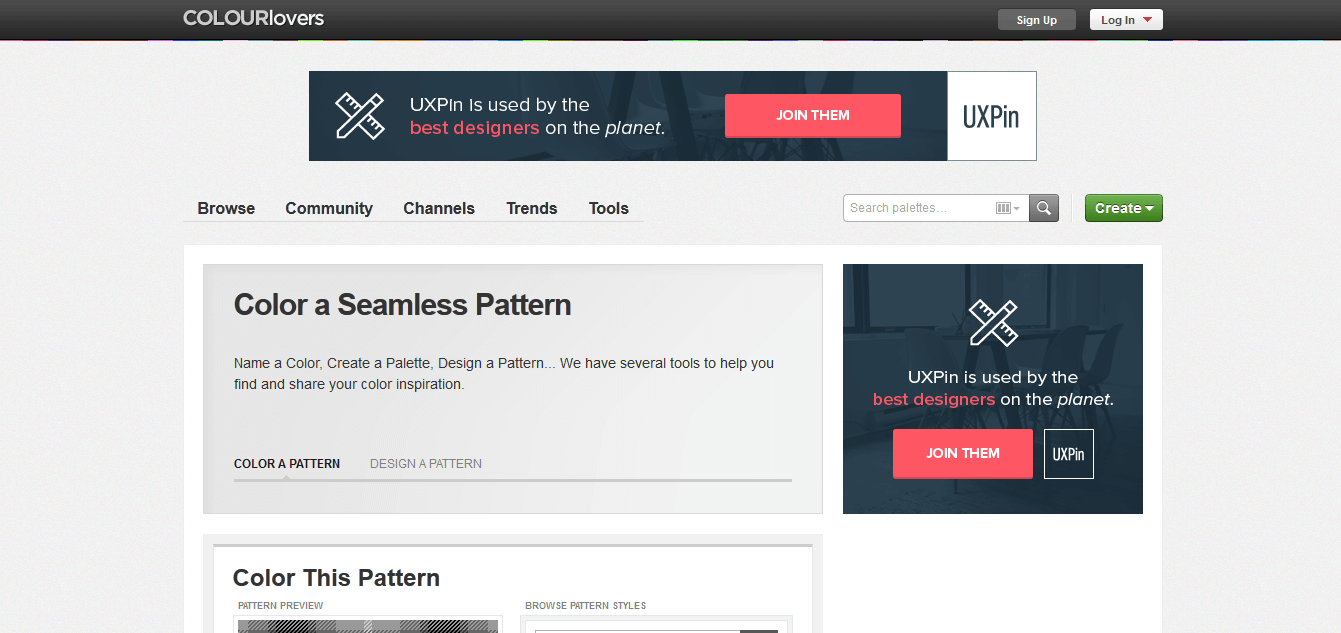 Colour Lovers is a modern web application which allows generating a variety of pattern designs using various custom color palettes, custom images and in-built pattern styles. It also offers Seamless Lite, a Flash-based tool for designing new patterns using various designing and editing options, such as adding shapes and texts, rotating and resizing shapes and more.

Texture Generator is an online tool which allows users to quickly generate textures using various color shades and in-built texture styles. The tool offers several texture styles, such as terrain, cloud, wood and checker. One can edit the texture styles using various settings and can generate images in JPG and PNG file formats.

Plaid Maker is a modern web application for generating plaid patterns in a variety of styles. One can choose a combination of colors to design a pattern or simply edit a built-in pattern. Plaid Patterns can be used for blog or website backgrounds or for iPhone or Android applications.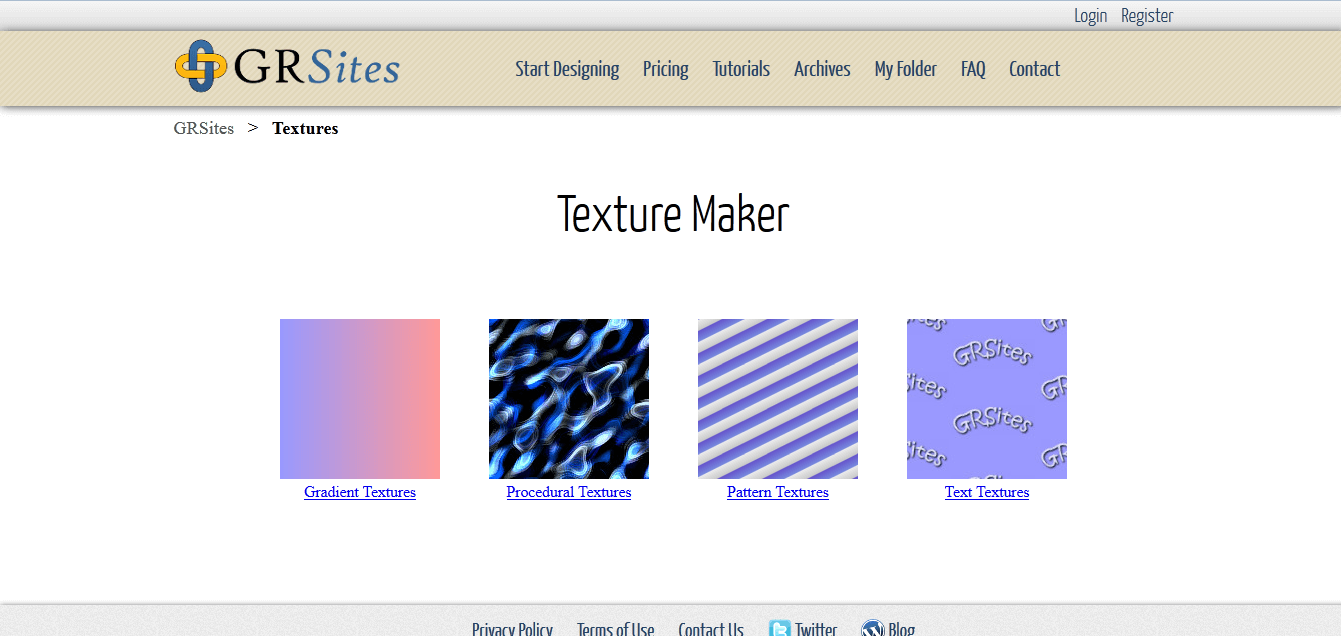 Texture Maker is a robust online tool for designing textures from custom images. It offers a collection of various texture designs in categories, such as gradient, procedural, text and more. The textures can be customized to suit one's design requirements.

Pattern Cooler is a modern online application for generating new patterns. The application provides a vast collection of built-in pattern designs and offers several features to edit patterns by choosing pattern colors and pattern opacity.
11. Background Dotter

Pixelknetes Background Dotter is an online tool for generating dotted backgrounds using two different colors for dots and backgrounds respectively. Dotted background patterns provide a trendy background design for website wallpapers, billboards and backgrounds.
Striped Backgrounds is a modern online tool which allows generating striped patterns using 5 different colors. One can generate 5-column patterns in a variety of resolutions, such as widescreen, full-screen, HDTV and mobile.
Conclusion:
That is all from the world of background patterns and textures. I am sure that a lot of designers will find these tools extremely useful. Designers can churn out some basic and wonderful patterns for various web design projects. Moreover, they can also design custom textures for generating their own backgrounds for websites and web applications. If you want to add some more names to the list, then you can do so by mentioning the names of such tools in the comments section below. Thank you.