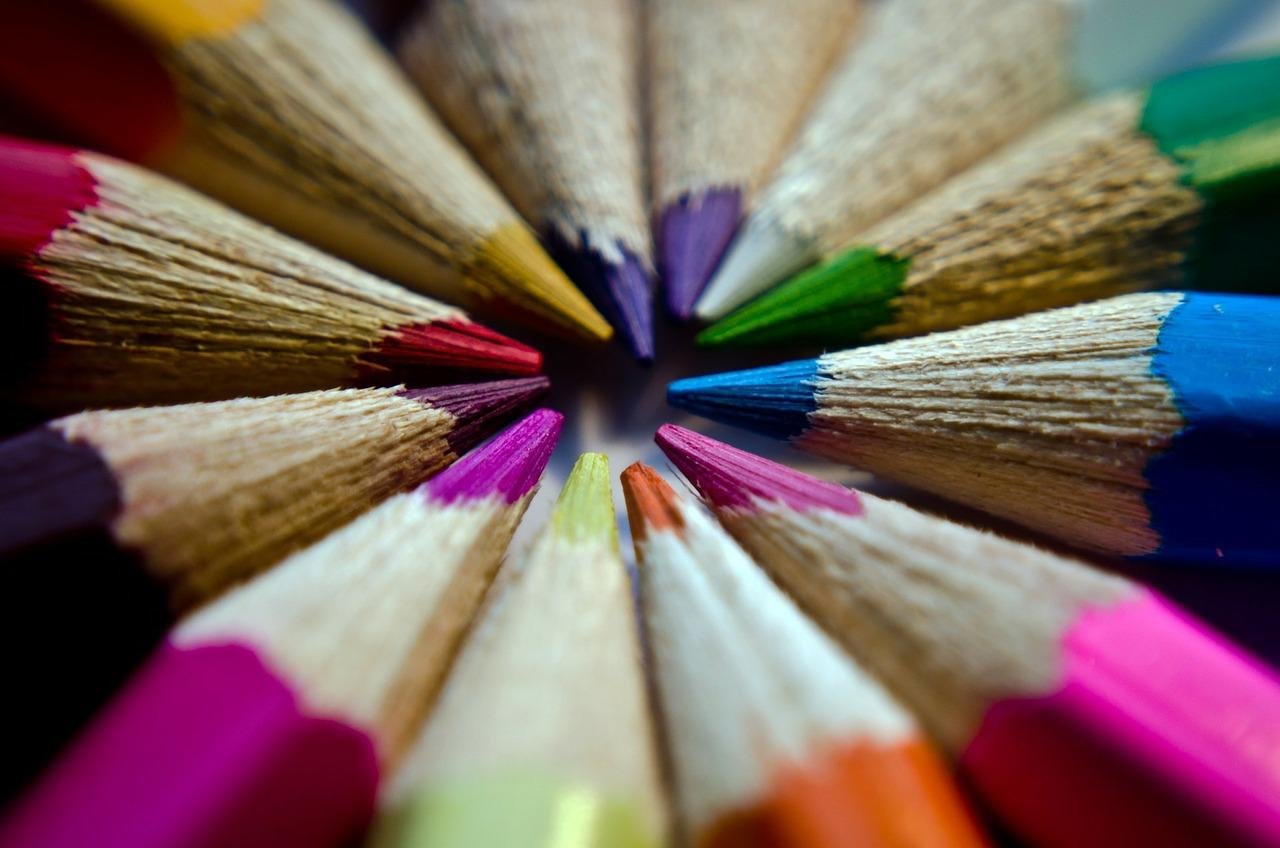 The right color scheme can often define, and create the gap between success and failure. Web designers know their craft, and they know how important the choice of colors is. Finding new colors, or coming up with them through Photoshop isn't always optimal, and so other outside world tools need to come in play.
It's not very hard to do a Google search of 'HTML colors', though how good are those results, really? It's the same color pallet style on each of those pages, and none of them offer the functionality of combining colors together, or even creating new ones by uploading images – to match the colors of the image you've uploaded.
The evolving web development and design world has let in a new set of tools, that can help us quickly create new and exciting colors to use for our web projects. I've always admired silky style, what about you?
I've included more than one, because most of these tools have some sort of unique functionality that others don't, and so you never know when that feature might come in handy. I've got deep admiration for all of the developers that have made these tools possible for us to use, thank you!

It's simple to use, and it's extremely effective. All you need to do is load up an image in the submission box, and fetch the results. I tried several images, and the results were perfect. It's one of those tools you just have to bookmark, as you never know when a vibrant images will capture your attention.

This one too, will allow you to upload your own images or fetch from an URL, and output the colors within the image. Though, the difference is that you'll be able to browse each of the colors and find similar ones within the color palettes that are available, hence the name: color hunter.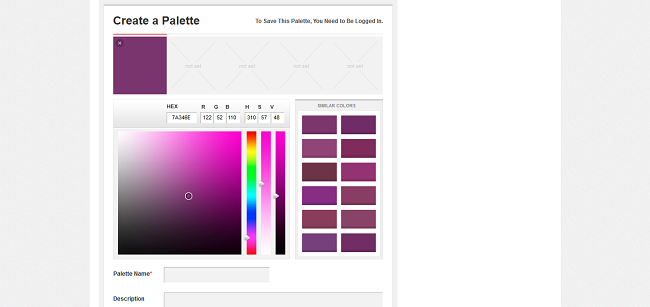 You'll need an account to save your creations, though the benefit of signing up is that you'll be able to access all of the other amazing tools that COLOURlovers have to offer. You can save each palette within it's own project, and so later access it again if you need to.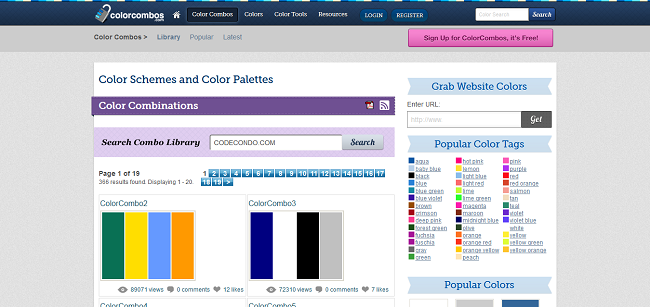 Welcome to the world of colors where you're sure to find the perfect color combination for your project. This site was built to help web developers quickly select and test web design colour combinations. The heart of the site is the Combo Tester, which allows web developers to see how different color combinations work together on the screen.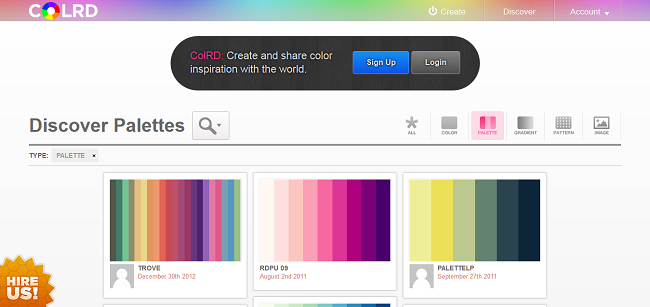 Incredible amount of resources when it comes to concepts, designs and color palettes. It's as easy as browsing the already huge directory of colors, and copy pasting the color codes. You can easily create your own color schemes, and palettes. Signup is free.

I've created a bit of an inception in the above snapshot, but only to show how great this tool is and how deep it can analyze a picture to grab colors from it. Creating colors is fun and easy, might take some time getting used to for first time users.

Colllor is great because it allows you to really dive in into each color, and see the vast amount of tones available for each one. You'll need adobe flash enabled in order to browse the color schemes. You can use simple names like 'apple' to get the colors of an apple, or you can use previously generated hex codes. Lovely tool.
Color Scheme Designer 3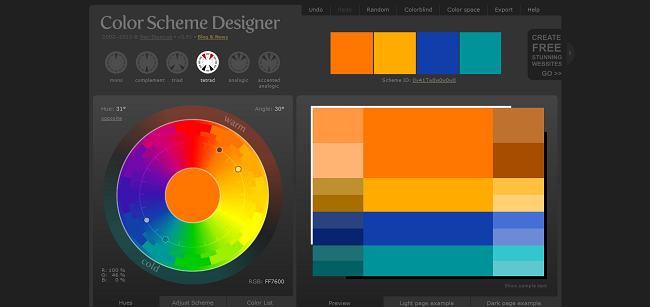 I love CSD because of the variety of color schemes you can select, like mono, triad or tetrad for example. In order to create schemes you can just scroll the wheel and see what comes out of it. Then try the different palette options and see how the colors can change.

Just another one of those, but still worth remembering in case some of the above happen to lose connection or go offline. You can link your Flickr and Facebook accounts to fetch images from them, that's a little neat extra feature this tool can offer.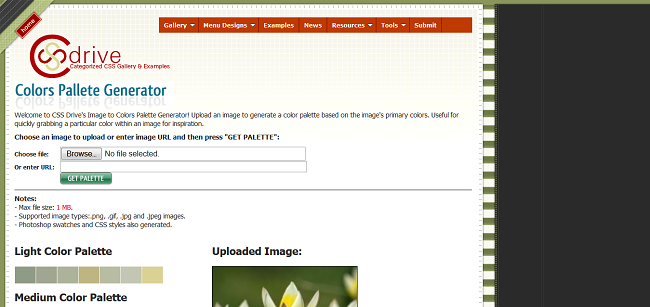 The maximum file upload size is only 1mb, which can be a little off-putting for some people, I recommend snapping the size down to a minimum and then trying to upload again. I also like this particular tool because it allows to save the colors in .css and .aco (Photoshop) file formats, saving you some precious time.

Brought to you by MailChimp (see: free marketing tools) this little tool will also grab the color scheme of a photo that you give it. The only difference is that it has an API, it supports mobile devices (native) and it also will fetch data from other sites and suggest color schemes and palettes from there. Great little tool.
Design Seeds

I think I'm more blown away by the design that this site uses, more so than the amazing color styles and palettes it has to offer. Great job, and props to the designer! It's a very easy to use site, loads fast and offers a ton of variety when it comes to great colors. I'm definitely going to bookmark this one, purely because it's minimal and does a great job of delivering great colors.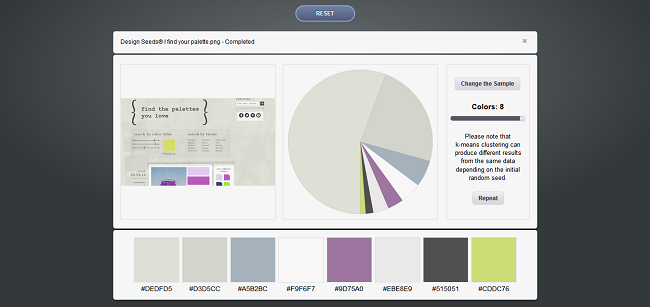 This lovely site utilizes K-means clustering, and so allows you to dig really deep within a photo to find matching or new colors for you to use. I tried it out a little bit, and I'm impressed by the variety it's able to gather.

If you like minimal design, and total simplicity; this is the tool to save for later. You can generate random palettes, save them as hex or rgb, you can also save history and export palettes and .png images. Quite a bit of tools that might come in handy for future projects. Worth keeping an eye on.

iWantHue allows you to generate palettes of colors. It is about mastering the properties of a palette by setting a range of Hue, Chroma (unbiased saturation) and Lightness. You can generate palettes of any size or just get the generator for a javascript project. The algorithm optimizes the perceptive distance in the color subspace, ensuring an optimal readability.
Color Scheme & Palette Generators
I think that's enough tools to last us for the very far future ahead. I've learned about a few new tools, and I'm definitely gonna spend some time on the last one, as it seems to be offering some great functionality and a new way of generating colors. It's also open-source, and that's always appealing.
Did I miss any of your own favorite color scheme and palette tools? Why not let me know about it and I'll put them on the list?