If you're an experienced UX designer, you already have your favorite line-up of prototyping tools you consider to be the best in the market. Even if you're new to the field, you will most likely be familiar with the more popular offline and online prototyping tools for UX designers.
However, leadership positions are constantly in flux when it comes to the best prototyping tools, especially when it comes to rapidly evolving online prototyping tools. This is because newer products are now coming with more powerful features and at a better price point than more mature products.
In addition, they are designed to modern UI/UX standards, which is a hard task for older products to achieve unless their developers follow the same aggressive release cycles as their newer counterparts. As such, the scenario for 2021 might be very different from what it was last year.
Here is a list of what we consider to be the 5 best prototyping tools for UX designers in 2021, along with key features, price point, pros and cons, and OS/device compatibility. Hopefully, this will help you as a UX designer make the most appropriate choice for the year ahead.
Also Read: Understand The Major Differences Between UI & UX!
Wondershare has regularly put out exceptionally well-received software in many areas such as office productivity, mobile care, data recovery, video editing, and more. In the field of UI/UX design, it has developed Mockitt, one of the most versatile and affordable prototyping tools available to UX designers today.
In just six short years, Mockitt has built a loyal user base of nearly 2 million designers, product managers, developers, and marketers across a multitude of industries. Mockitt is cloud-hosted and available on any device with a modern browser and an Internet connection, making it an ideal tool for team collaboration and working across multiple locations.
It also offers a rich stable of assets number in the thousands, along with the ability to import libraries, customize built-in assets, and create shared libraries for team access. In addition, prototyping on this platform is intuitive and fast, allowing you to create hi-fi prototypes in minutes instead of hours. Let's look at some of these and other critical features of this compelling on-demand software application for UX professionals.
Features
Vast asset library with thousands of customizable options

Dynamic widgets to create in-page animation quickly and efficiently

Master status for widgets allow global editing

Drag-and-drop elements into your design for faster workflows

Fully interactive prototypes can be created in minutes

Real-time environment for designing, prototyping, review, commenting, and code inspection

Easy sharing of prototypes online and offline

Smooth developer handoff with almost zero involvement from the designer

Upcoming Sketch plugin to import and prototype Sketch design files

Rich choice of animations, transitions, and effects for prototyping

Ideal for marketers, designers, product managers, developers, and testers

Templates to get you started quickly

Design systems for iOS and other platforms

Competitive pricing that includes a free-forever plan for smaller projects
Price
Free – 1 member, 3 projects, 10 screens per project, 100MB of asset storage space
Personal Plan for Professionals  – $9.99/month or $69/year – 1 member, unlimited projects, 500 screens per project, unlimited templates including premium options, HTML and PNG downloads, 2GB storage
Enterprise Plan for Teams – $99/year/user – scalable to any number of seats, 3000 screens per project, 2GB per seat, HTML/PNG/APK downloads, commenting, collaborative editing, team management tools, and version history
Pros
Rapid prototyping

Ready-to-use assets

Intuitive interface

Easy collaboration

Convenient developer handoffs

No coding knowledge required to design or prototype

Affordable in comparison with other top prototyping tools
Available For
All OS platforms – requires a modern browser and a fast, stable Internet connection
Desktop versions are available for Windows, Mac, and Linux Ubuntu.
UXPin is another popular online prototyping tool for designers who tend to focus on quickly creating mockups and wireframes and prototyping them. The prototyping capabilities are powerful but it lacks the finesse of newer products. Moreover, because the developers have chosen not to cram it full of features, you'll find all key features available but not everything you might need, such as drag-and-drop prototyping or even a full preview of prototypes.
Features
Ready-to-use components

Photoshop and Sketch file importing

Easy state creation

Custom code snippets in prototypes

Spec Mode for developer handoff
Price
Basic – $19/editor/month billed annually or $24/editor billed monthly
Advanced – $29/editor/month billed annually or $39/editor billed monthly
Professional – $69/editor/month billed annually or $83/editor billed monthly
Enterprise – Custom pricing
Pros
Slick UI for a user-friendly experience

Great collaborative environment

Rapid prototyping

Batch editing of library assets
Cons
Bit of a learning curve for new users

Updates to library assets can cause changes in existing designs

Expensive compared to other UX prototyping tools
Available For
All OS platforms – requires a modern browser and a fast, stable Internet connection
Desktop versions are available for Windows and Mac only
Balsamiq
Balsamiq is one of the more mature prototyping tools available for UX designers, but its primary focus remains on low-fi wireframing. The original version was released in 2008; nine years later, in 2017, the company released Balsamiq Cloud, which brought in the new wireframe editor that completely changes the game. The advantage of using Balsamiq is that the interface is very mature and polished, and creating a wireframe is pretty much as fast as using a pencil and paper to draw out a sketch of your UI design. Prototyping, however, is fairly basic.
Features
UI wireframing

Basic prototyping

UI components and icons included

Drag-and-drop UI design creation

PDF and PNG exports

Keyboard shortcuts for fast wireframing

Master status for components
Price
Balsamiq Cloud: 2 projects – $9/month or $90/year | 20 projects – $49/month or $490/year | 200 projects – $199/month or $1,990/year
Desktop: $89/user up to 4 users | Rate decreases as the number of seats increases
Integration with Drive, Atlassian Confluence, and Atlassian Jira is extra per user
Pros
The best tool for wireframing

Rapid wireframe creation

Quickly design a wireframe, print on PDF, and get fast user flow feedback from team members and other stakeholders

Saves time when creating mockups
Cons
Very basic prototyping capabilities

Not suitable for hi-fi mockups and design prototypes

Expensive add-on integrations
Available For
Balsamiq Cloud for all major OS platforms
Balsamiq Desktop for Mac and Windows – Linux requires Wine to run Balsamiq
Also Read: 10 Free & Latest Wireframe Tools and Templates
Protopie
Protopie is a cloud-based prototyping tool with a very smooth interface and none of the complex learning requirements for first-time users. The interactions are particularly of note because the platform offers easy prototyping with tons of options. It's not the cheapest but it's not very expensive for smaller teams; however, the jump from one user to multiple users is a significant price increase. Probably the biggest disadvantage is that it is not a design tool; it is purely focused on prototyping designs imported from other design platforms.
Features
Extensive prototyping interactions

Camera capture

Object animation

Voice prototyping

Share prototypes using links

Layers and containers to control design elements

Import options for Adobe XD and Figma

Use formulas for creative responsive prototypes
Price
Individual: $11/month billed annually | $13 with monthly billing
Team: $42/user/month billed annually | $50/user with monthly billing
Enterprise: Custom pricing
Pros
Wide range of interactions to get you started

Rapid and intricate prototyping

Voice command support
Cons
Not a great tool for designing from scratch

Limited asset library included

Pricing jump from the individual to the team plan is significant
Available For
Cloud version supports all OS platforms – requires a modern browser and Internet connection
Desktop versions available for Mac and Windows
Prototype player available for iOS and Android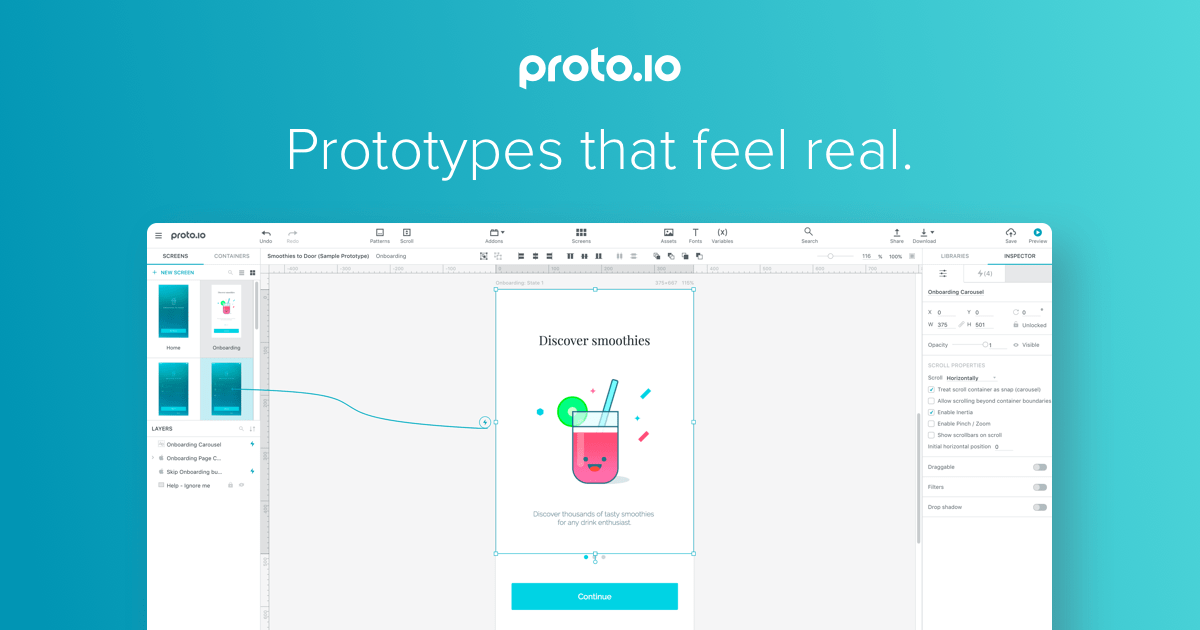 Proto.io brings desktop capabilities to the cloud. With a clean UI and an appealing feature-set, Proto.io is suitable for entrepreneurs, designers, product managers, and design teams. The online aspect of the platform brings in the collaboration factor in a powerful way.
Features
Built-in UI libraries

Templates to start quickly

Standard and animated icons

Sound effects and audio control for prototypes

Video and web components can be uploaded or embedded
Price
Annual billing – 1 user is $24/month | 10 users is $160/month | Options for 2 and 5 users
Monthly billing – 1 user is $29/month | 10 users is $199/month | Options for 2 and 5 users
Pros
Flexible pricing options

Unique prototyping capabilities

Lottie animation

Containers like carousels and scrollable areas

HTML code component to add custom code to prototypes

Extensive interaction options
Cons
Import feature still has bugs

Bit of a steep learning curve

Price is high unless you're using the full feature-set
Available For
All OS Platforms – requires a modern browser and Internet connection
Final Thoughts
All of these paid and free prototyping tools bring their own unique flavors to the table, and your choice should be based on what you consider to be important. If a large asset library, enhanced collaboration, rapid prototyping, and easy developer handoffs are essential, Mockitt leads the way; if rapid wireframing and basic prototyping is what you need, the obvious choice is Balsamiq; and so on.
To choose the best one for your needs, it is necessary to understand your UX design goals and consider factors like import and export options, collaboration tools, handoffs, the level of coding knowledge required, and other aspects relevant to your design workflows and processes. These five online prototyping tools provide everything you need, so don't hesitate to try them all and see which one is the best fit for your organizational needs – or even if you need multiple tools that can handle any type of project requirement.
Also Read: 29 Free Mockup and Wireframe Tools for Web Designers in 2021