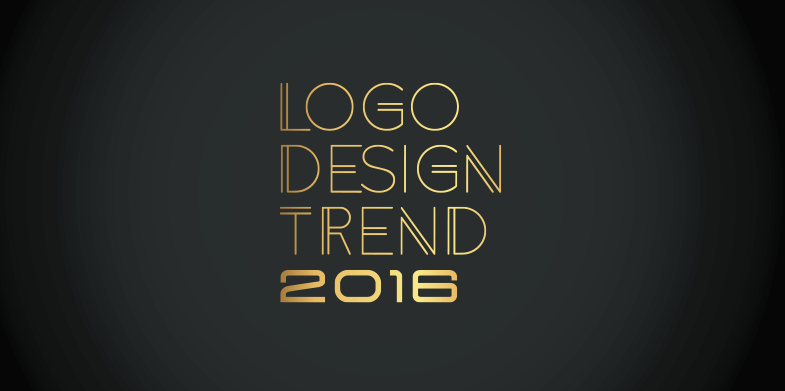 Logo design has taken an interesting shift from the past few years. A number of trends from 2015 are still being incorporated, as well as many from decades past. The retro revival has grown into an even stronger movement, with design appropriation from many eras and styles. Much modern branding mimics the 50's, 60's, 70's, 80's, and even 90's. Scripted fonts have reappeared with a fresh application. Instead of the medieval or adolescent look, 2016 typography is signature, deliberate, and aims to tell a story about the people it represents. This type can make up the entirety of a logo all on its own.
On the other side, a brand new look has emerged from the rapid development of new technologies. The expansion of the Internet, responsive design, grid-layouts, and UX/UI practices has influenced how a logo needs to fit into this world. 2016 logos are breakout stars focused on leading the pack through innovation. A common tactic to turn heads is the embracement of bright, eye-catching color.
The past decade focused on simplicity, and the reduction of logo embellishments. With the increased priority on user centricity, many designs are streamlined, yet lacking originality. The desire to incorporate both these traits in order to be branded as unique is at the heart of 2016 logo trends.
1. Handwritten

Handwritten logos are a surefire way to be one-of-a-kind. Since everyone's handwriting is individual, this style lends authenticity to the number one piece of branded identity. This look is a great contrast to the uniformity of most digital content. It accomplishes the most important goal, which is standing out. This trend is part of a larger package that focuses on the revival of stunning typography. It was born from an increase in the availability of web-friendly fonts. Thankfully, it has been updated from the chalkboard style that used to dominate this category. This timeless, whimsical take will dominate logo design in 2016 and beyond. To create a successful handwritten logo, graphic designers typically start with pen and paper, and then move to using the abundance of readily available type editing software.
2. Mono-Line

Mono-Line logo design is a trend that is continuing on from the past few years. There are spinoffs in this category that include mono-crest, mono-script, and line-craft. This trend uses a single-weight outline for both picture and text. It has been heavily adopted in the artisanal category, and is used for coffee, food, micro-businesses, and street markets. It is embraced in the handcrafted movement, where a connection with local goods and producers is emphasized. Popular colors to use with mono-line logos are muted grays, browns, and purples. Mono-line logos can include just text, only an image, or both.
3. Minimalist/Scandinavian

Minimalist design is characterized by its use of ample negative space and sans serif fonts. Due to the clean look, it has been widely adopted in graphic, web, and even interior design. In 2016, Scandinavian logos can be used in a couple of ways. First, Minimalism works as a standalone style when paired with grid layouts and bold contrast. This cohesive trend has been popular around the world for many years. Additionally, it can be paired with more intricate elements, such as illustration, to play to the nostalgic trend that is reappearing in modern logo design. When designing a minimalist logo, think about what you can take away, rather than add.
Also Check: 10 Resources on How to Design a Logo
4. Vintage

Vintage logo design from a variety of decades is going to gain additional steam in 2016. 50's concepts are growing in the restaurant, beauty and clothing industries. The 60's and 70's are being appropriated in music and travel industry branding, and 80's inspiration is evident in home décor and technology. Loud primary color against dark backgrounds is a key characteristic of this look. This is where you will see the most outlandish color schemes. It is a direct contrast to the abundance of white and gray that has dominated logo design over the past few years. The placement of designer logos front and center on apparel is making a comeback from the 90's as well. To be seen as cutting-edge this year, stick to 80's and 90's style guides. The others have been overdone to the point where you won't get the wow factor you're looking for.
5. Negative Space

One of the most popular examples of negative space usage in logo design is the beloved FedEx logo. Between the letters, an elusive arrow appears that isn't always noticed upon first glance. Sometimes, shapes in the negative space add an additional message about the brand. Other times, just the deliberate use of it enhances the design elements that are already in place. Negative space in logo design is a perfect example of how less can often be more. This is a great way to take some of the principles of minimalist design, and apply them to industries where such a scaled-back look might not work as well. Be careful not to get too clever or literal. It will be noticed, and not always appreciated. In 2016, Rand Paul makes use of negative space tricks in his presidential election logo design strategy.
See a complete ranking of all 2016 campaign logos here.
6. Calligraphy

Calligraphic logos are similar to the handwritten category, but the difference comes in how they are used. Handwritten is casual, cool, fun, and whimsical. Calligraphy is refined, high-end, and fancy. It all depends on the brand that needs to be portrayed. Calligraphic logos are ideal for designers, boutiques, photographers, perfumeries, and lifestyle writers. In 2016, the trick with this style will be to make it identifiable and individual. These logos are most often typography only, with multi-weight line embellishments being the only imagery present.
7. 3D/Perspective

The return to dimension has surprisingly emerged after all of 2000's recent rebranding efforts to remove shadows, highlights, and interesting angles. To counteract this cut and paste style, 3D designs now have the ability to stand out again. 2016 dimensional logo design has been refreshed through a new use of shape and color. To take it a step further, animations can also be added to web-based logos. An excellent example of a contemporary 3D concept is the face of the Rio 2016 Paralympics Games. The interconnected yellow, green and blue embrace of three people symbolizes unity, while incorporating the letters R, I, and O.  This sculptural approach will likely grow over the next year.
Conclusion:
As far as logo trends go in 2016, retro will meet modern, and the digital medium will be infused with a touch of handcrafted. The main takeaway is that typography is back in a big way. Less focus will be placed upon imagery and mascots, with more resources going to the development of original and memorable fonts. Although black and white will always have a necessary place, creative usage of color is going to be emphasized. This can range from timeless aquamarine to luminescent neon.